We want to make you feel at home in Italy, and what better way than to spend a week in your own villa with all of the details taken care of by Tourissimo.
Arrive, unpack and let us spoil you! Be active, with cycling or hiking routes planned and guided by our experienced staff each day, or choose to take time off to explore on your own (or relax by the pool). Your private chef will prepare your meals while sharing cooking tips. It's your vacation, from one luxurious base, on your own schedule, for your own private group.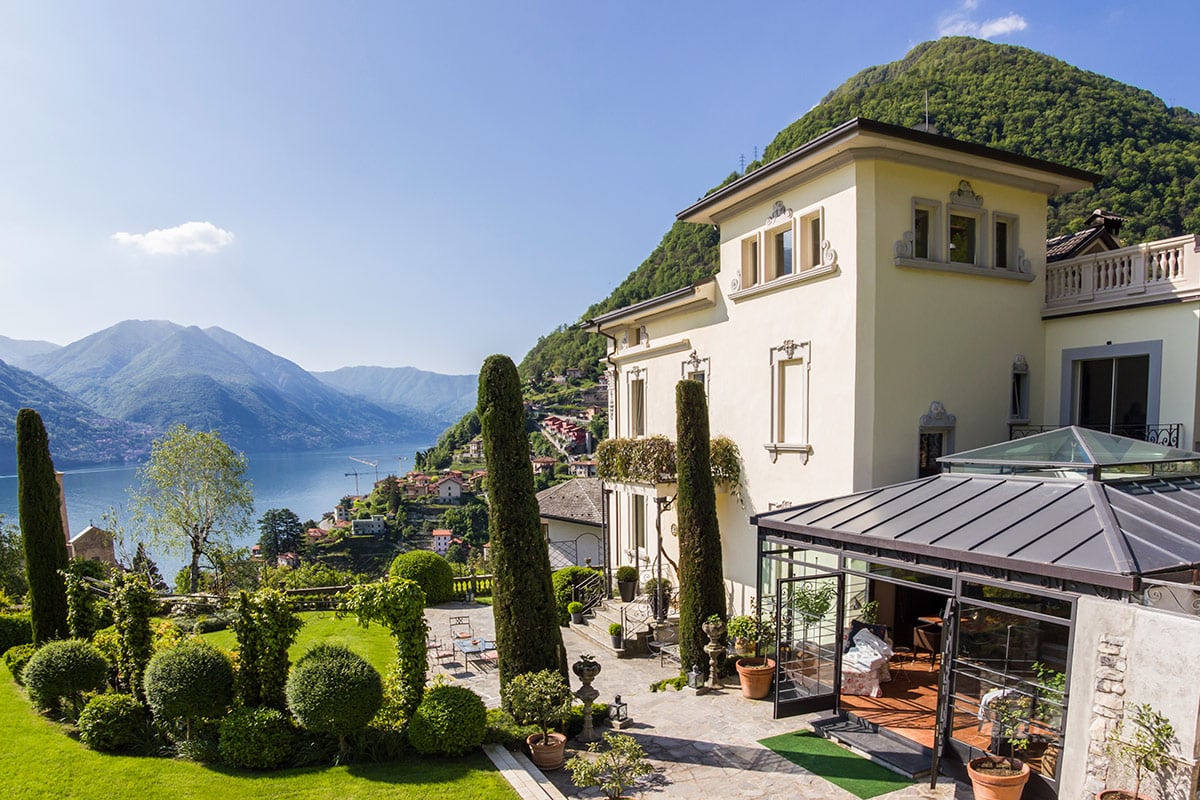 Destinations
Lake Como
Lake Como has been an alluring destination since Roman times, when Pliny the Younger built the Comedia and the Tragedia resorts. It is the perfect spot for both an active and a relaxing vacation, combining nature and culture.
Lake Como is one of the deepest lakes in Europe and the third largest in Italy. The shoreline is dotted with small, colorful towns. Our villa is located above the charming and peaceful town of Argegno, which is the perfect base for exploring the lake.
Villa Concetta
Originally built in 1911 by an illustrious Milanese family, Villa Concetta is a picturesque holiday residence located on the western shore of Lake Como. From the villa, one can see across from the headland of Bellagio to the north pre-Alps and as far as Nesso to the south.
Just in front of the villa is the classic Sisinnio church. This iconic structure is represented in a Winston Churchill watercolor, painted from the garden of Villa Concetta.
Lucca
A Unesco World Heritage site, Lucca is a well-preserved walled city. The original walls date back to Roman times and the current structure is from the Renaissance, designed by Leonardo da Vinci.
The city's cobbled streets and handsome piazzas can be explored on foot. Other notable cities, such as Florence and Pisa, are not far away. Vorno parish, where out villa is located, is not far outside of the city walls.
Villa Al Boschiglia
This stunning villa dates back to the 17th century and has been recently renovated, maintaining its historic charm while offering modern amenities.
It is surrounded by a stone wall, extensive gardens, cypress trees, olive groves, magnolias and rose bushes and offers panoramic views of the Tuscan countryside.
LE MARCHE
Le Marche lies on the eastern side of central Italy, between the Adriatic Sea and the high Apennine Mountains and much of it remains unspoiled by mass tourism.
Whether you want to admire masterpieces of Renaissance art and architecture, trek across wild uncharted mountains or hunt out the best of the catch in a Mediterranean fishing port, Le Marche has enough to keep you busy.
Villa Olivo
A luxurious Italian villa overlooking the stunning coastline of the Adriatic Sea that offers 5* services and authentic experiences in the heart of Le Marche. Set amidst rolling hills, olive groves and ancient vineyards and just 10 minutes from the coast, this is the perfect hilltop retreat.