Ride the Wine Region of Piedmont
and the Ligurian Riviera
on this Special Edition Peloton Magazine Tour
On this special edition, 7-day tour inspired by the Peloton Magazine article we explore the best wine production areas of Piedmont and the coastal region of Liguria with a final ride to Sanremo. The ride is about Italy's race cycling heritage with stops at Castellania (birthplace of Fausto Coppi), at Museo dei Campionissimi, and with a Milano-Sanremo ride.
Beppe Salerno, co-founder of Tourissimo and a native of Piedmont, has designed and will lead this tour. He cannot wait to take you on "his" rides.
Great meals and wine will fuel our rides. The Langa and Monferrato hills of Piedmont are in one of the most important wine production areas in Italy and received UNESCO World Heritage status in 2014. The Piedmont portion of the tour will take us to the heart of these regions, over rolling hills covered with endless vineyards and past ancient castles and hidden hilltop hamlets. You'll see how connected the local people are to the land, and how they take pride in everything they produce.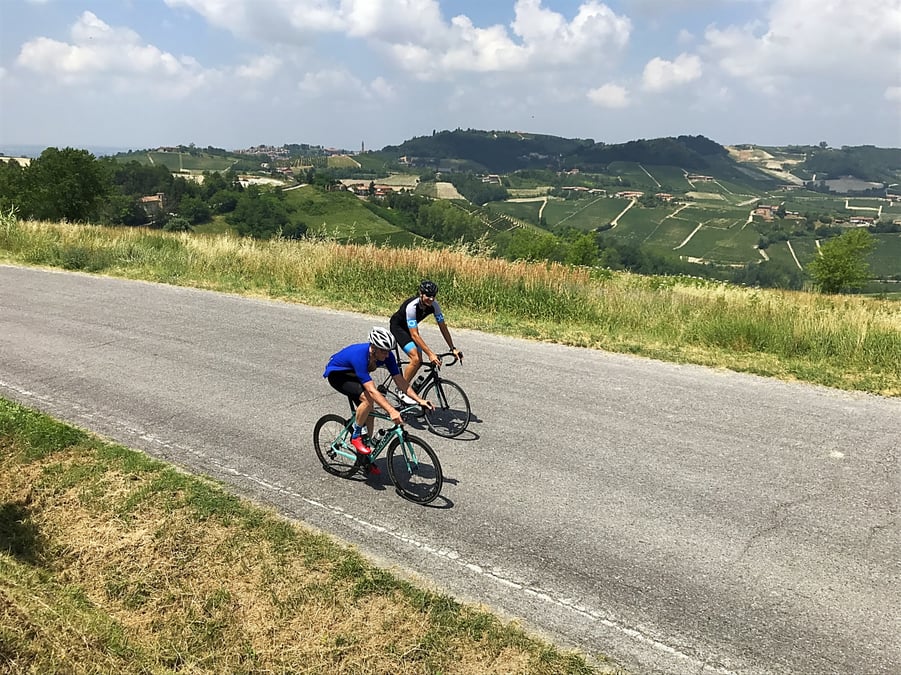 The hills of the Piedmont wine country
Liguria is known in Italy as a great destination for cyclists, thanks to its beautiful winding roads, stunning views, and mild weather. Western Liguria is characterized by resort towns such as Finale Ligure and Sanremo (yes, the one of the famous Milano-Sanremo classic cycling race). We explore the gorgeous Riviera delle Palme (Palms Riviera) and Riviera dei Fiori (Flowers Riviera) - major destinations for Italian and European tourists since the early 1950s. This unique region is a beautiful maze of fortified medieval villages and small fishing towns with strong connections to the north and to Piedmont, and deep traditions of sailing, fishing, and trading on the Mediterranean Sea.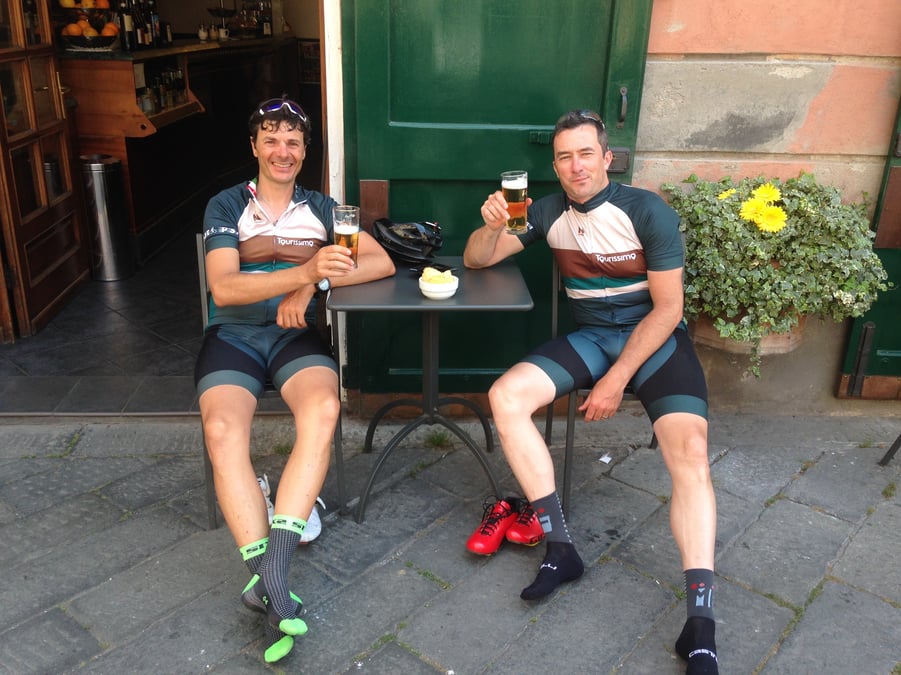 Beppe and Clive made it to Finale Ligure.
---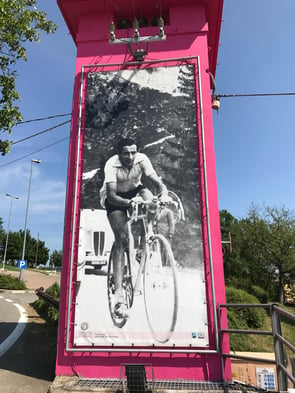 We loved taking Peloton Magazine to the Village of Castellania in Piedmont, home of the Campionissimo, Fausto Coppi.
The 37th Milano-Sanremo took place in 1946 in an Italy with plenty of scars from the war but eager to get back to normal and to get back to bike racing (the most popular sport at that time). It was the first edition after WWII and 115 riders started from Milan for the 293 km classic. Coppi and a few others attacked immediately. Teisseire and Coppi climbed the Turchino pass together but the french rider was soon dropped. The Campionissimo continued alone for 151 km and won with a margin of 14 min over Teisseire and 18:30 min over his rival, Bartali. After a 286 km breakaway he finished in 8 hr 09 min at an average speed of 24.6 mls/hr.
---
Joining us on this cycling vacation is a unique chance to ride new, exotic roads steep with Italian cycling heritage. Peloton Magazine inspired us to design a multi-day ride perfectly suited to the intermediate rider that enjoys the perks of a fully supported bike tour and who wants to embrace some Italian "bella vita" among vineyards and the riviera beaches. Rides range from 35 to 70 miles a day with plenty of rolling hills and some longer climbs. Ready to chase the ghost of the Superchampion on his training roads and on the way to Sanremo?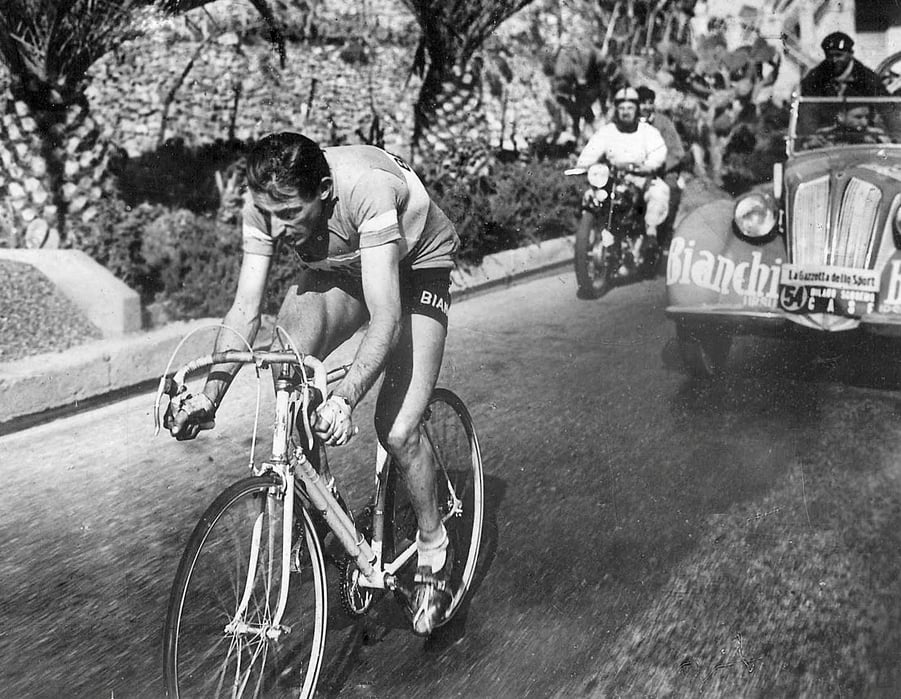 ---
A WEEK OF GREAT RIDING AND GOURMET DINNERS RIDING THE SAME ROADS OF PAST AND PRESENT CHAMPIONS IN A lesser know part of italy
---