Bike with James Beard Award Winner Chef Mary Sue Milliken in Sicily, Italy
Here's your chance to ride in Sicily - land of an incredible food scene with many influences - on a culinary discovery led by Chef Mary Sue Milliken, and Chef Traci Des Jardins. The two celebrity chefs are best friends and they will make the tour extra special with their enthusiasm and charm.
This is a special edition bike tour that you don't want to miss if you love food, cycling, and Italy.
You will ride the western part of the island, starting from Palermo - a street food capital - and climbing over the Sicani mountains, past Corleone, to reach the wine area of Menfi, the Belice Valley, and then Marsala. The grand finale is at the fairytale Nubia lagoon with its salt farms dating back to roman times. You'll get to taste the best local dishes and learning the secrets of the traditional recipes of Sicily, from cannolo to cous cous.
Dates are from May 5th through May 12th, 2018.
Cost per person in double occupancy is $4,595.
Additional charge for a private room is $350.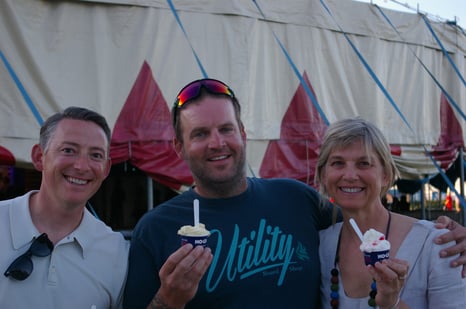 Mary Sue was one of the stars of the inaugural Chef Bike Tour last year
"I've been counting down the days until I can be back on my bike, pedaling and eating my way through another beautiful region of Italy."