Tour Levels
Plus tours are not for athletes going on training vacations. But they are for motivated people that like the feel of a good workout. The level of fitness required follows Tourissimo guidelines and tour rating (below).
The rating depends on a number of factors that include length of ride, but focuses on elevation gain and gradient as well as type of terrain.
The most important thing of all: bike at your own comfortable pace. Don't forget to take in the sights, sounds and smells all around you. The choice of pace and the amount of activity is always yours.
A tour leader will always be around with our support van, so you can ride as much or as little as you like.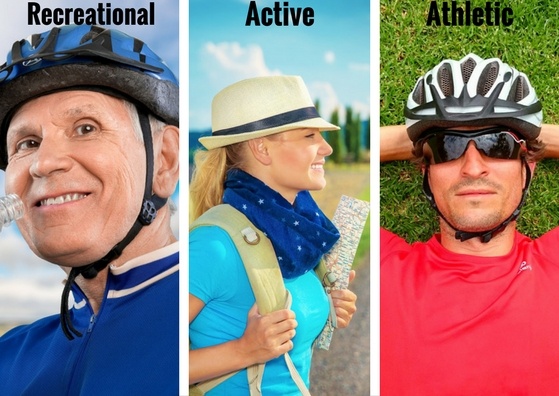 Recreational
Riding: 15-30 Miles
Riding: <500 Ft elevation gain
Walking: 2 hours average
Walking: <500 Ft elevation gain
This is me:
I walk slowly/steadily upstairs or consider elevator
I enjoy walking up to 3 mls a day and cycling up to 20 mls a day
I avoid walking/cycling uphill whenever possible
After prolonged physical exertion (10 mls hike or 30 mls ride) I am in need of a day to recover
Active
Riding: 20-50 Miles
Riding: 200-1,000 Ft elevation gain
Walking: 2 - 3 hours average
Walking: 200 - 1,000 Ft elevation gain
This is me:
Walk quickly upstairs
I enjoy walking up to 5 mls a day and cycling up to 30 mls a day
I enjoy the challenge of walking/cycling uphill (slowly) for up to 2 hrs
After prolonged physical exertion (10 mls hike or 30 mls ride) I am ready for a nap
Athletic
Riding: 40-65 Miles
Riding: 500-2,000 Ft elevation gain
Walking: 3-5 hours average
Walking: 400-1,500 Ft elevation gain
This is me:
Walk quickly or run upstairs
I enjoy walking up to 8 mls a day and cycling up to 50 mls a day
I enjoy the challenge of walking/cycling uphill (slowly) for up to 3 hrs
After prolonged physical exertion (10 mls hike or 30 mls ride) I feel somehow energized