"There is a lot to experience and enjoy in this part of Italy. It is still an undiscovered treasure." - Lidia Bastianich
Friuli Venezia Giulia (often shortened to Friuli) is a border region tucked between Slovenia and Austria where one will find the cultural imprints of all three countries. That imprint (as you'll discover on our culinary journey by bike) is very much present in the regional cuisine. Over the years, this region has been occupied by various European powers and as such has developed a unique language and culture. The political border has shifted a number of times while the physical border of the Julian Alps has stood still, and a timeless subculture typical of the practical life of mountain regions developed. On the other hand, the Adriatic coast has been bustling with trading activities since Roman times. On our Chef Bike Tour of Friuli Venezia Giulia, we'll see for ourselves both of these aspects with the Tagliamento River Valley and Collio wine production area in between.
The first part of the tour will descend from Tarvisio along the Tagliemento River Valley via the Alpe-Adria Bikeway. We take advantage of this great cycling infrastructure as much as possible (It's very well known in Europe and one of the first long-haul rail-to-trail projects) and for the rest of the way, we'll be on secondary country roads with many interesting and tasty stops. The riding is fairly easy on this tour and you have the possibility to rent an E-bike or to add some extra miles to top off your day.
We are fond of Friuli not just because it is cycling heaven, but also because it is a must-visit destination for gourmands and wine lovers and is finally being recognized as such. Some recipes and products might ring a bell (prosciutto di San Daniele, polenta served in many ways), but some others are unknown and surprisingly different than any other Italian preparations (frico, cjarsons).
The Slavic and Austrian influences make this region unique compared to the rest of Italy. It is probably the perfect destination for someone who has been to Italy several times and is looking for something new and different. In fact, travelers who are eager to experience something novel and unexpected end up admitting that Friuli went beyond their expectations. Lonely Planet listed Friuli as Best in Travel 2016.
While it is unlikely that the Friulian customs (including language) will remain intact, it's not too late to experience this vanishing culture and on a Chef Bike Tour with Tourissimo you'll do that by understanding the local traditions, landscape, agriculture, and, of course, by tasting and trying out the local dishes.
Wineries in this area are settled on some of the most beautiful hills you will ever encounter.
Our guest chef will play an important role in understanding the local productions and the preparations that better tell the story of the territory.
Chef Elizabeth Falkner is a world-recognized, award-winning chef from California. Her 30+ year career spans from restaurants to advocacy, to consulting and food competitions. Her well-appreciated and awarded San Francisco patisseries and restaurants paved the road to celebrity private events, consulting, and media.
She has competed in multiple culinary competitions including Food Network's Tournament of Champions (seasons 1-4), Iron Chef America, and Next Iron Chef, Super Chefs, in which she was a finalist and runner-up. She has been a three-time competitor on Food Network Challenge, as well as a contestant on Bravo's Top Chef Masters.
For Falkner, cooking competitions have been a favorite "sport."
She's very much looking forward to her first Chef Bike Tour and she is perfectly suited for the role!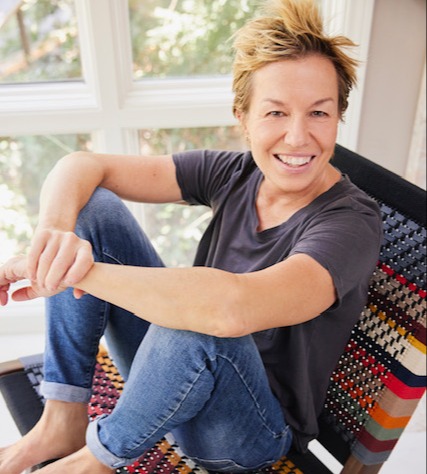 ---
Companions that are non-riders are also welcome. E-Bikes available.