We love Sardinia not only because it is a cycling paradise, with quiet and traffic-free roads and beautiful scenery between sea and mountains, but also because it is an unmissable destination for food lovers and is finally being recognized as such.
Sardinia is famous all over the world for its beautiful coasts with fantastic beaches, and its mountainous and wild interior is also worth visiting. Many travelers describe Sardinia as being a continent unto itself, with each area and town having diverse landscapes and local traditions.
Sardinia is also the land of an ancient society which has its roots in the Neolithic and Bronze Ages, and was then influenced (along its coastal areas) by the most important civilization in the history of the Mediterranean: Phoenicians, Etruscans, Romans, the maritime republics of Genoa and Pisa, Spain, Piedmont. The result is a rich mix of Mediterranean culinary heritage. Most of the recipes and products are surprisingly different from any other Italian preparation, such as "filindeu," the "thread of god," a special pasta considered the rarest in the world.
On our Chef Bike Tour of Sardinia we will personally appreciate the specialties of both the coastal and the mountain areas. From the sea you will sample mullet bottarga, fregola with clams, Carloforte tuna, one of the most valuable and sought-after varieties in the world, and "Burrida a sa Casteddaia," a typical dish from Cagliari containing catfish and nuts.
In the mountains you will taste one of the oldest breads in the world, "pane carasau," also called sheet music bread. Sardinian pecorino is famous the world over, and the local hams and sausages are also very good. Some dishes have a very strong flavor, such as "su callu de crabittu (a special cheese)," or "sa cordula (the braid)," made from the intertwined intestines of lamb. The national dish of Sardinia is suckling pig. To get its special taste it is made from pigs no larger than four kilos (8.8 pounds) and cooked slowly over a fire.
Sardinia is also a land of prestigious wines: full-bodied reds such as Cannonau, white wines suitable to accompany fish such as Vermentino di Gallura, and meditation wines such as Malvasia and Vernaccia.
Our guest chef will play an important role in understanding the local productions and the preparations that better tell the story of the territory.
---
Gabrielle Hamilton is the chef/owner of PRUNE, which she opened in New York City's East Village in October 1999.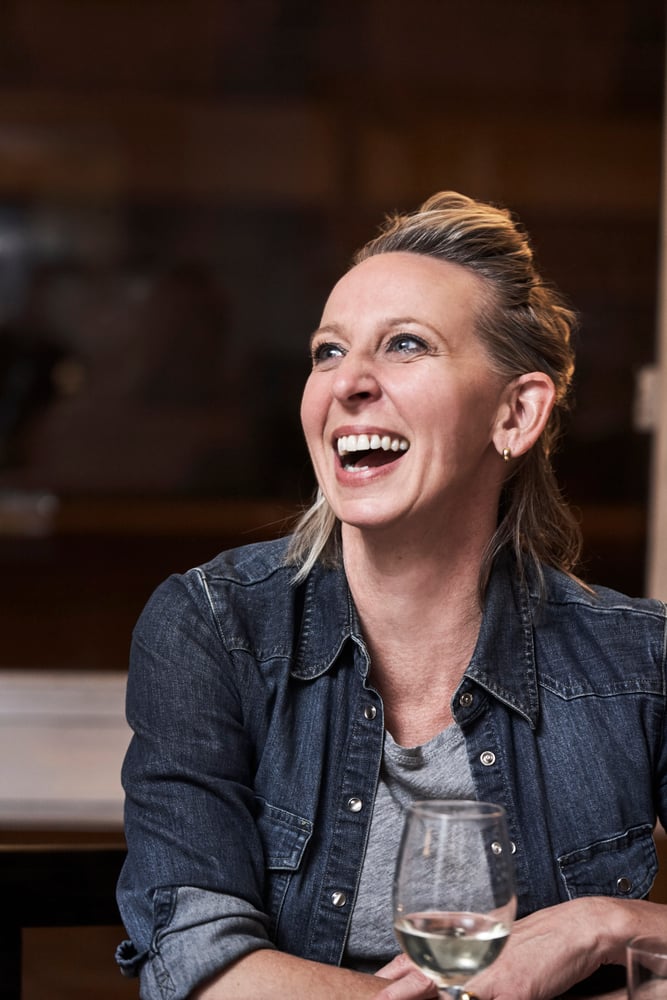 PRUNE has been recognized in all major press, both nationally and internationally. Gabrielle has made numerous television appearances including segments with Martha Stewart, Mark Bittman, and Mike Colameco and was the victor in her Iron Chef America battle against Bobby Flay on The Food Network in 2008. Most notably, she won an Emmy for her role in Season 4 of the PBS series Mind of a Chef. Gabrielle has written for The New Yorker, The New York Times, GQ, Bon Appetit, Saveur, Food & Wine, Afar, Travel and Leisure, Vogue, The Wall Street Journal, Elle, and House Beautiful. Her work has been anthologized in Best Food Writing 2001, 2002, 2003, 2004, 2005, 2006, 2011 and 2013. Gabrielle has won 4 james beard awards, culminating with the top honor of Outstanding Chef in 2018. She is the author of the New York Times bestseller Blood, Bones & Butter: The Inadvertent Education of a Reluctant Chef, which has been published in six languages Most recently, she wrote the cookbook, Prune, featuring 250 recipes from her East Village restaurant.
---
Companions that are non-riders are also welcome. E-bikes (pedal-assisted system) available.