Why Tourissimo
It takes passion, drive and attention to detail to deliver a superior experience to guests. Tourissimo was started with this in mind.
We create active travel vacations in Italy that are full of intense, meaningful experiences.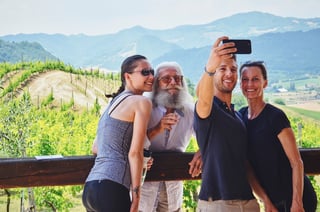 At Tourissimo, we are Italy experts and we have several decades of combined experience in all facets of the adventure travel industry. We came together to combine our strengths and focus on what we do best: create and operate tour programs that feature some of Italy's most genuine, welcome and amazing areas. In addition to offering fixed departures in some of Italy's most enchanting areas, we work with private groups, tour operators and travel agents to provide high-quality, intelligently-designed and exciting custom itineraries all over the country.
Our Mission
We don't want to be the biggest adventure travel company. We want to be the most authentic.
We are local experts and we take pride in where we are from. We want to highlight the best of what Italy has to offer and provide a truly authentic experience by creating tours that:
immerse our guests in the local culture and benefit the local economy, and

take our guests behind the scenes, away from the crowds and into the heart of Italy.
We strive to provide the best experiences possible that are created around The Tourissimo Experience. We want to build long-lasting relationships with our guests, and with our partners in Italy.