A cycling week that will feature great riding and three Giro d'Italia stages
Join us for a cycling holiday of a lifetime next October for the 103rd edition of the most beautiful cycling race in the world: Giro d'Italia.
This tour is for you if:
You've been dreaming of riding some of the same routes of the Giro d'Italia course and seeing the race live.
You want the comfort of one hotel base for the whole week.
You are looking for the chance for some incredible spring training rides in a rider-friendly region.
You look forward to refueling with the best meals and pasta dishes.
You think that a spa, a pool, and the Adriatic waiting for you after a ride is a great idea.
Do not miss this Italian bike tour with Giro d'Italia
La Maglia Rosa
The Maglia Rosa (the Pink jersey) is the dream of cyclists the world over. Those who have won it include outstanding champions and outsiders, like Richard Carapaz of Ecuador, the winner of the 102nd edition of the Giro d'Italia. Among the Italians, Vincenzo Nibali will certainly be a contender. Marco Pantani, a Cesenatico native, was the 1998 winner and the last rider to win Giro and Tour in the same year. Legends are forged at Giro d'Italia.
Watch the video of the 2020 stages:
This cycling program will take place between October 10th and October 17th. Therefore, we've incorporated the following 3 stages:
Stage 11 - Wednesday, October 14th
Porto Sant'Elpidio - Rimini: The stage begins quite flat, along the coast. Past Pesaro, the route clears Monte San Bartolo and then approaches Rimini on undulating terrain, before a most likely sprint finish.
---
Stage 12 - Thursday, October 15th
Cesenatico - Cesenatico: The stage follows almost the same route as the famous Nove Colli amateur race. Upon reaching the foot of the Apennines, after leaving Cesenatico, the route undulates continuously to clear the nine hillocks of the race, five of which will award KOM points. Over the last 30 km, the peloton will ride across the plains, before reaching the seafront in Cesenatico.
---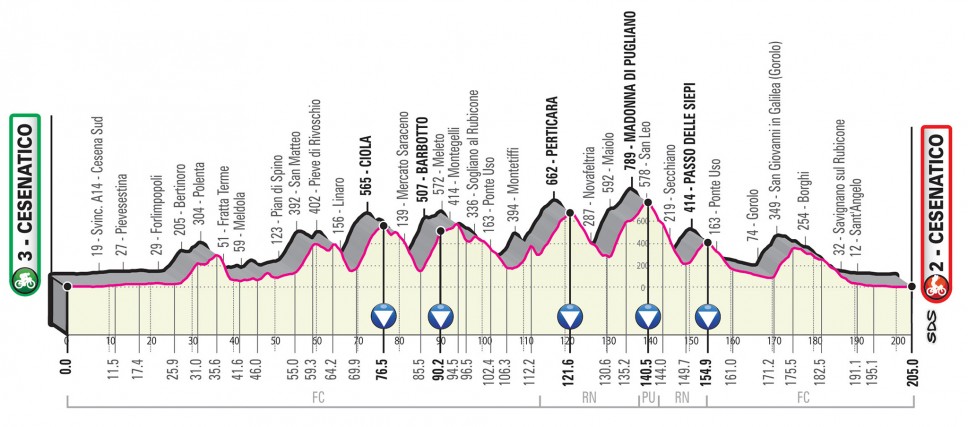 Stage 13 - Friday, October 16th
Cervia - Monselice: This is a flat stage ending with a bang. After nearly 160 flat kilometers, the route tackles two challenging ramps in the Colli Euganei: first, the Passo Roverello (a quite manageable climb, 4 km long), and then the Muro di Calaone, peaking out at 20% over 2 km. A wide descent into Este and a short flat section will then lead all the way to the finish.
---