What is The Tourissimo Experience?
We run cultural, active vacations in Italy that include much more than physical activity in beautiful places.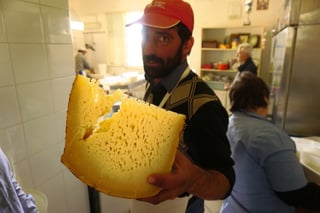 Our guests want to be engaged. They want to have memorable and meaningful experiences. We've made the experience the core of our brand promise: design and deliver active vacations in Italy that feed the traveler's mind, body and soul, and connect them to a region, its people and its culture.
The Tourissimo Experience is what makes our programs different and unique.
We constantly strive to deliver it in every way we can, including through:
Cultural immersion
Exposing guests to the traditions and customs of our destinations
Understanding the local productions by meeting the producers
Local guides and insider access
Slow travel combined with emotions that make the heart beat fast
Authenticity and spontaneity
Our trips often take people off-the-beaten-path to places not featured in any guide books or travel programs, and they are designed by locals. We focus on Italy, and run tours in more places in the country than most large tour operators.
Who are the guides?
At Tourissimo we know that a great guiding team can make the difference and we only work with the best professionals in the industry. Our guides are informative and friendly, and they go the extra mile to deliver an exceptional Active Learning experience. They have personal connections to the areas where we travel and can give clients a local's perspective.
All of our tour programs are led by one program manager and one or more professional, multi-lingual guide.
We also often hire local guides for cultural city tours or outdoor excursions.
Interested in finding out more about our services? Just ask.
What made this trip extra special for me was the personal experiences - meeting a real-life Principessa and seeing her palace; private dinner in Palermo; having lunch from Giuseppe's friends (such delicious bread, caponata and cannollo!) and meeting his charming Dad....I suspect we wouldn't get this with any other tour.
Adrienne C.
[fa icon="quote-right"]