PLUS Tours is a collaboration between

Tourissimo and our friends at Ride and Seek.

Ride and Seek is owned by Dylan Reynolds, and he and Beppe first worked together on tour back in 2001. Since then they have both built up their own businesses with a similar ethos of immersing guests in the places they visit. The PLUS Tours are week-long adventures that focus on cycling, history, and culture with the + element aimed at offering more to our clientele through collaboration.
The
Strade
Bianche
is our first foray into the world of gravel and really lets us discover the road less traveled in Tuscany.
We'll ride the white roads of the famous Eroica and of the Strade Bianche professional race and many more miles of gravel that we've discovered throughout the years.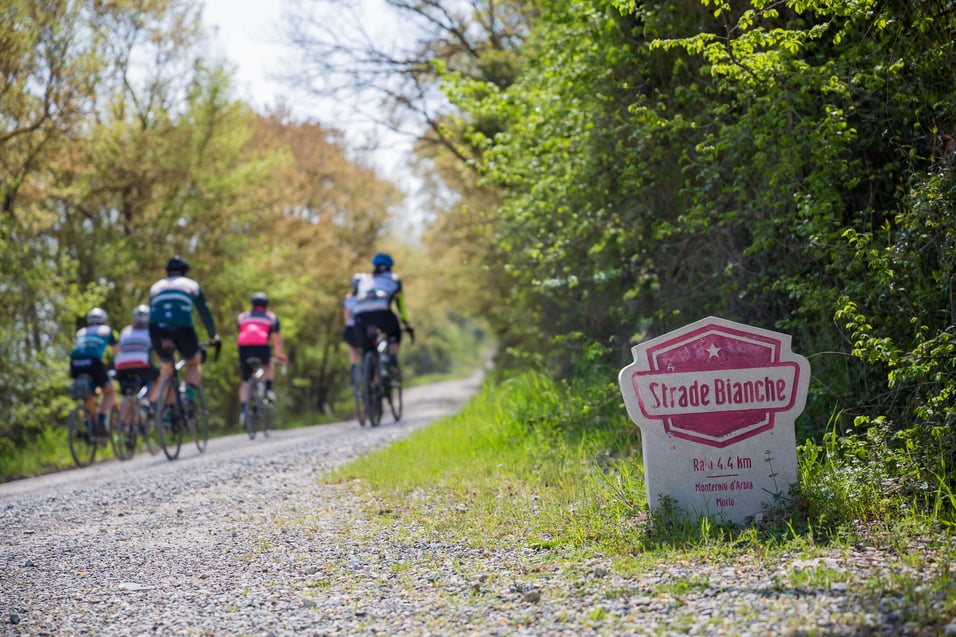 Tuscany Strade Bianche
We designed an itinerary filled with "white roads," interesting stops, and authentic beauty. While Tuscany does not need any presentation, it never disappoints.
Next confirmed departure:
Saturday, September 24 through Saturday, October 1, 2022.
Tour cost is US$ 3,995 (request the tour summary for description and inclusions).
In the Tour Description you'll learn that:
Tuscany offers the quintessential Italian gravel riding experience

The Eroica movement was born to protect and preserve the white roads

Our itinerary ends on the Tyrrhenian Sea

There are still unspoiled corners of Tuscany and we know where they are

It's a fully-supported, guided tour masterfully crafted by our local guides
Request the Tuscany Strade Bianche Tour Summary
The tour starts in the Chianti area and via mostly unpaved roads reaches the Val d'Orcia (UNESCO site) first, and then the Tyrrhenian Sea. You will enjoy a flexible schedule and a good balance of physical activity and relaxation with some fun social time. Food will be an integral part of the Tuscan experience as well as thermal spas. We hope you can join us!
Beppe Salerno Co-founder of Tourissimo
[fa icon="quote-right"]