Our first gravel tour and it doesn't disappoint!
Next Dates:
May 20 - 27, 2024
Sept 29 - Oct 6, 2024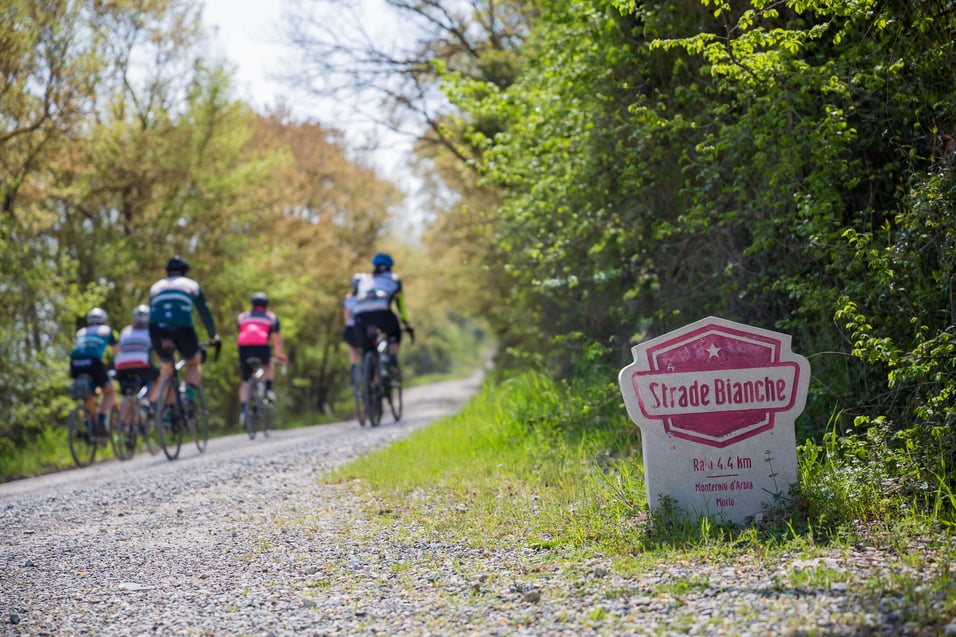 We'll ride the white roads of the famous Eroica and of the Strade Bianche professional race, plus many more miles of gravel that we've discovered throughout the years on our own adventures.
Tuscany Strade Bianche
The Strade Bianche Race has made Tuscany's iconic white roads famous, but riders started grinding gravel along these routes long before the professional cyclists and fans began flocking to the area.
Many miles of white gravel roads wind through Tuscany's countryside, many going unnoticed by tourists and cyclists. We've traveled many of them and have included our favorites on this challenging and beautiful tour.
This itinerary is filled with "white roads," interesting stops, and authentic beauty. While Tuscany does not need any presentation, it never disappoints.
It is hard to believe there are still so many unknown and hidden corners of this wildly popular tourist destination, but there are, and these are literally the roads less traveled - and more graveled - but still fully supported in high style.
Larry Olmsted Senior Contributor at Forbes
[fa icon="quote-right"]

In the Tour Description you'll learn that:
Tuscany offers the quintessential Italian gravel riding experience

The Eroica movement was born to protect and preserve the white roads

Our itinerary ends on the Tyrrhenian Sea

There are still unspoiled corners of Tuscany and we know where they are

It's a fully-supported, guided tour masterfully crafted by Tourissimo's co-founder

Mileage ranges from 28 to 52 miles per day with plenty of climbing
---
Request the Tuscany Strade Bianche Tour Summary
The tour starts in the Chianti area and via mostly unpaved roads reaches the Val d'Orcia (UNESCO site) first, and then the Tyrrhenian Sea. You will enjoy a flexible schedule and a good balance of physical activity and relaxation with some fun social time. Food will be an integral part of the Tuscan experience as well as thermal spas. We hope you can join us!
Beppe Salerno Co-founder of Tourissimo
[fa icon="quote-right"]