Let's stay connected with wine!
Our pandemic summer wine club experiment was such a success that we wanted to do it again for the holidays. This shipment will include bottles that you can open and share for Thanksgiving, the New Year, and whatever you celebrate in between. There will be some sparklers, some complex reds and some unique pairings for turkey and other fowl. You don't want to miss it!
Our summer case was filled with light and fresh wines that paired well with barbecue and sunshine. As the days get darker, the food gets heavier and we gear up for celebrations, we will pivot to some special wines that will make you pause and think. You'll want to talk about these and share them with friends and family.
We want to bring a special piece of Italy to your doorstep!
Our tours in Italy are all about connecting our guests with the people and places that are sustaining Italy's culture and heritage, and one of the ways we do this is by visiting small, local wine producers.
What better way to connect than over a glass (or a case!) of wine?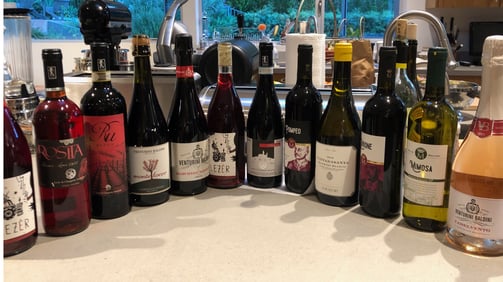 Wines from our Summer 2020 Wine Club Shipment
Why sign up?
Wines hand-picked by Tourissimo owners Beppe and Heather
Detailed tasting notes and info on the wineries
A selection of wines that would be hard (or impossible) to find outside of Italy
Live, virtual wine tastings exclusively for subscribers
All profits from every case sold in 2020 are going to our staff and guides in Italy.