Have you been dreaming about Italy? You're not alone. Here are 17 quotes about Italy from people enchanted with the bel paese.
"A man who has not been in Italy, is always conscious of an inferiority, from his not having seen what it is expected a man should see." – Samuel Johnson
"As they say in Italy, Italians were eating with a knife and fork when the French were still eating each other. The Medici family had to bring their Tuscan cooks up there so they could make something edible."– Mario Batali
"Everything in Italy that is particularly elegant and grand borders upon insanity and absurdity or at least is reminiscent of childhood." – Alexander Herzen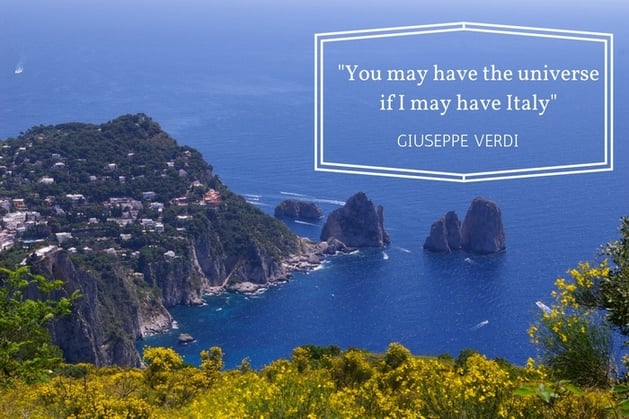 "Open my heart and you will see Graved inside of it, "Italy." – Robert Browning
"What is the fatal charm of Italy? What do we find there that can be found nowhere else? I believe it is a certain permission to be human, which other places, other countries, lost long ago."– Erica Jong
"Italy will always have the best food." – Diane von Furstenberg
"Italy, and the spring and first love all together should suffice to make the gloomiest person happy."– Bertrand Russell
"I love places that have an incredible history. I love the Italian way of life. I love the food. I love the people. I love the attitudes of Italians." – Elton John
"Watching Italians eat (especially men, I have to say) is a form of tourism the books don't tell you about. They close their eyes, raise their eyebrows into accent marks, and make sounds of acute appreciation. It's fairly sexy. Of course I don't know how these men behave at home, if they help with the cooking or are vain and boorish and mistreat their wives. I realized Mediterranean cultures have their issues. Fine, don't burst my bubble. I didn't want to marry these guys, I just wanted to watch." ― Barbara Kingsolver
"Italy is a dream that keeps returning for the rest of your life" – Anna Akhmatova
"Traveling is the ruin of all happiness! There's no looking at a building after seeing Italy." – Fanny Burney
"In Italy, they add work and life on to food and wine." – Robin Leach
For us to go to Italy and to penetrate into Italy is like a most fascinating act of self-discovery – D.H. Lawrence
"One of the great joys of traveling through Italy is discovering firsthand that it is, indeed, a dream destination." – Debra Levinson
"I spent a college semester in a small town in Italy - and that is where I truly tasted food for the first time." – Alton Brown
"I love the simplicity, the ingredients, the culture, the history and the seasonality of Italian cuisine. In Italy people do not travel. They cook the way grandma did, using fresh ingredients and what is available in season." – Anne Burrell
"You may have the universe if I may have Italy" – Giuseppe Verdi
You might also enjoy Our 25 Best Travel Quotes.