With these travel quotes that we selected among our favorites, inspiration comes easily. Browse them when you need to dream and to align priorities in your life. Happy Travel in 2016!
A cycling evergreen:
1- "Life Is Like Riding a Bicycle. To Keep Your Balance You Must Keep Moving." -Albert Einstein
Don't settle:
2- "If you are not willing to risk the unusual, you will have to settle for the ordinary." – Jim Rohn
Where did I park my sailing boat?
3- "Man cannot discover new oceans unless he has the courage to lose sight of the shore." – Andre Gide
4- "A ship is safe in harbour, but that's not what ships are for." – William G.T. Shedd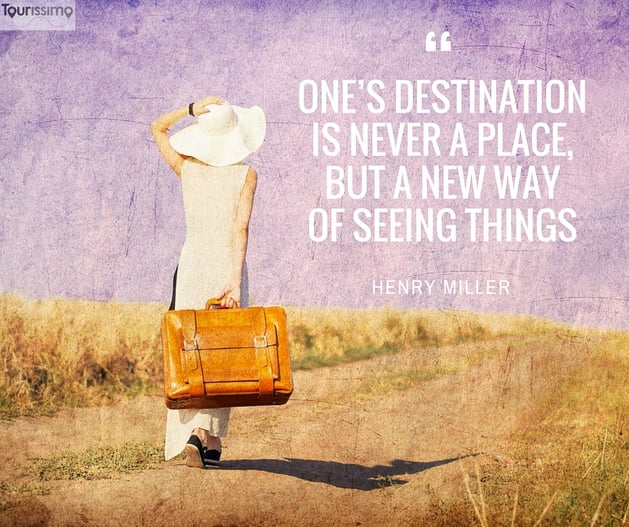 You might also enjoy: 17 Quotes about Italy for 2017.

Transformation:

5- "Travel is more than the seeing of sights; it is a change that goes on, deep and permanent, in the ideas of living." – Miriam Beard

6- "Travel isn't always pretty. It isn't always comfortable. Sometimes it hurts, it even breaks your heart. But that's okay. The journey changes you; it should change you. It leaves marks on your memory, on your consciousness, on your heart, and on your body. You take something with you. Hopefully, you leave something good behind." – Anthony Bourdain

For when the road calls:

7- "I always wonder why birds choose to stay in the same place when they can fly anywhere on the earth, then I ask myself the same question." – Harun Yahya

Stepping out of your comfort zone:

8- "If you reject the food, ignore the customs, fear the religion and avoid the people, you might better stay at home." – James Michener

Remember this one when fear gets in the way:

9- "The more I traveled the more I realized that fear makes strangers of people who should be friends." – Shirley MacLaine

A Saint can't be wrong:

10- "The world is a book, and those who do not travel read only one page." – Saint Augustine

Keeping it simple:

11- "Once a year, go someplace you've never been before." – Anonymous

12- "Traveling tends to magnify all human emotions." — Peter Hoeg

13- "I haven't been everywhere, but it's on my list." – Susan Sontag

Straight from Wall Street:

14- "Investment in travel is an investment in yourself."– Matthew Karsten

15- "Adventure is worthwhile." – Aesop

Bragging and happy:

16- "Traveling – it leaves you speechless, then turns you into a storyteller." – Ibn Battuta

Humble and still happy:

17- "Travel makes one modest. You see what a tiny place you occupy in the world." – Gustave Flaubert

Friendship:

18- "A journey is best measured in friends, rather than miles." – Tim Cahill

19- "People don't take trips, trips take people." – John Steinbeck

A literature classic:

20- "Twenty years from now you will be more disappointed by the things you didn't do than by the ones you did do." – Mark Twain

Adventure and unknown:

21- "Life is either a daring adventure or nothing." – Helen Keller

22- "Our happiest moments as tourists always seem to come when we stumble upon one thing while in pursuit of something else." – Lawrence Block

Wanna come?

23- "The man who goes alone can start today; but he who travels with another must wait till that other is ready." – Henry David Thoreau

Never mind...

24- "To awaken alone in a strange town is one of the pleasantest sensations in the world." – Freya Stark

The one we wish we came up with ourselves:

25- "One's destination is never a place, but a new way of seeing things." – Henry Miller

Do you have your list of best travel quotes? Comment below!