If you are reading this blog, you probably realize that traveling by bike or on foot following well-planned itineraries is one of the best ways to see and experience an area. But if you are new to organized group travel – in our case small group cycling and walking/hiking vacations – you probably have questions about the actual daily schedule and what you are supposed to do. If you are that person, read on.
A Typical Day on Tour
Because the tour is organized and everything is planned for you, your only concern is to show up on time. Tour leaders will let you know where you are supposed to be and when, and sometimes the daily schedule is reiterated via a sign or a board at the hotel reception, in the breakfast room, or wherever your meeting point was established.
This is how a typical day on a bike (or walking/hiking) tour works:
On bike tours and walking/hiking tours (and Tourissimo is no exception), guests go to breakfast on their own and get caffeinated for the day. Hotels in Europe tend to start breakfast between 7 and 7:30 am.
We usually start at 9 am. We gather, review the route and answer question. Snacks and water are available to prepare for the day. The guides can make adjustments to your bike and offer safety and riding tips. On bike tours, one guide will accompany you on a bike and the other will ride in the support van. On walking/hiking tours there is usually no support van and the guide(s) will accompany you on foot.
If your hotel is in the city and there is traffic and busy roads, your guide will have you ride single file as a group out of the congested area. Once you reach the country roads you are free to ride at your own pace/on your own.
We usually make two stops in the morning before arriving at our lunch spot. The stops can be to regroup and refill snacks and water, or they can be to visit an interesting site or producer. You are free to make other stops on your own and on our tours we encourage you to go at your own pace, take plenty of pictures and enjoy.
Lunch can be a picnic, a visit to a winery, or a stop at a cheese producer where a local family opens its doors for a memorable meal. If lunch is not included, your guides can give you suggestions about where to eat.
The van is always around to carry your shopping items such as wine, olive oil and local art crafts. It can also give you a lift.
We usually arrive at the hotel with a couple of hours to spare to relax before meeting for an afternoon activity, such as a walking tour of town by a local guide.
We gather for dinner, which is usually between 7:30 and 8 pm, and we discuss how the day went before hearing from the tour leaders about the plans and schedule for the following day.
Newbie Tip: realize that you can (and a good guide will remind you of this) ride just in the morning and finish the day in the van, or skip a day of riding altogether if you are not feeling great that morning.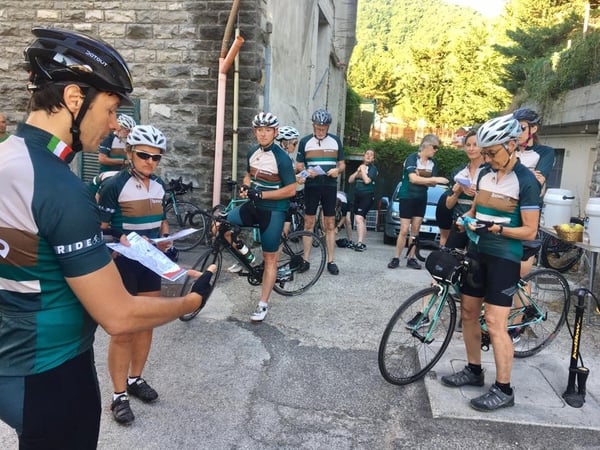 If you are intrigued about active small group travel read our Travel Etiquette Guide.
At Tourissimo, we are very serious about food and wine (it's our Italian DNA). Dinners can be as long as two+ hrs but it's not impolite to excuse yourself and to go back to your room if you feel you are way past your reasonable bed time. If you have Italian DNA yourself, stick around for a digestive or grappa shot.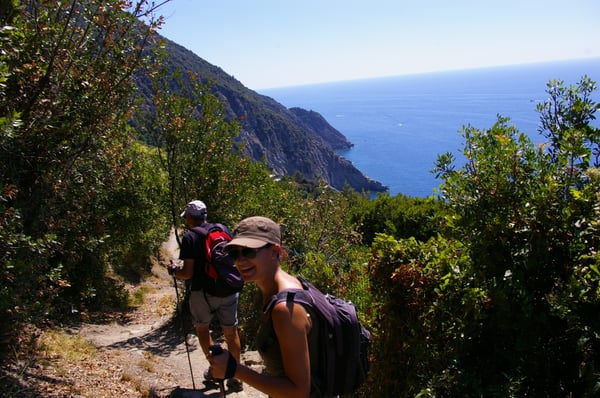 Be rested and ready the next day to start over.
On days when the itinerary calls for a hotel change you are going to be reminded to pack your suitcase. Listen carefully to where you are supposed to bring it and when to be loaded into the van. In most cases it will be waiting for you in your room at the next hotel when you arrive.