Tourissimo partners with Bianchi bikes to offer reliable, nice looking rigs on our biking tours. Let's have a look at the Bianchi Intenso model that we ride as the "road bike option" on our cycling tours.
History of Bianchi
The first Bianchi shop opened in Milan in 1885 under founder Edoardo Bianchi, then 21 years old. To this day it is one of the oldest bicycle manufacturing companies still around.
Bianchi's shop was innovating cycling by adopting both wheels of the same diameter. In 1888, Bianchi produced the first bicycle with tires, a recent invention by the Scottish veterinarian John Boyd Dunlop.
Bianchi's first international sport success dates back to 1899, when Tomaselli won the Grand Prix de la Ville de Paris. This is how Bianchi's adventure started: sports competitions fueled the growth of an enterprise which was born just four years before as a workshop, but was going to become one of the most important industries in the world.
Bianchi has always been about road racing and being on top of the podium. Legendary racers such as Fausto Coppi and Marco Pantani contributed to the history of the brand.
Nowadays, Bianchi is about technology and Italian style. At Bianchi they do not want to get too nostalgic about the past. They keep pushing the technological envelope to bring us the best possible ride.
Visiting their R&D department you sense that Fausto Coppi is a distant icon. Back then, it was all about steel frames while now you are surrounded by carbon frames designed around 3D prototyping.
Bianchi offers the market a complete range of models for Road, MTB, City-Trekking, e-Bikes and accessories to meet the needs of all cyclists.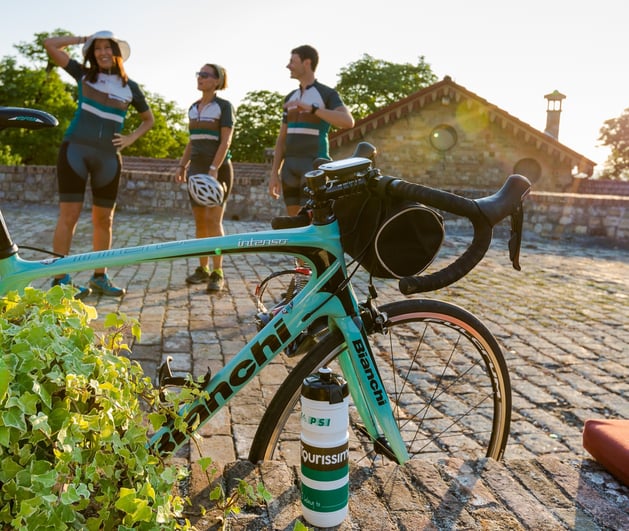 Bianchi Intenso Road
The Intenso carbon frame guarantees maximum performance with minimum stress for the riders, thanks to Bianchi's special C2C (Coast to Coast) frame design and different material combination.
"With 8 years of R&D behind our Coast to Coast line of bikes, the Intenso marks a new generation of all day riding performance for gran fondo and sportive riders." Bianchi USA
The Intenso is a monocoque carbon fiber endurance road bike that yearns for any road surface you can throw at it. The frame comes with internal cable routing for a very polished look, and K-VID technology in the fork and seat stays. A full carbon fork and tapered steer tube keep the steering reactive and stable as you carve up the high speed descents. A longer wheel base than race bikes and slightly slack head tube angle offer the rider stability when the road gets rougher. Shimano 105 is a smooth 11 speed groupset that performs just as nicely as its bigger brothers Ultegra and Dura-Ace, with a little weight penalty. Our bikes are spec'd with a 32 tooth cassette paired with a compact 50/34 crankset so that you can tackle the steepest of climbs.
Frame
Size: 47, 50, 53, 55, 57, 59, 61
Frame: C2C Intenso Carbon, BSA
Fork: Full carbon 1.1/8″-1/5″ with K-VID technology
Wheels
Wheels: Fulcrum Racing Sport
Tires: Vittoria Zaffiro Pro Slick 700 x 25c
Drivetrain
Shifters: Shimano 105 11sp with 11/32 sprocket
Derailleur front: Shimano 11sp

Derailleur r

ear: Shimano 105 11sp
Crank: Shimano FC-RS500 Hollowtech Compact 50-34
Components
Saddle: San Marco Era Startup
Seat Post: Repart Corse SP-TEC-2 alloy
Handlebars: Repart Corse JD-RA35A
Stem: Reparto Corse AN700N Alloy
Headset: Fsa Orbit CE Plus
Brake: Reparto Corse RC-471 Alloy
Tourissimo's Intenso bikes come equipped with:
Did you know about Bianchi Cafes?
And what about the Cafes? While there are many bike-themed cafes out there, Bianchi is going really big: best locations, best food and chefs, maniacally designed interns, bikes displayed like jewelry.
They are expanding and you might stumble into a Bianchi Café on one of the main strips of Milan, Tokyo, Oslo, and New York (they were trying to secure a location).
If you wish to learn more about our bikes take a look at the equipment page. And if you're interested in riding one for yourself on one of our tours, get in touch!