Last week I wrote about the Trabocchi Coast, and there's no better way to visit the trabocchi (and other notable sites in Abruzzo) than by bicycle! This has become easier and more enjoyable thanks to the construction of a bike path, one of the best I've ever experienced.
Abruzzo Bike to Coast is an ambitious, 131-km (81.4-mile) bike path that when completed will extend from Martinsicuro to San Salvo along the coast of Abruzzo. Most of it is on old railroad tracks or existing bike paths. As of the writing of this blog, about 85 km (52.8 miles) of the path are done. In 2020, the project won the Italian Green Road Award, considered the Oscars for cycle tourism in Italy.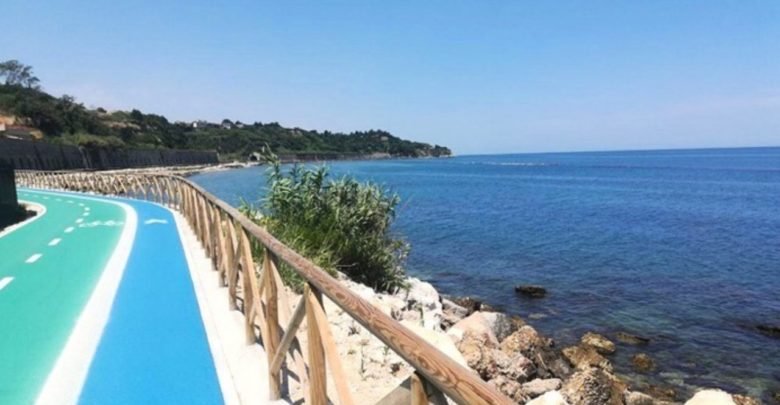 Photo courtesy of ANSA
It is a multi-use path that has designated two-way lanes for cyclists and a lane for pedestrians, as seen in the above photo. Take a tour of the entire path in this video:
The 42-km (26-mile) Via Verde (green way) follows the Trabocchi Coast and is part of the Bike to Coast route. You can see the length of the Via Verde on this map, the green line along the coast.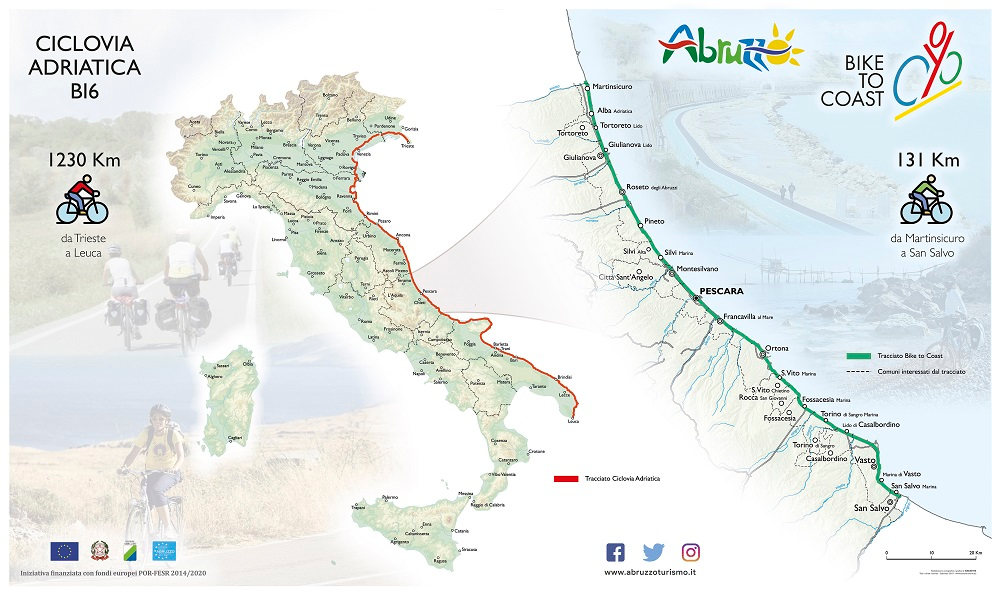 The Bike to Coast Cycle Path is part of the longer Adriatic Cycle Route that runs from Trieste in the North of Italy, all the way down to Santa Maria di Leuca in Puglia in the south. You can view this route on the map above, the red line on the map of Italy.
None of these routes are complete, but each year more areas of protected (or at least marked) cycle lanes are added that fill in existing gaps and make cycling safer and more enjoyable.
Beppe and I recently visited the Trabocchi Coast and before heading out for lunch in a trabocco, we had to stop to admire the cycle path that runs along the water!
The Abruzzo Bike to Coast route is a coastal path that connects to many roads that take you inland to explore small towns and interesting places in all four regions of Abruzzo. It's perfect for days trips to explore or for a full week (or more) of cycle touring. We'd be happy to arrange this for you. Get in touch to get the conversation started!