This week's blog post was written by our guide and Italian food expert, Federica.
Inspired by Stanley Tucci and his gastronomic program, Searching for Italy, we want to rediscover some recipes of the Italian regional tradition. Today we take you on a journey to Italy, from north to south, through five of our regions, to discover five different ways to prepare or dress pasta.
We offer our versions of five recipes that Tucci presented in his program. We start in Lombardy with buckwheat pizzoccheri alla valtellinese; we then go southwards a bit and stop in Emilia-Romagna to learn how to prepare Bolognese sauce to dress egg tagliatelle; a slightly longer transfer takes us to Lazio, where we can't wait to taste the legendary cacio e pepe; going further south we arrive in Campania and discover a less famous but equally tasty recipe, spaghetti alla Nerano; finally with a leap we jump to the island of Sicily to be delighted by some pasta alla Norma. Are you ready to follow us on this succulent adventure? Let's go!
LOMBARDIA: PIZZOCCHERI ALLA VALTELLINESE
Pizzoccheri are a type of fresh, egg-free pasta, prepared with buckwheat flour, type 0 flour and water: it is the buckwheat flour that gives pizzoccheri their typical dark color. Pizzoccheri are nothing more than short noodles. In fact, they have the thickness and width of noodles but a length of about 7 centimeters. Pizzoccheri alla Valtellinese are traditionally served with cabbage, potatoes and cheese.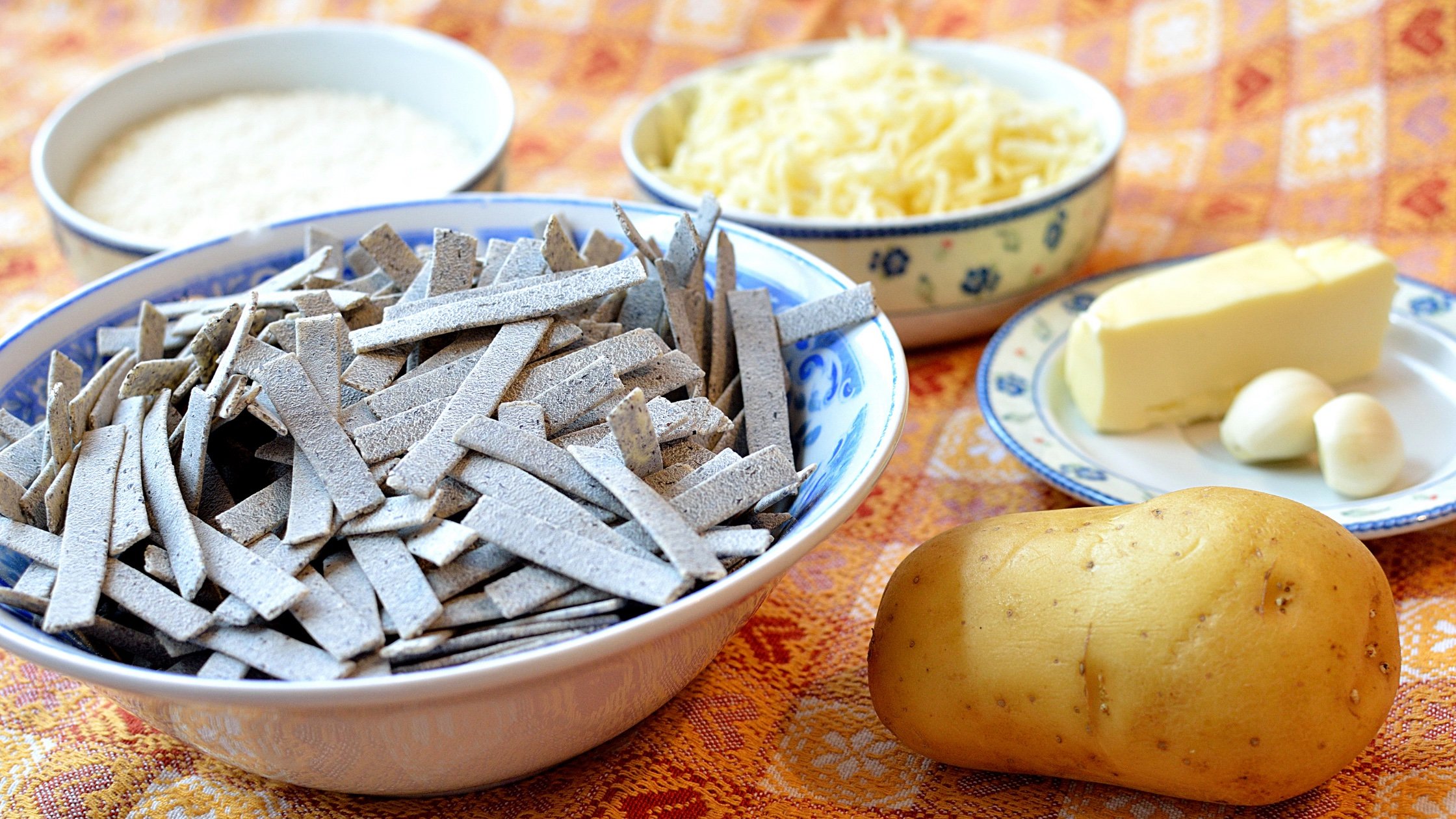 Ingredients for pizzoccheri:
400 g buckwheat flour

100 g flour 0

about 280 g of water
Work the buckwheat flour and the 0 flour with the warm water and knead well, until the dough is smooth and elastic. Transfer the dough to a pastry board and, with the help of a little buckwheat flour, roll it out to a thickness of 2-3 millimeters.
Cut the dough into strips of about 7 centimeters in width and then cut each strip into strips of about 7 × 70 millimeters in size (7 cm the longest side and just under one centimeter the shorter side).
Ingredients for the dressing:
2 potatoes

400 g cabbage

180 g Valtellina Casera cheese (or fontina)

60 g grated Grana Padano

80 g butter
4 cloves of garlic

coarse salt (about 2 tablespoons)
Wash the potatoes, peel and cut them into large chunks. Put them in a bowl, cover with cold water and set aside.
Remove the outer leaves of the cabbage (the harder ones) and cut the softer part into strips. Also keep the cabbage aside.
In a large saucepan, bring about 6 liters of water to a boil with 2 tablespoons of coarse salt. When the water boils, add the potatoes (drained) and cook them for 4-5 minutes. Then add the cabbage into strips and cook for another 2 minutes. Finally, add the pizzoccheri and cook them for 3-4 minutes or, in any case, until they are cooked al dente.
When the pasta is cooked al dente, with the help of a slotted spoon, pass the pasta, potatoes and cabbage into a colander. Then in a large pan make a layer of pizzoccheri, cabbage and potatoes, add the diced cheese (casera or fontina), a handful of grated parmesan, then another layer of pizzoccheri cabbage and potatoes, diced cheese, grated parmesan and so on until all the ingredients are used up.
Do not mix the various layers together but leave them separate. Cover the pan with a lid and let it rest for a few minutes, so that the cheese melts. Meanwhile, in a pan, brown the garlic in melted butter until the butter begins to take on a nutty color. When the cheese has melted, pour the melted butter over the pizzoccheri. Only at this point, remove the garlic and mix the pizzoccheri with the casera cheese (or fontina) and the butter to obtain a cream cheese that wraps the pizzoccheri. At this point, your pizzoccheri alla Valtellinese will be ready to be served immediately.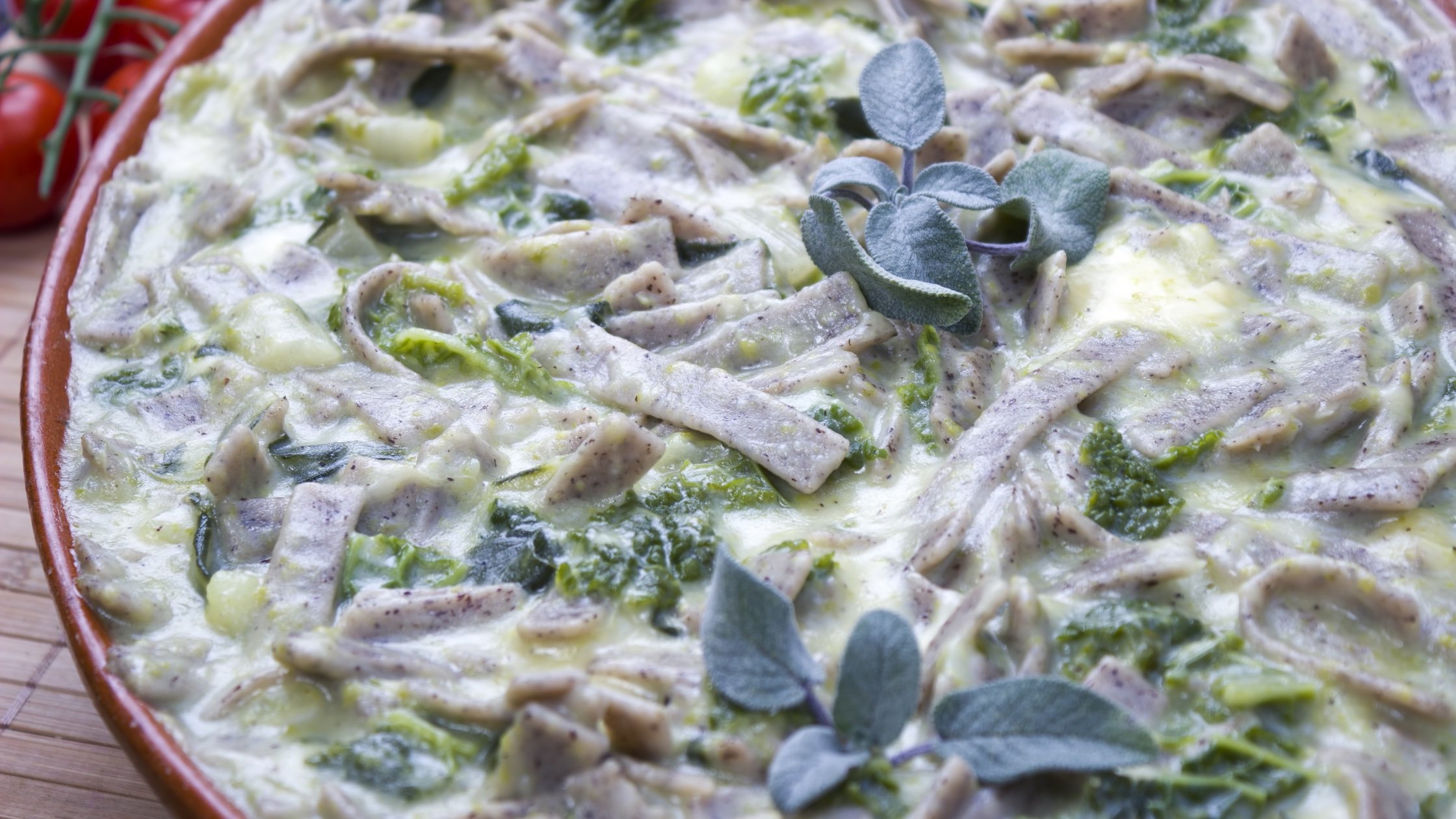 EMILIA-ROMAGNA: TAGLIATELLE AL RAGU' BOLOGNESE
The traditional Emilian recipe of ragù Bolognese is registered with the Chamber of Commerce of Bologna, but every family has its own recipe. On one thing, however, everyone agrees: the minced meat of the Bolognese sauce must be a mixture of pork and beef cooked slowly. This ragù is perfect with egg pasta but also to prepare lasagna. Today we thought of combining it with egg noodles (tagliatelle). You can buy fresh tagilatelle, or you can make your own. Perhaps in the future we'll post a blog with the steps to prepare it homemade. Here are some pictures of Heather rolling out her first sfoglia for tagliatelle in Emilia-Romagna: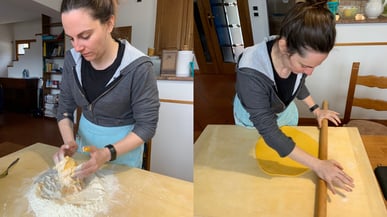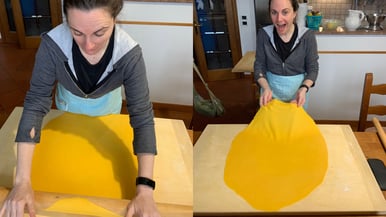 Ingredients for the ragù:
1 small onion

1/2 stick of celery

1 small carrot

150 g of minced bacon

250 g of minced pork loin

350 g of ground beef muscle

1/2 glass of dry white wine

1 glass of whole milk

400 g of tomato sauce

2 tablespoons of tomato paste

extra virgin olive oil

1 knob of butter

coarse salt

pepper
Start preparing the Bolognese sauce from the sauté. Finely chop the celery, carrot and onion with a knife.
Heat the oil and butter in a saucepan, add the vegetables and cook them slowly over low heat. Add the bacon and, after a couple of minutes, the minced meat. Brown over high heat, stirring constantly and shelling with a spoon.
Add the white wine and let it evaporate. When you no longer smell the alcohol, add the milk and let it absorb over medium heat, stirring occasionally. Season with salt and freshly whipped pepper. At this point add the tomato puree and the concentrate, stirring with a spoon to mix. Bring to a boil, cover, without sealing with the lid, and cook over low heat for at least 2 hours. The Bolognese sauce is ready.
Cook the tagliatelle in boiling salted water for a few minutes, dress with the meat sauce and bring the steaming tray to the table!
LAZIO: CACIO E PEPE
The ingredients of Cacio e pepe are only 3, as per the original recipe: pasta, usually tonarelli, thicker egg pasta spaghettoni (fresh or dried), pecorino romano DOP and black pepper, which must be used in grains, freshly ground. Another key ingredient is the pasta cooking water, rich in starch, which will be used to create the famous pecorino cream.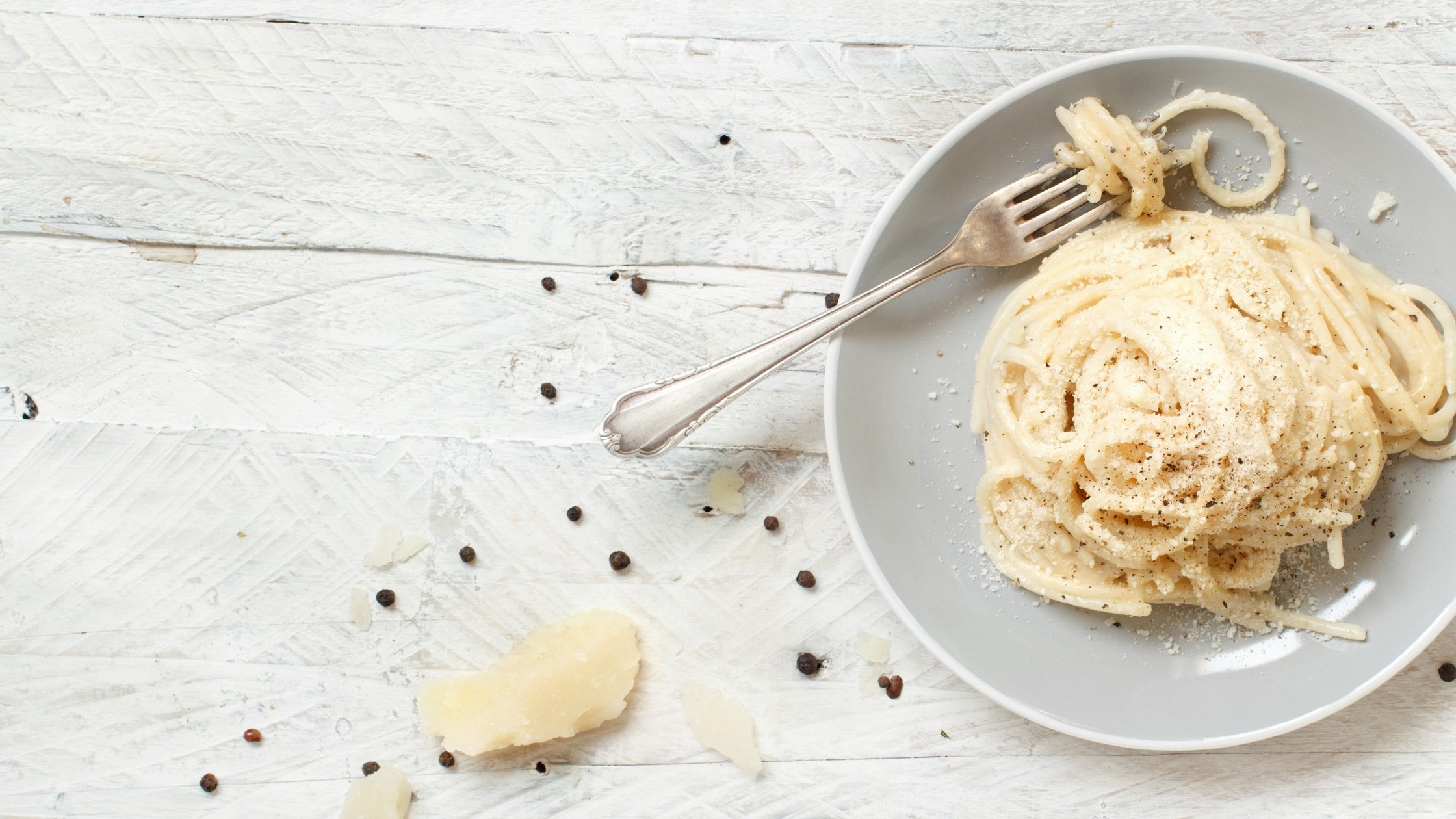 Ingredients:
400 g pasta (tonnarelli or spaghetti)

280 g pecorino romano

1 tablespoon black peppercorns
Black peppercorn freshly ground
Heat a non-stick pan and pour a nice spoonful of pepper by grinding it at the moment. Toast it for a few minutes over medium heat then pour in 3 ladles of cooking water.
Pour the grated pecorino cheese into a bowl and add a ladle of cooking water, a little at a time and mix with a spatula, until you get a pasty consistency. Keep aside.
Cook the pasta in lightly salted water and when 2 minutes are left at the end of cooking, take the spaghetti with tongs and pour them directly into the pan where you heated the pepper and cook them, stirring them for a few minutes, moving them often with tongs to mix them with pepper.
Once the pasta is cooked, turn off the heat, let it rest for 1 minute, and add the pecorino cream, together with a ladle of cooking water. It is important that this operation is carried off of the burner.
Move the pasta vigorously with tongs, so that the pecorino melts together with the pasta. It will take a few minutes. Your pasta with cacio e pepe is ready to serve and you will see how creamy it is!
Prepare the portions and complete the dishes with a generous sprinkling of black pepper (always freshly ground) and, if you like, a sprinkling of pecorino. Spaghetti with cacio e pepe should be served immediately, hot and steaming.
CAMPANIA: SPAGHETTI ALLA NERANO
A recipe invented in 1952 in the restaurant Mariagrazia in Nerano, in the Sorrento Peninsula, which combines zucchini with provolone del monaco, a stretched curd cheese produced locally in the Sorrento Peninsula itself.
Ingredients:
320 g spaghetti

150 g provolone del Monaco

700 g zucchini

20 g basil

30 g Parmigiano Reggiano PDO to be grated

Salt and black pepper to taste

1 clove of garlic

30 g Extra virgin olive oil + 500 g for frying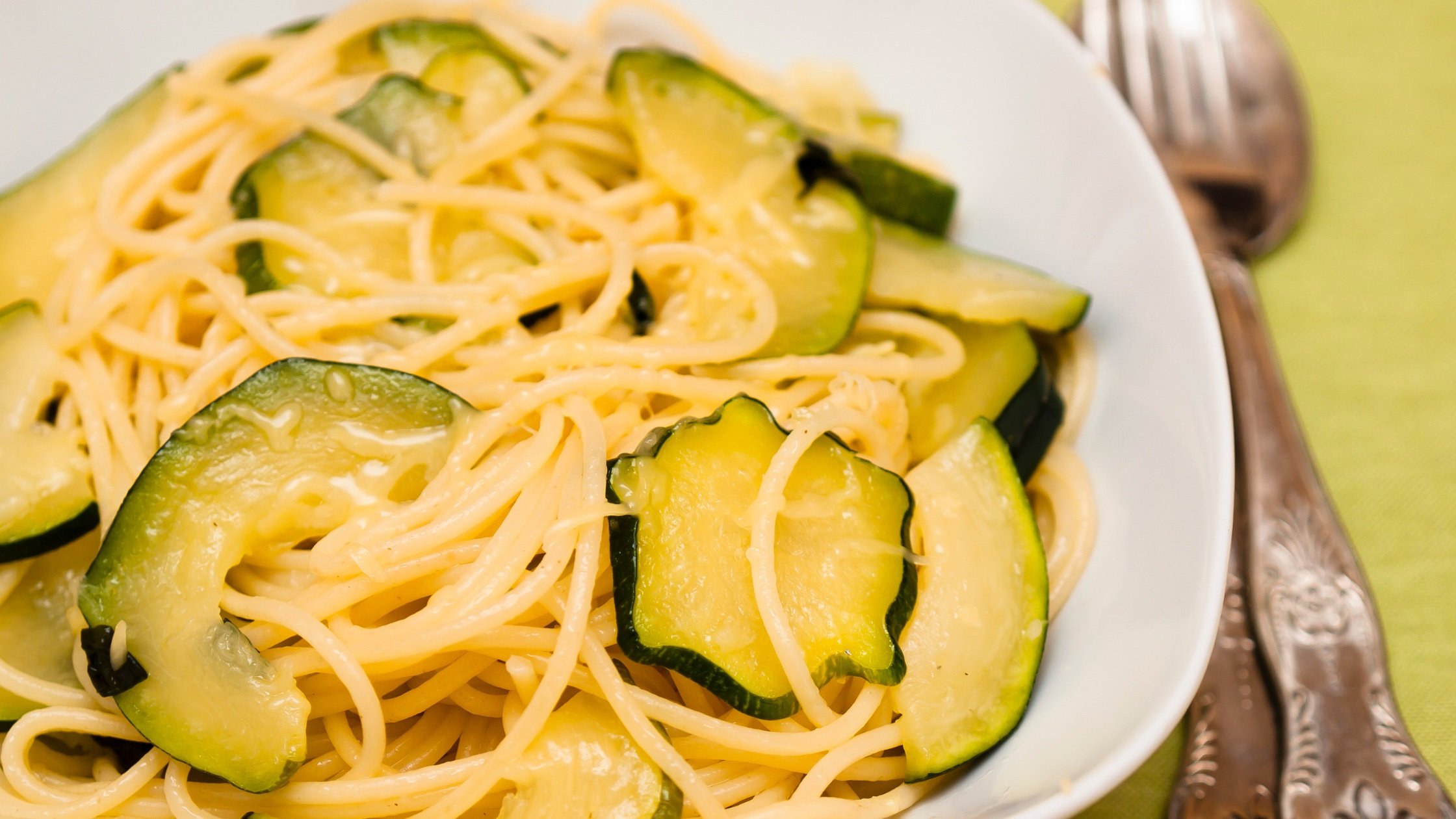 Slice the zucchini into thin slices. Fry them in abundant oil, a few at a time, and drain them on a sheet of kitchen paper: they will be ready as soon as they start to turn golden.
Season the zucchini by covering them with the basil leaves, broken up with your hands. Finely grate the provolone.
Cook the spaghetti in boiling salted water and drain when al dente, keeping two ladles of cooking water aside.
Fry the garlic clove in a pan with a little oil. Remove the garlic and add the zucchini, spaghetti, a ladle of water and half of the provolone. Finish cooking the pasta over low heat, adding the remaining water and provolone a little at a time, stirring until a sort of cream is created. Serve immediately with a generous grind of pepper.
SICILIA: PASTA ALLA NORMA
Another vegetarian sauce with the colors and flavors of Sicily: eggplants and tomatoes are the protagonists of this recipe, made special by a finish of salted ricotta grated on a steaming plate. Originally from the western part of the island, this specialty from Catania was made as a culinary tribute to the most beautiful opera of the famous composer Vincenzo Bellini: the Norma. The most suitable pasta shape for this recipe is the short one: rigatoni and penne are perfect.
Ingredients:
2 purple eggplants

8 tomatoes

garlic

oil

basil

salted ricotta

salt

sugar

pepper

peanut oil (for frying)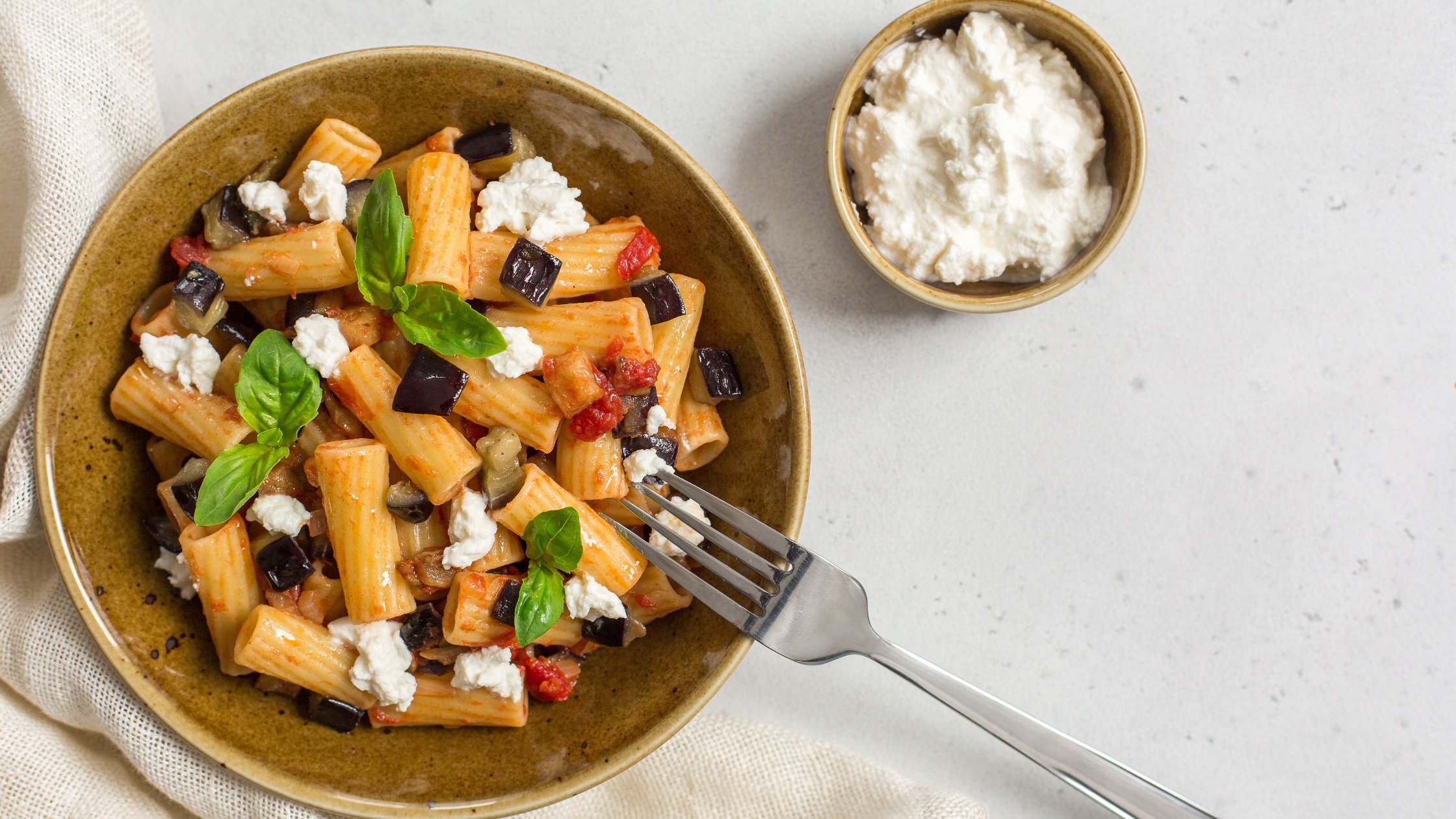 Cut the tomatoes into squares and put them in a pan with oil and garlic. Let them soften for about 20 minutes with basil, salt, pepper and half a teaspoon of sugar; at this point remove the tomatoes from the heat and pass them through a vegetable mill.
Put the tomato sauce back on the heat and let it dry until you get the right consistency. Then cut the eggplants into medium-sized squares and fry them. Drain them very well.
Cook the pasta and dress it with the tomato sauce. Serve it and add the eggplants and grated salted ricotta directly to every dish.
If you try any of the recipes in this blog, we'd love to hear from you and see the results! Leave a comment in the form below, or get in touch with your thoughts and photos.
IN ITALIANO
Want to practice your Italian? Download a copy of these recipes in Italian!