At the time of this blog, there's no doubt that Italians are taking the restrictions by the Government to slow down COVID-19 spreading very seriously. All of Italy in under mandatory lockdown and people must stay home with a few justified exceptions. Lat week, something extraordinary, but very Italian, started happening.
Italy is a densely populated country and the great majority of people live in apartments inside buildings in close proximity. Sometimes, Italians chat or exchange information with neighbors over a balcony.
We are clearly living a drama of historic proportions and the urge for something futile, uniting, and fun could not stay locked down for long.
After a few days of lockdown (probably 4 but who knows) the deserted and streets of cities and villages started resonating with the Italian anthem, folk songs (both in Italian and in the local dialect), but also techno and live DJ sets. Even professional opera singers set up on their balconies with everyone else out of theirs as if they were in the gallery at Teatro della Scala.
The whole thing went viral on social media and Italians got organized: let's do it at 6 pm every day. That way at 6 pm, approximately, everyone has something to look forward to. At the time of writing we are on day 9 of mandatory confinement. What you have to realize is that it all happens with cities without cars therefore in a surreal silence.
It turns out that many Italians have musical instruments - perhaps covered with dust until a few days ago: tambourins, accordions, guitars, etc. Professional and amateur DJ's blasted off their thundering sound systems.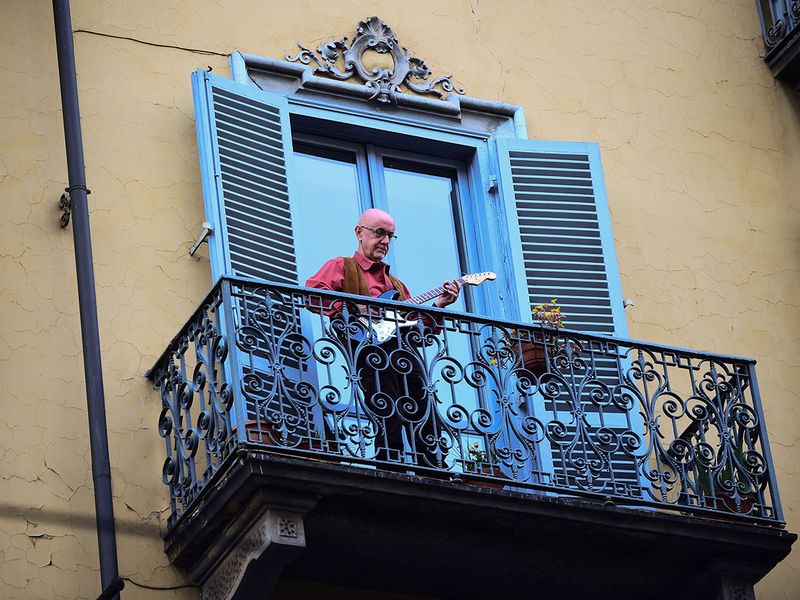 Photo credit Gulfnews.com
Even media picked up the social media posts and start writing about it:
As life in Italy grinds to a halt amid a nationwide lockdown to control the spread of the coronavirus outbreak, one street was filled with song as the community banded their voices together in solidarity. - Independent

And in Italy, the gestures of gratitude and music ring out above the country's vacated streets, while social media feeds fill with encouraging, sentimental and humorous web videos. - NY Times
Read also: The Role of Senior Citizens in Italian Culture