With 74,000 visitors, nearly 500 exhibitors and 200 races, the Sea Otter Classic is the biggest cycling-centered event in North America. When we were invited to be hosted in the Italian Trade Commission Pavilion with other Italian brands, we jumped at the opportunity. While we were there we met with many of the representatives and asked them what it meant to them to represent Italian brands. It was an insightful discussion.
The Italian Trade Agency (known in Italy as Istituto Commercio Estero, or ICE) is an institution managed by the consulates that promotes small, medium, and large Italian companies abroad and facilitate their efforts to reach international markets.
Nighisti Egziabher was in charge of the project: "The goal at Sea Otter is to put Italian design, creativity, and quality in front of the public." She added that "many don't realize that Italy still produces a lot domestically and with great results." I would say that the cycling world is a perfect example of that.
ITA booked some prime real estate (just steps from the Sierra Nevada beer garden) at Sea Otter Classic and we were lucky enough to share this space with reputable brands such as SIDI shoes, Cipollini bikes, and others. We were kind of an odd fit because we are not manufacturers, still ITA was glad to have us as part of their mix of brands in their trade show portfolio.
While observing both my "colleagues" and the visitors in action, I wondered what the phrase "made in Italy" meant in the cycling world, and how the "Italy factor" plays into consumers' purchasing decisions.
Heather and I took advantage of some slow time at the Tourissimo booth to walk around and interview the people representing the other brands.
The question we asked all of them was was something on this line: "What does it mean and how much value does it carry to have your brands linked to Italy and being perceived as quintessentially Italian?"
SIDI said that their brand is perceived very highly because of the quality, details, and durability of their products. While most producers have moved production overseas, Sidi still designs and manufactures everything in Italy. "A SIDI pair of shoes will last a long time and when you try them they are not easily replaceable".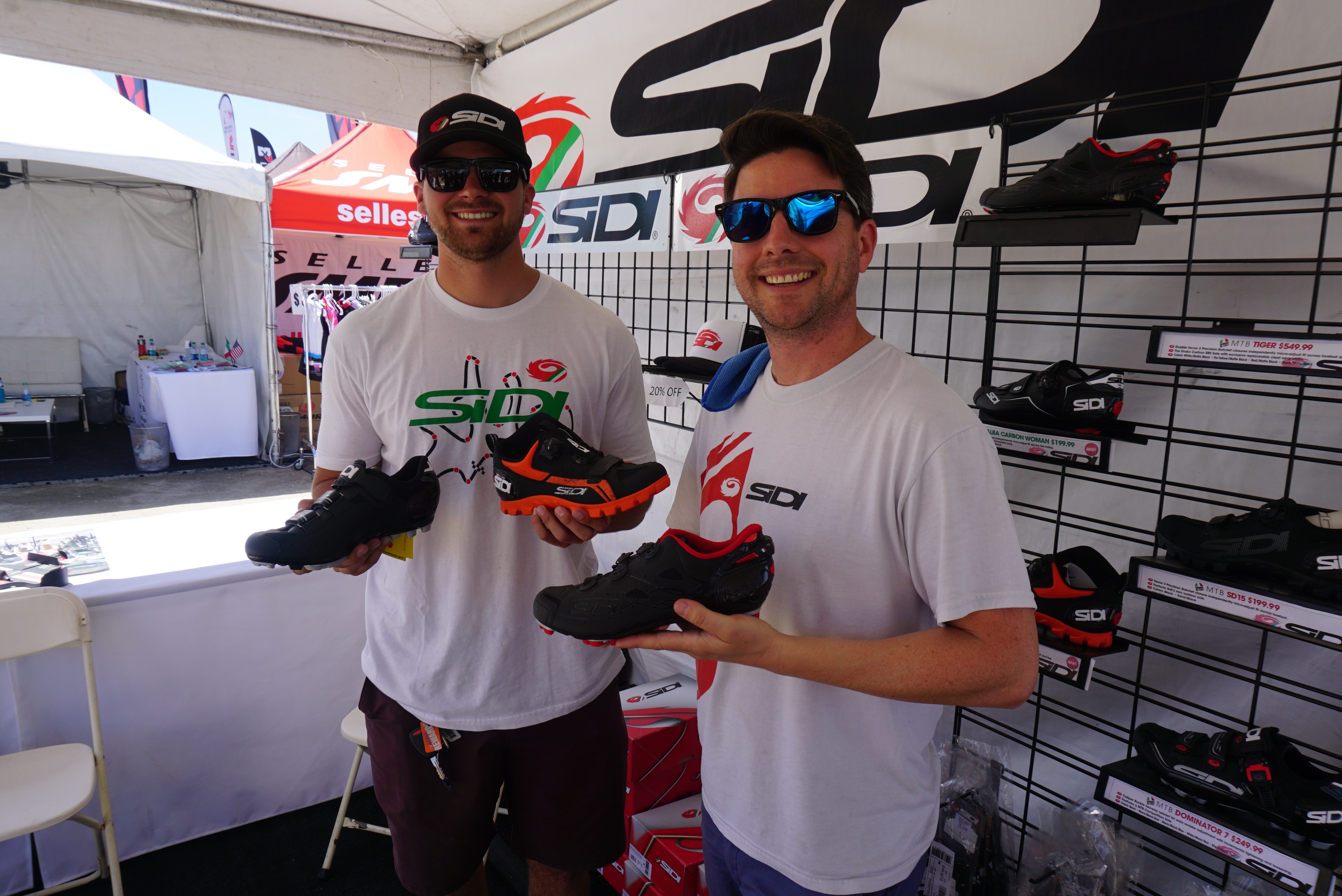 As a matter of fact, everyone we interviewed said that their customers expect the highest quality standards and beautiful design. For them, Italian craftsmanship is intriguing and romantic.
At SMP Saddles, Alessandro Godi said that sometimes his sales pitch involves having people smelling a saddle: "The smell of real Italian leather is so evocative that one can imagine how masterfully they are made". SMP carved a niche for itself in the competitive field of bicycle saddles where it's very hard to innovate. They did so thanks to a unique design and masterful execution. The company is family-owned and they could have sold many times or moved production to China and become very rich in the process. They didn't and their customers thank them.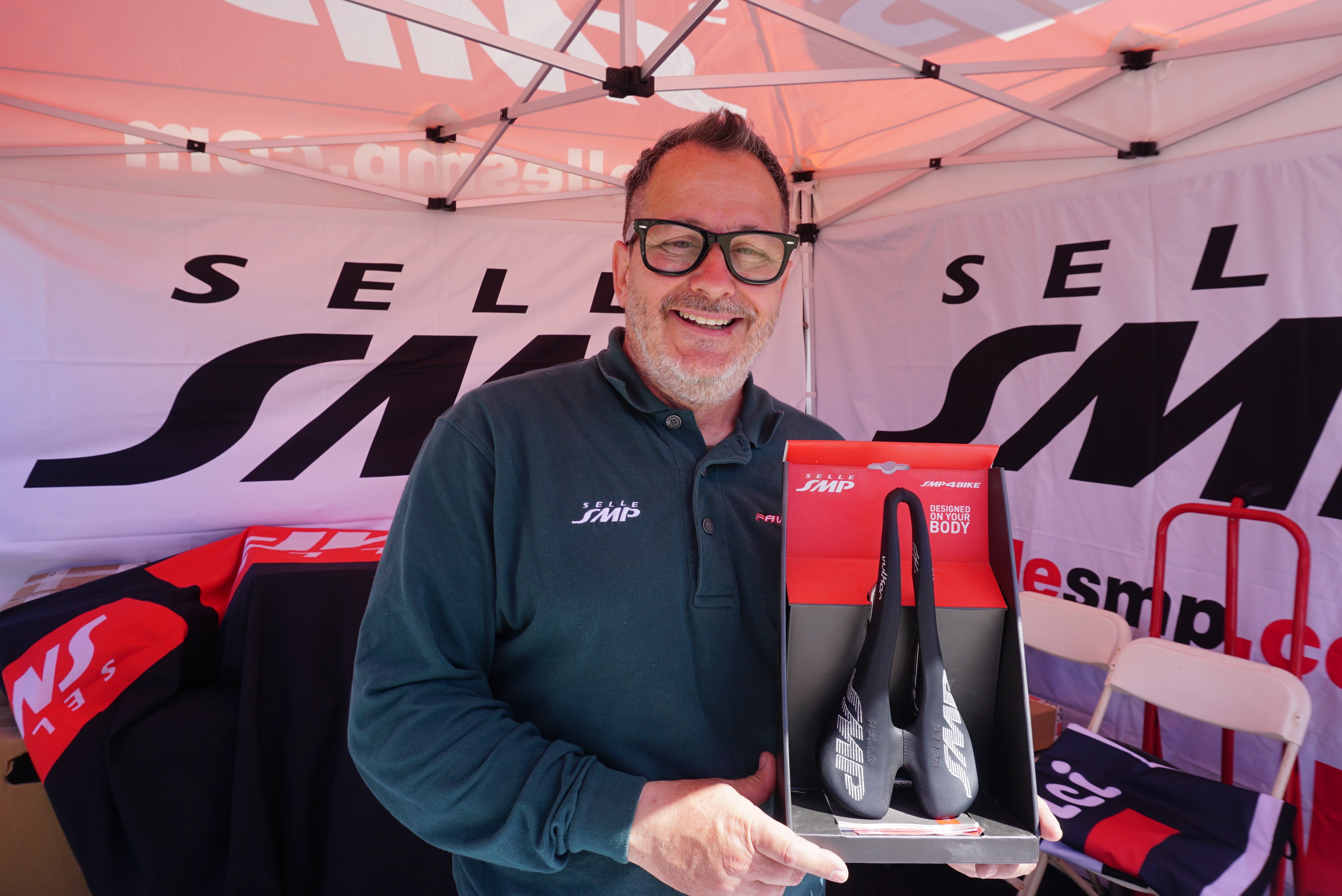 Cipollini is represented in the USA by former professional cyclist Pietro Caucchioli (3rd at Giro d'Italia).
A Cipollini bike is not for everyone and that's the way it should be. It's impossible to mass produce Cipollini's carbon frames and only a few thousands owners will willingly pay between $9,000 and $18,000 for a complete bike with Campagnolo components (what else?!). "It's a true monocoque carbon fiber frame made in Italy" Caucchioli reminded us. It's very expensive and it requires the best carbon fiber workers to do it.
Most other frames are not true monocoque but rather two halves assembled together (just in case you are wondering if their customers are just paying for the name.)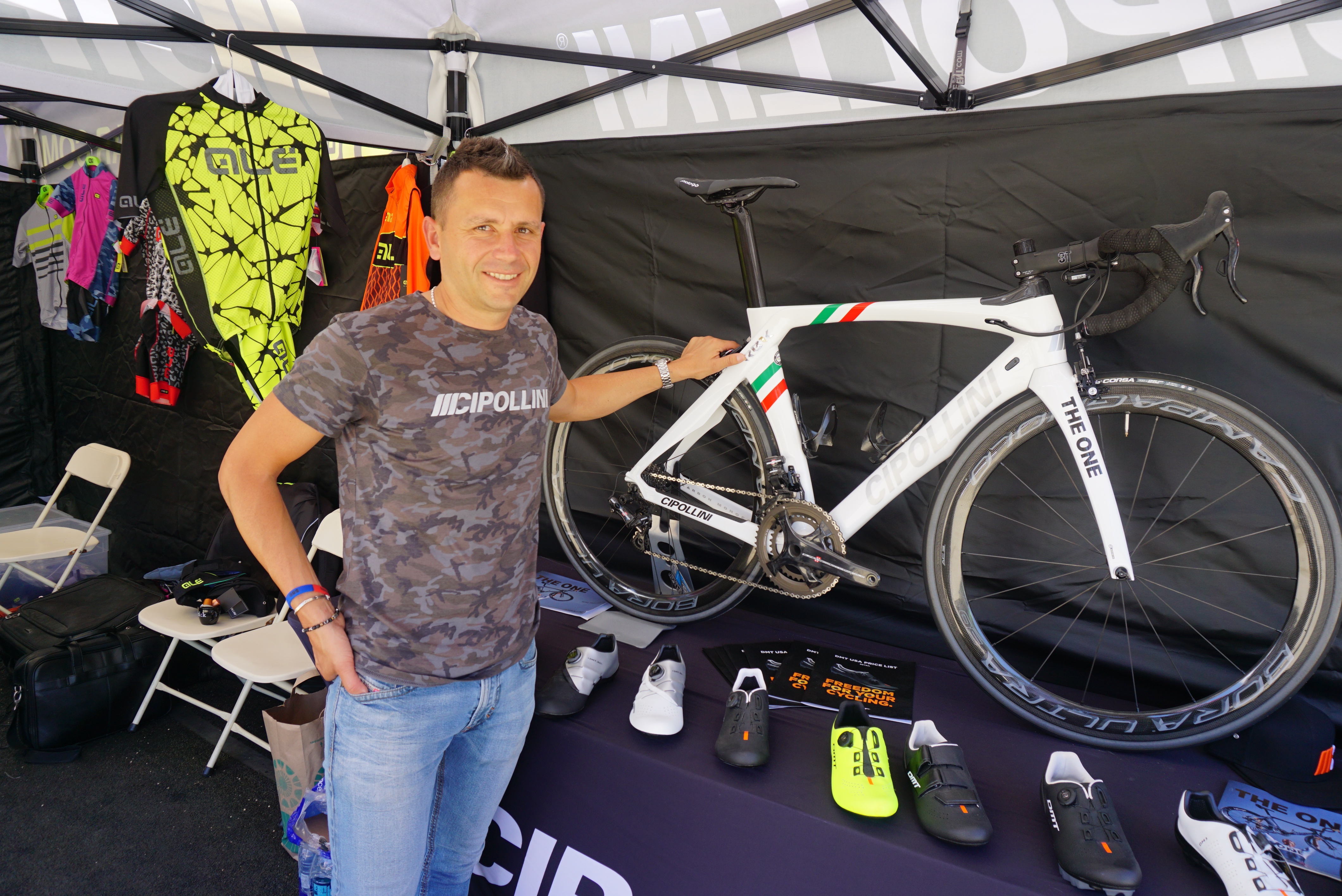 "Made in Italy means quality and that's what people expect." Pietro Caucchioli
Mario Cipollini (one of the most titled cyclists of all times) personally came up with a look that was sexy and ahead of its time back in 2010. Cipollini is an icon of look and style and so are the frames that carry his name. Before Cipollini, the look in cycling was very dull: bib-shorts were black, cycling shoes were black and nothing stood out. His victories and eclectic look (but mostly victories) did wonders for Cannondale first and then Specialized. He designed the bike that he would want to ride if he were still racing and the RB1K was born.
If I had to dissect the qualities linked to "Made in Italy" I would find three elements: design, craftsmanship and tradition. I have no doubts those are the elements of quality "Made in Italy" products. Any other country can beat us at anyone of those elements, but none can beat Italy at all three of them at once. I challenge you to convince me otherwise: "Made in America" has great quality but poor design. Sweden can really design, but they lack the tradition, therefore their beautiful artifacts have no soul. China can copy and mass-produce at low cost. You won't hear me bragging about my t-shirt "Made in China".
Cinelli Italy has long been associated with bicycles and cycling heritage. "Americans have a long love story with Italian cycling brands in terms functional design for sure".
Cinelli products are functional and beautiful yet cosmopolitan and very much about pop culture.
At Vittoria, shoes they are all about functional design as well. Their heel cup is higher than most brands and it retains the foot so well that there is no need to over-tighten the lacing. They are small enough – or they simply choose - to customize your shoe fit for a small surcharge. "Let's say that you have one foot with a more pronounced arch or different foot length, Vittoria will craft your very own pair of cycling shoes" said the Vittoria ambassador helping at their booth. Fit in a shoe is very important and Italians have mastered that craft in cycling shoes. It goes without saying that they are made in Italy and that Vittoria is family-owned (43 years in business).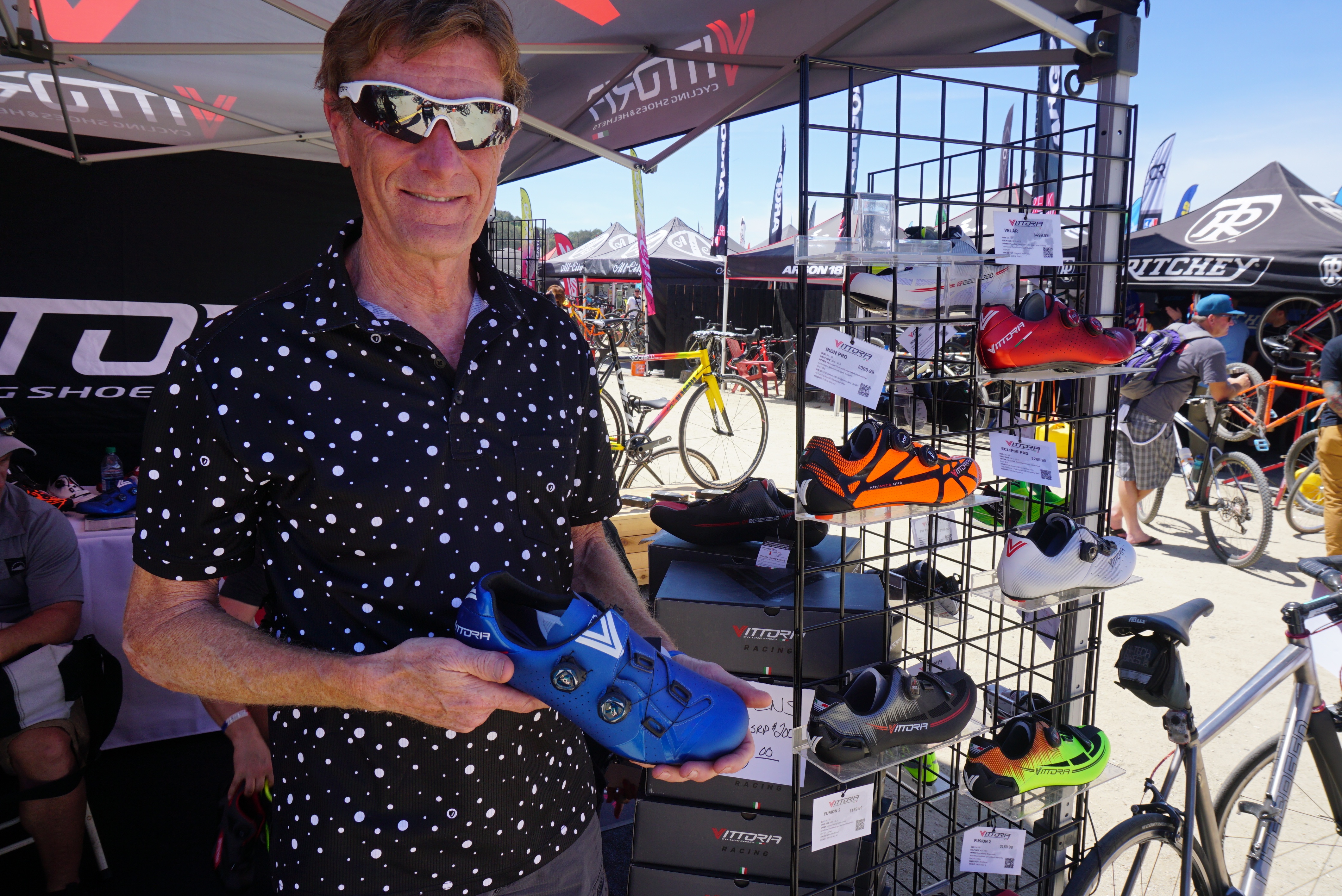 I am a business major and what struck me is that all of those brands build to their specifications and worry about the price later, and luckily the value is so high that price is no objection. These products are made to last. I like to think that designing and delivering Tourissimo's active vacations the way we do makes us part of this Sea Otter Classic Italian club. We strive to create quality tours and memories that will last a lifetime.
I would like to take this opportunity to thank Nighisti and all of ITA for kindly allowing us into the Italian Pavilion. We were in great company, and the Lavazza espresso coffee was the best coffee at Sea Otter Classic!
Why not organize a bike trip to Italy and visit some of these companies?