Italy is a country renowned for its cuisine and its high-quality food products, and blessed with a diversity of recipes and traditions throughout all of its 20 regions. With such a wealth of culinary specialties, you can be excused for not keeping track of them all! There are many extraordinary places that are not so well-known outside of Italy but that Italians hold in high regard. Norcia is one of them.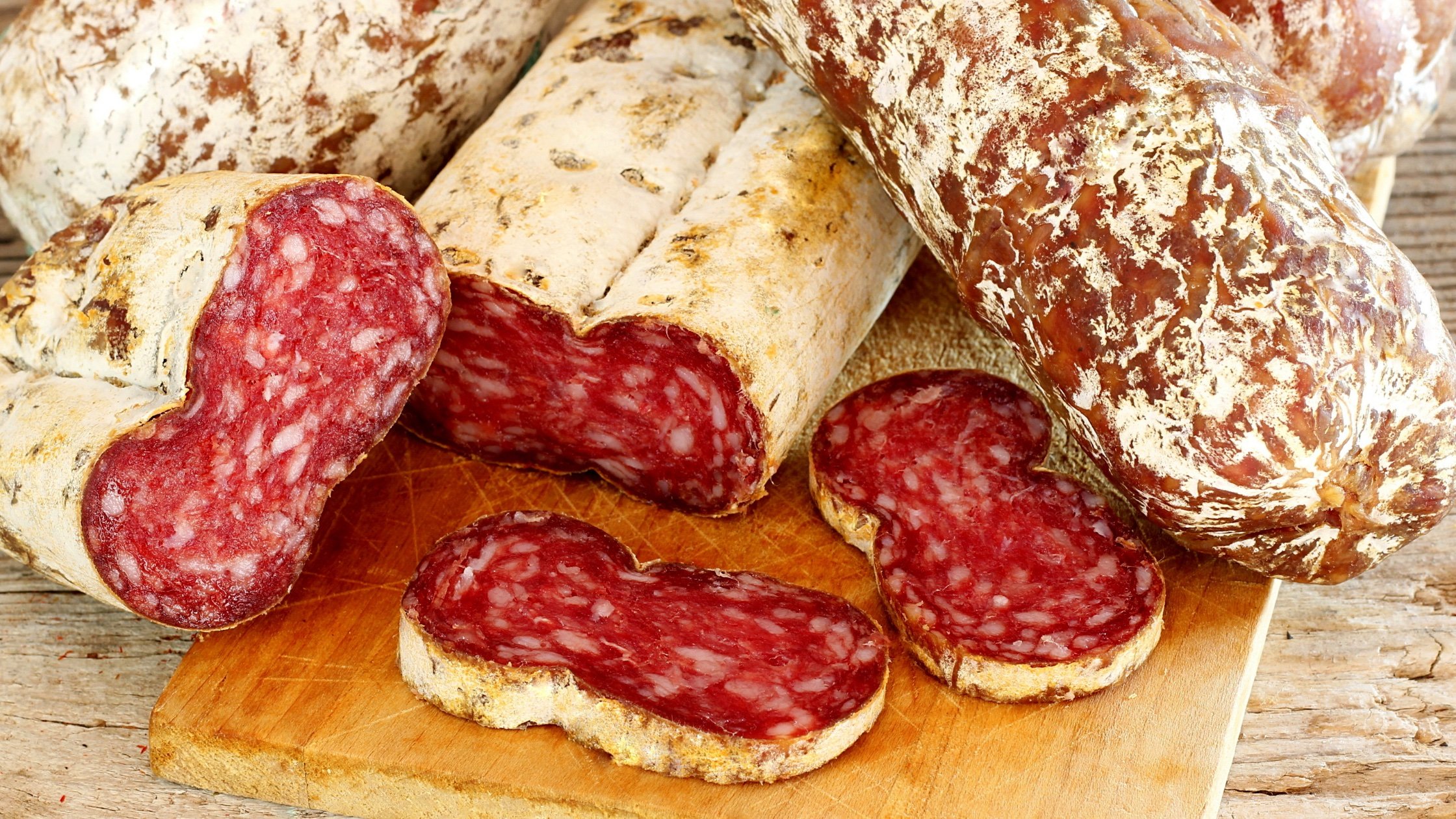 Norcia
Have you heard of Norcia? This small town in Umbria sits in the middle of a valley by the Sordo River near the Sibillini Mountains, a beautiful backdrop.
But Norcia is known for more than its surroundings; it's believed to produce some of the best pork products in Italy. In fact, the Italian word norcino, (the butcher that specializes in charcuterie), comes from Norcia. And in a restaurant if you see a dish described as al norcino, or alla norcina, you know it will be enriched with pork fat and flavor.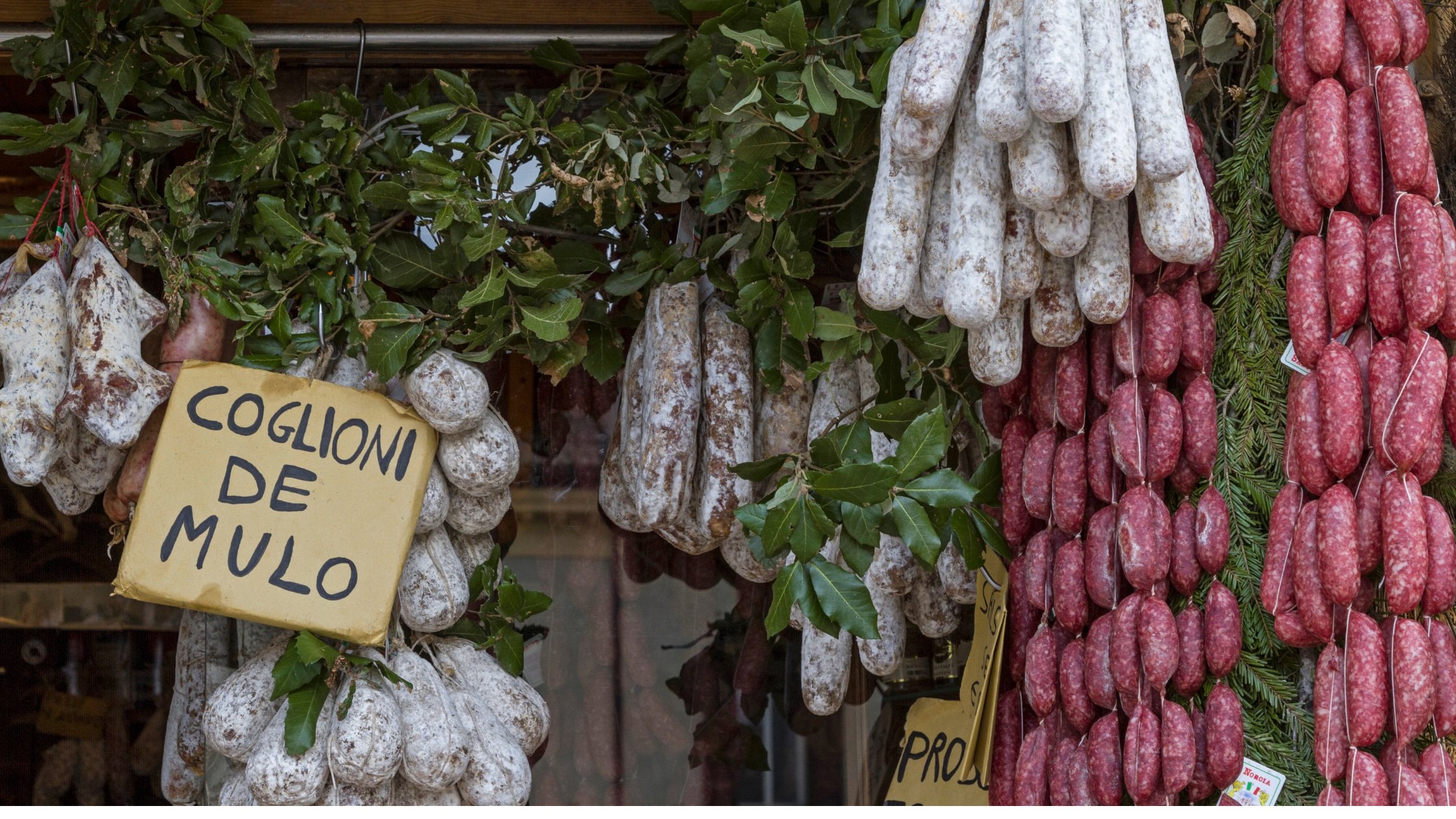 A Long History
Norcia's reputation for great pork products and butchers dates back to Roman times, when the skills of the town's butchers were so expert that they were sometimes called upon to perform basic operations on humans.
Just as important is the quality of the pork, and local butchers have always had plenty of top-quality meat to work with. In and around Norcia you'll find some of the happiest, most looked-after pigs in the country. Umbria has always been home to large oak forests, and pigs have always happily eaten up all of the fallen acorns. Many believe this diet of acorns (along with local wild herbs) can be tasted in the meat.
While norcini are known for their ability to effortlessly break down a whole pig into perfect cuts, their real expertise is with curing the meat.
Being able to fill sausages, add just the right amount of salt and combine ingredients by hand is key to great salumi-making. Every part of the pig is used, from the liver (which is turned into mazzafegate) to the head and skin (which becomes coppa). Additional flavorings are usually kept to a minimum to allow the quality of the pork to stand out. Black pepper is generally used, as are local truffles for more premium cured meats.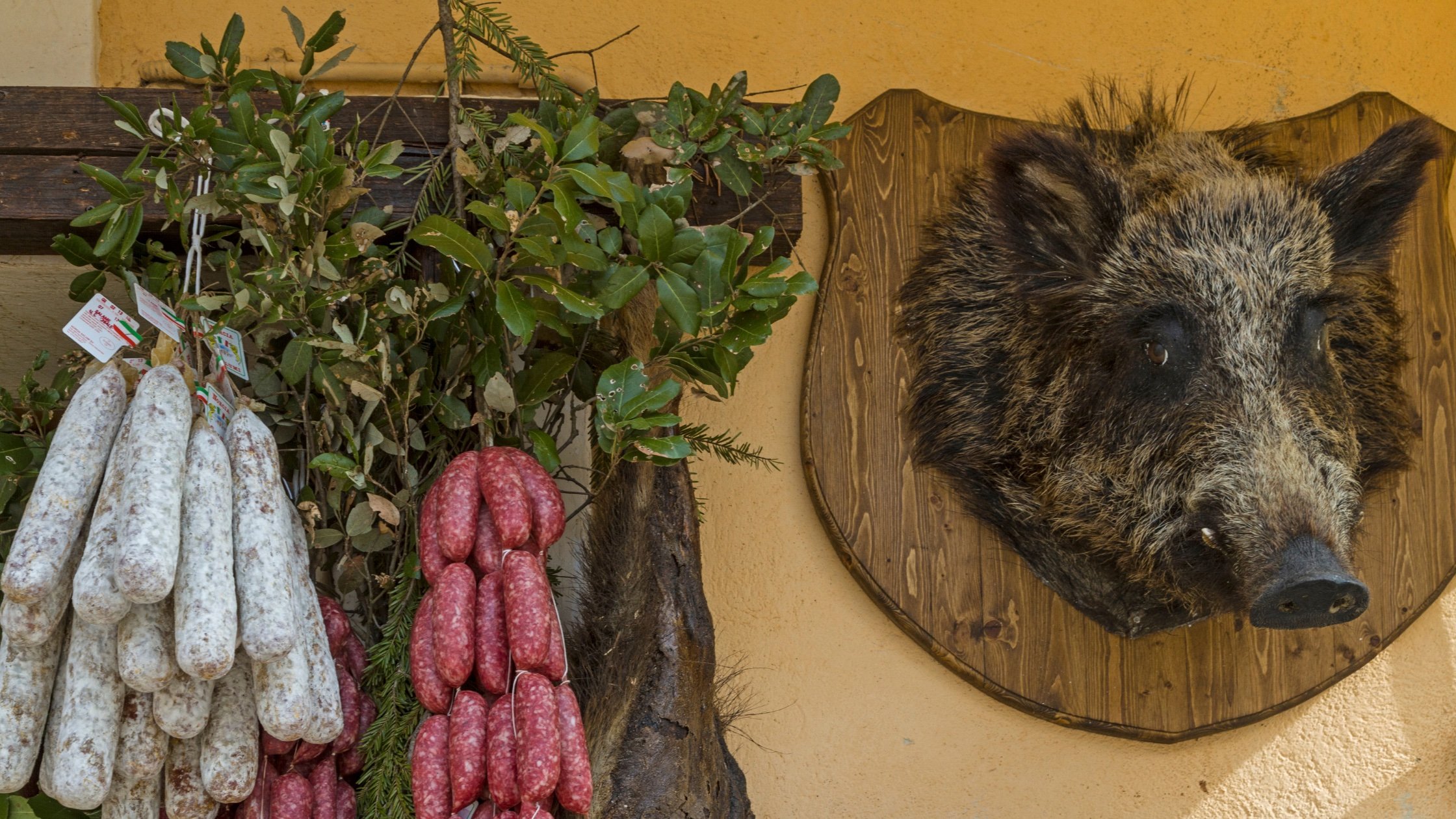 Rebuilding
Among the beautiful buildings and piazzas of Norcia you'll find family-owned shops with norcineria written over the door. These are the businesses where the last few master pork butchers are keeping the norcino tradition alive, taking the very best pork and turning it into perfectly-butchered cuts of beautiful cured meats and salumi. They're often packed from floor to ceiling with sausages, cured legs and other specialties. It's not unusual to see a few stuffed boar heads (or even the whole animal) at the shop entrance.
In 2016, Norcia was just a few kilometers from the epicenter of a 6.2-magnitude earthquake, and then a 6.6 quake only a few months later. Structural damage throughout Umbria was extensive, but there were no reports of fatalities in Norcia. This is largely because the province had been decimated by earthquakes in 1979 and 1997, and most buildings had already been rebuilt to code.
While there were no fatalities, some of Norcia's buildings, including the medieval basilica of St. Benedict, where destroyed.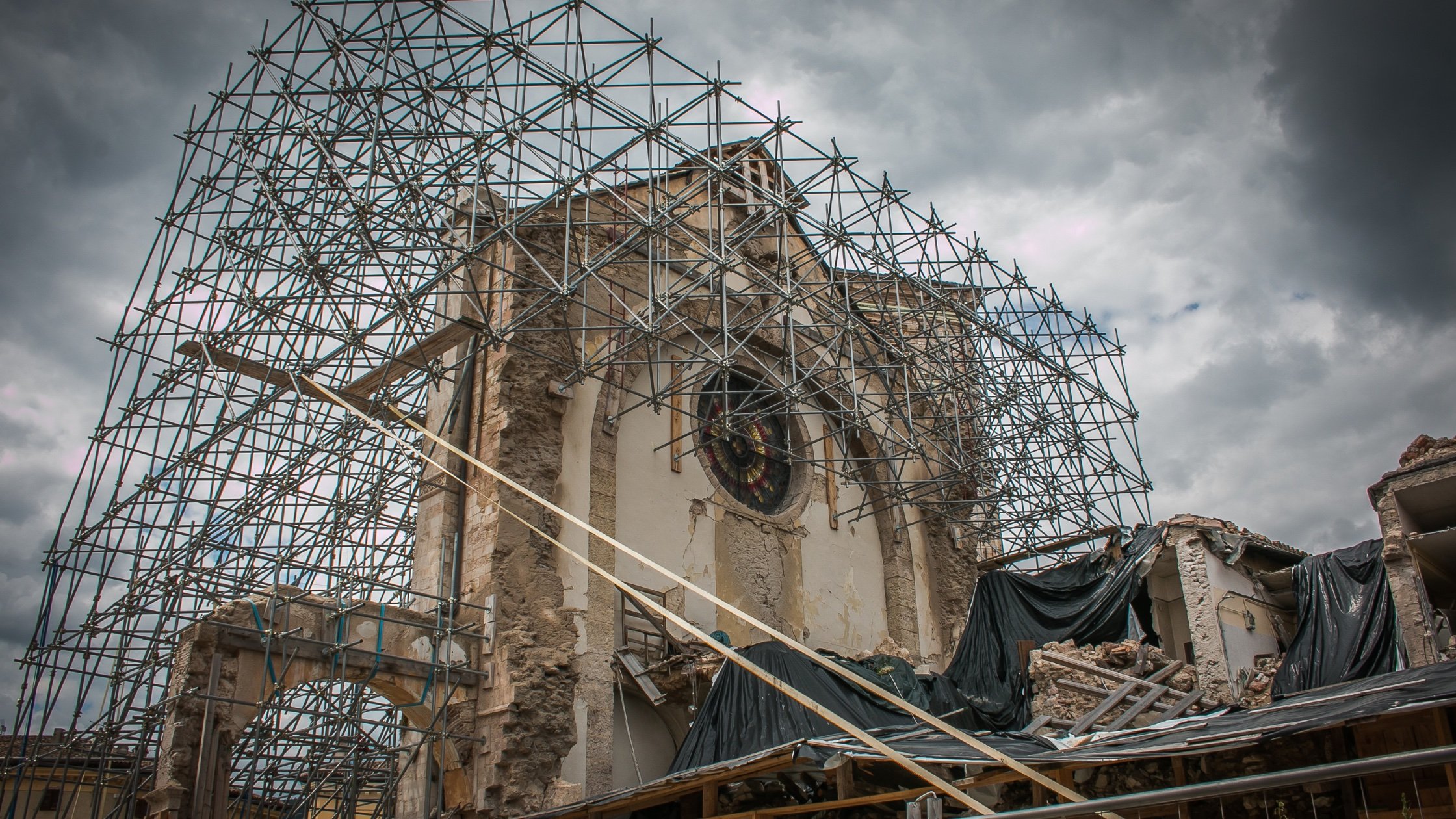 The rebuilding continues today (held up by red tape, but moving forward), and while many people are still living in temporary housing, the town itself is buzzing with activity. Palazzo Seneca, a luxury hotel that survived the earthquake, is open, and the main shopping street is as alive as ever, with cafés, souvenir sellers and norcinerie all open for business.
Umbria
Umbria, the region where Norcia is located, is itself filled with culinary delights beyond cured meats.
It has richly flavored sheep's milk cheeses and and abundance of vegetables, boasts ancient traditions of making bread & producing olive oil and wine, and it has a large variety of beans and pulses.
Umbria is also Italy's largest producer of black truffles, which are generously added to dishes when in season.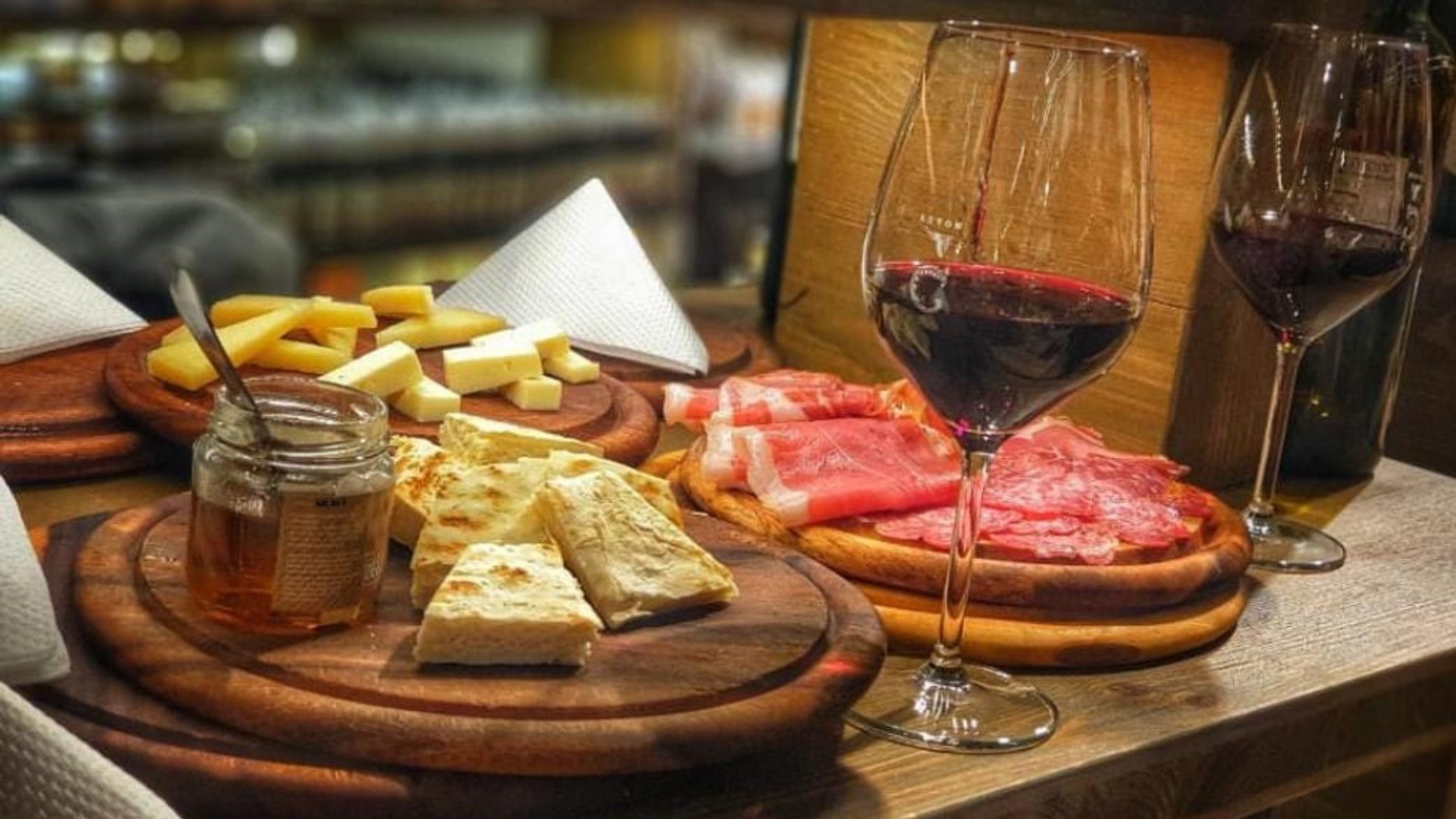 A platter of Umbrian salumi paired with some local cheeses and a glass of local wine is the perfect representation of the region, and a perfect way to spend an afternoon while visiting Norcia!