You're probably already aware that Vatican City is an independent nation-state within Italy, but did you know it is not the only one? San Marino, the third-smallest country in Europe and the fifth-smallest in the world, is also located within Italy's borders, in the region of Emilia Romagna. Below are some fun facts and reasons why you should pay a visit to this tiny country.
Full Name
The Most Serene Republic of San Marino ( Serenissima Repubblica di San Marino, in Italian)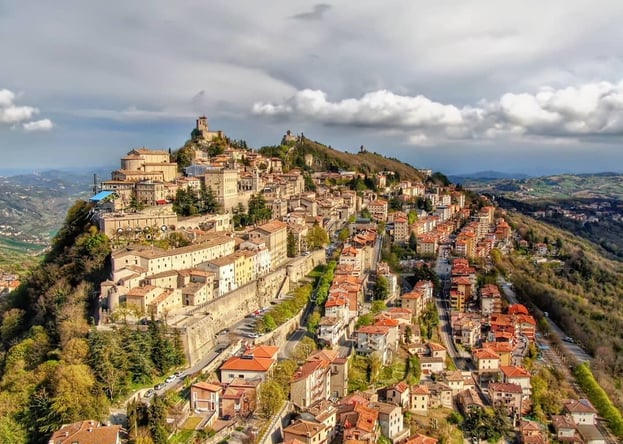 Capital City
San Marino is the name of the capital city, and it sits atop Mount Titano, 2,480ft (756 meters) above sea level. The historic center is a Unesco World Heritage Site. There are several other cities and towns dotting the mountainside where most people live.
Language
Italian and Sammarinese (local dialect)
Size
San Marino is 23.6 square miles (61 square km) and is dominated by Mount Titano. The population (as of 2018) is 33,400.
History and Founding
San Marino lays claim to the titles of oldest constitutional republic and oldest surviving sovereign state.
Click here for a timeline of San Marino's history.
Legend says that San Marino was founded in the year 301 CE by Saint Marinus, a stonemason who came from the island of Arba which was part of the Roman Empire (today known as the island of Rab in modern-day Croatia). He had been working on the city walls in Rimini (also part of the Roman Empire) and preaching the Christian gospel to slaves. At the time the Roman Empire was still Pagan, and fearing persecution he fled to nearby Monte Titano where he built a chapel and lived as a hermit. As his reputation grew, others started to follow him to the mountain until finally the owner of Mount Titano decided to gift the land to him. Marinus was canonized by the church and his feast day is September 3, the date in 301 on which he founded San Marino. In memory of Marinus, the area was named the Land of San Marino, then the Community of San Marino, and finally the Republic of San Marino.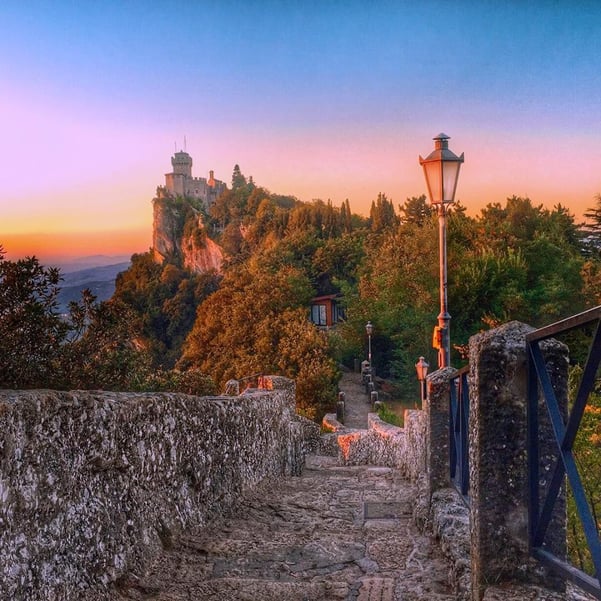 Local Government
There is no president or prime minister. Instead, the head of state is known as the Captain Regent. Two Captain Regents serve at the same time for terms of six months. The two Captain Regents are usually from different parties and are voted by San Marino's Grand and General Council.
The 60 members of the Grand and General Council (the most powerful council) are elected by the people of San Marino to five-year terms. In addition to voting for the Captain Regents, they also elect the Secretary of Foreign Affairs, Secretary of Interior and Secretary of Treasury to the Grand Council (10 total members).
Famous Honorary Citizen
Abraham Lincoln expressed his admiration for San Marino in a letter to a Captains Regent in 1861, saying, "Although your dominion is small, nevertheless your State is one of the most honoured throughout history…" In response, they granted him citizenship. Lincoln has been honored on San Marino postage stamps three times.
Local Currency
Though not part of the European Union, the official currency of San Marino is the Euro, thanks to a special monetary agreement with the EU.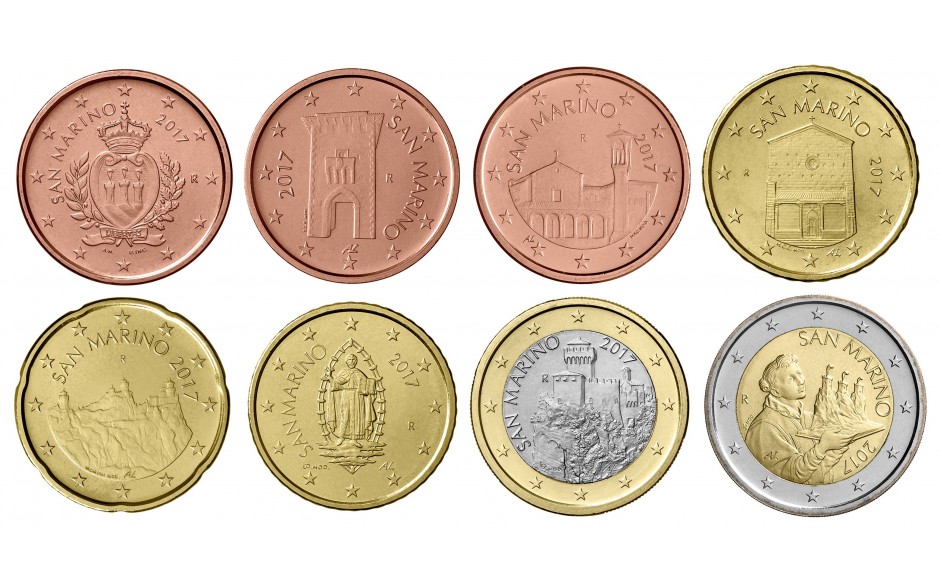 Tax-free Shopping
The VAT (value-added tax) in Italy is 20%. There is no VAT in San Marino, and there are hundreds of shops full of tax-free merchandise.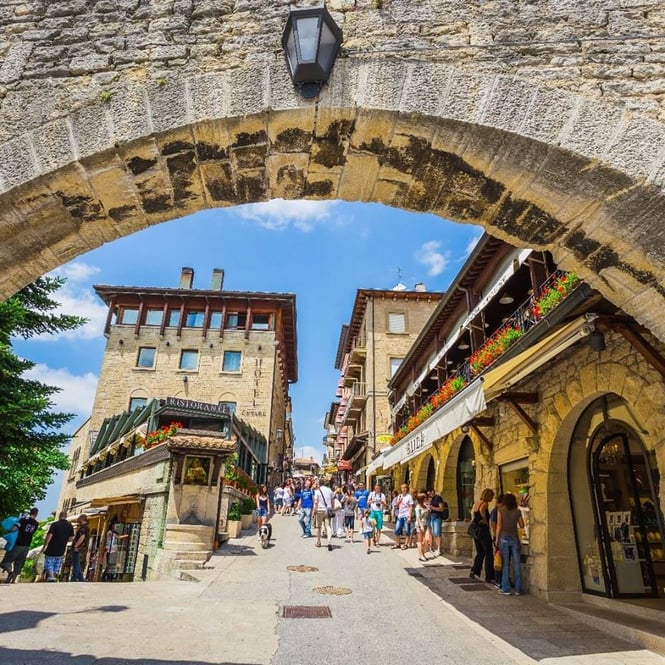 Delicious Cuisine
Being completely surrounded by Italy, the cuisine of San Marino is heavily influenced by it, especially by the neighboring regions of Emilia Romagna and Le Marche.
Local dishes include fagioli con le cotiche, a bean and bacon soup made for Christmas; pasta e ceci, a chickpea and noodle soup made with garlic and rosemary; nidi di rondine, a baked pasta dish with smoked ham, beef, cheese and tomato; and roast rabbit with fennel. Erbazzone is a spinach-based dish that includes cheese and onions. Piada, which is made of flatbread with various fillings is similar to the piscina from Emilia Romagna.
Desserts include a cake called Torta Tre Monti (Cake of the Three Mountains/Towers), named for the three towers of San Marino, which is a layered wafer cake covered in chocolate. There is also the Torta Titano, a layered dessert made with cookies, hazelnuts, chocolate, cream and coffee.
The country also produces wines, such as Brugneto and Tessano Cask-Aged red wines) and Biancale and Roncale (still white wines).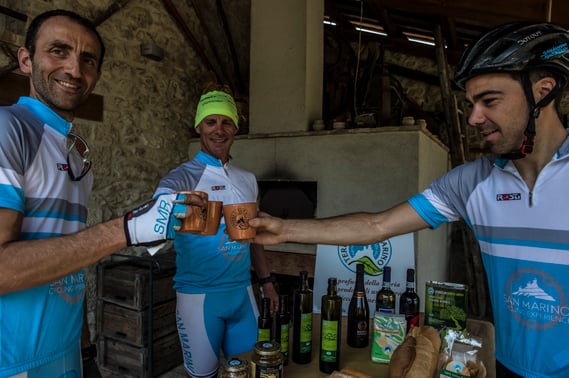 Accessible
San Marino is easily reached from central Italian cities like Rimini (30 mins), Bologna (1.5 hours) and Florence (2.5 hours) by bus or rental car. There is no border control and traffic flows on and out of the country freely.
San Marino can also be reached by bike. In 2019 the country hosted a stage of the Giro.
Magical Nights
Since most people come for a day trip, the nights are quiet and peaceful, perfect for strolling around the old city or having a late dinner with a view of the Adriatic.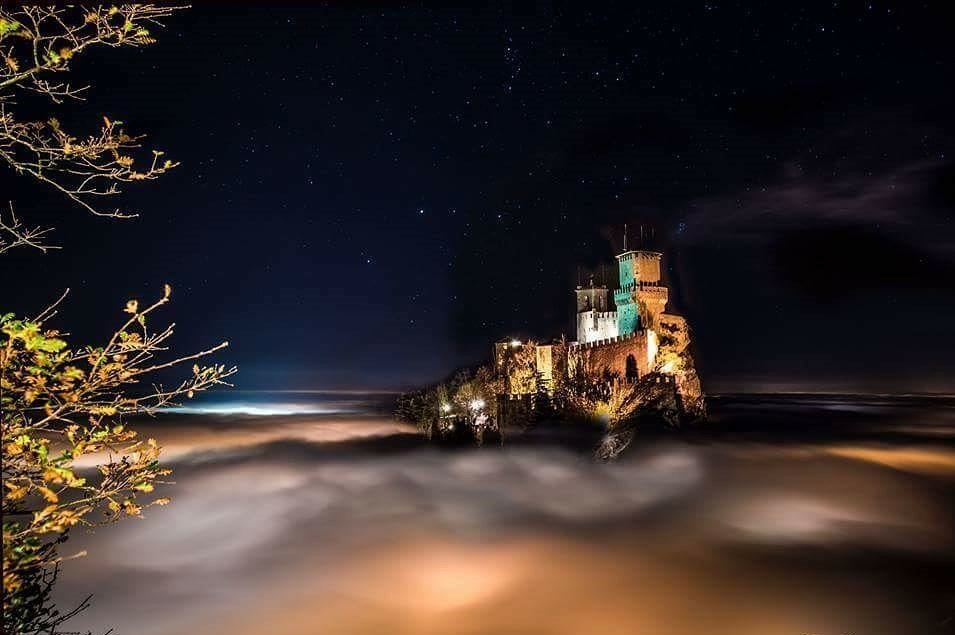 Have you been to San Marino? Tell us about your experience by leaving a comment below.
We can take you there!
We know San Marino better than anyone and can plan some exclusive, magical moments.
If you'd like to visit in the future, contact us to help you put together the perfect itinerary.