Earlier this summer Beppe and I spent a week in the Val di Sole, a little piece of paradise tucked away in the Dolomites, in the region of Trentino. This was my first visit to the area and I instantly fell in love. During the week, we biked, hiked and dined on local cuisine. We sampled wine for our wine club. We visited farms and mountain huts. And we envisioned the types of tours we want to create in the valley.
In a previous blog I wrote about why the Dolomites should be on your bucket list. All of them apply to a trip to Val di Sole. Read on for more.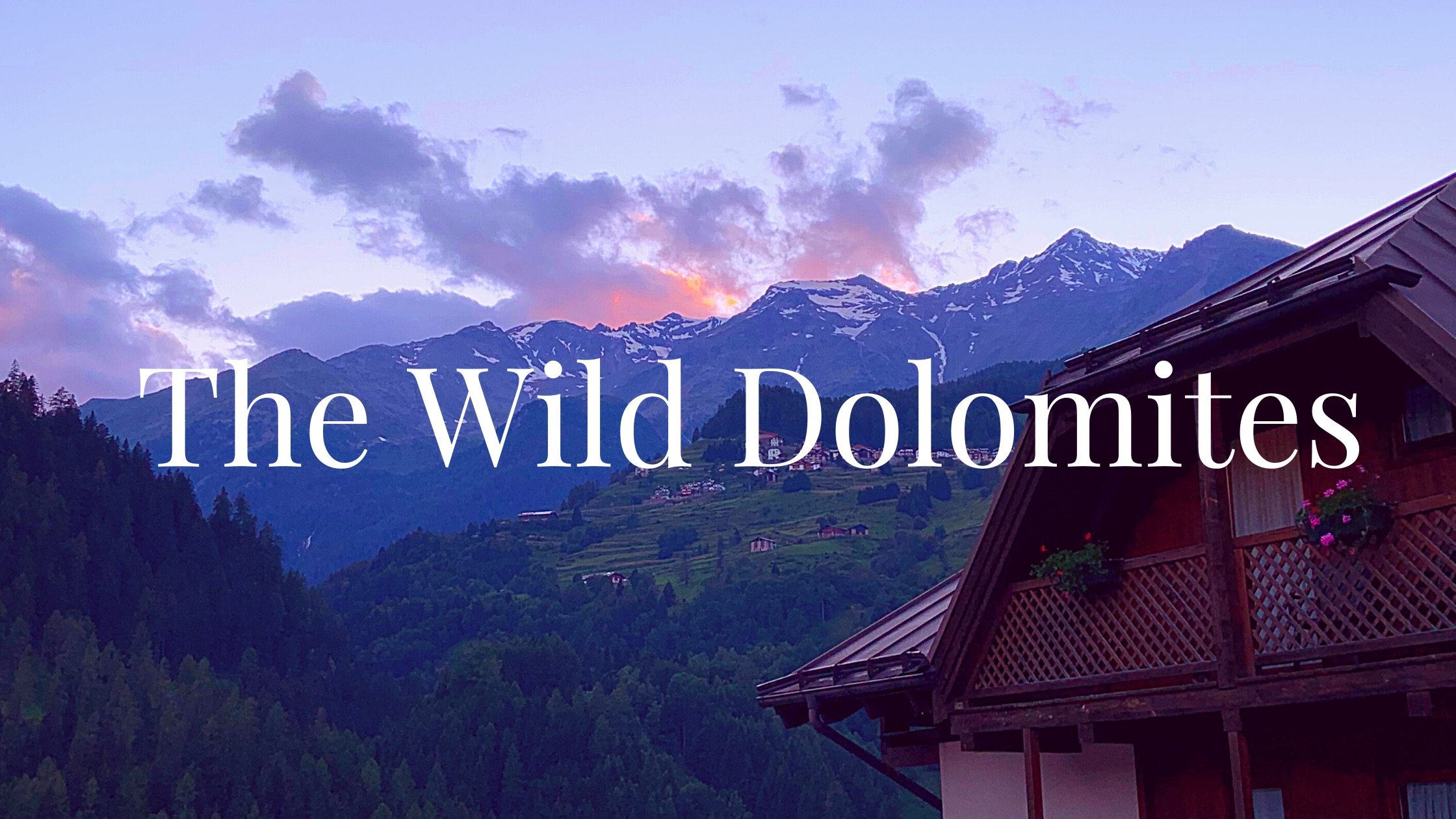 When one hears Dolomites, certain popular names come to mind, and Val di Sole usually isn't one of them. This pristine valley is truly a hidden gem, embodying all of the best of the Dolomites while still remaining under the radar.
WHERE
The Val di Sole is located in the region of Trentino-Alto Adige/Südtirol. This region is located in the Alps, on the border with Austria and Switzerland, and its customs and culture are intertwined with these countries. The landscape is typical alpine with large green meadows interspersed with groups of houses surrounded by marvelous mountains.
Trentino-Alto Adige/Südtirol is further broken into two autonomous provinces, Trentino and Alto Adige/Südtirol. The city of Trento is the capital of Trentino and the city of Bolzano is the capital of Alto Adige/Südtirol. Even though Italian and Austrian cultures blend in both provinces, Trentino has a more Italian feel while Alto Adige/Südtirol has a more Austrian feel. Val di Sole is located in the province of Trentino.
VAL DI PEIO
We actually stayed in Peio, a small spa town in the Val di Peio which is one of the minor valleys of the Val di Sole.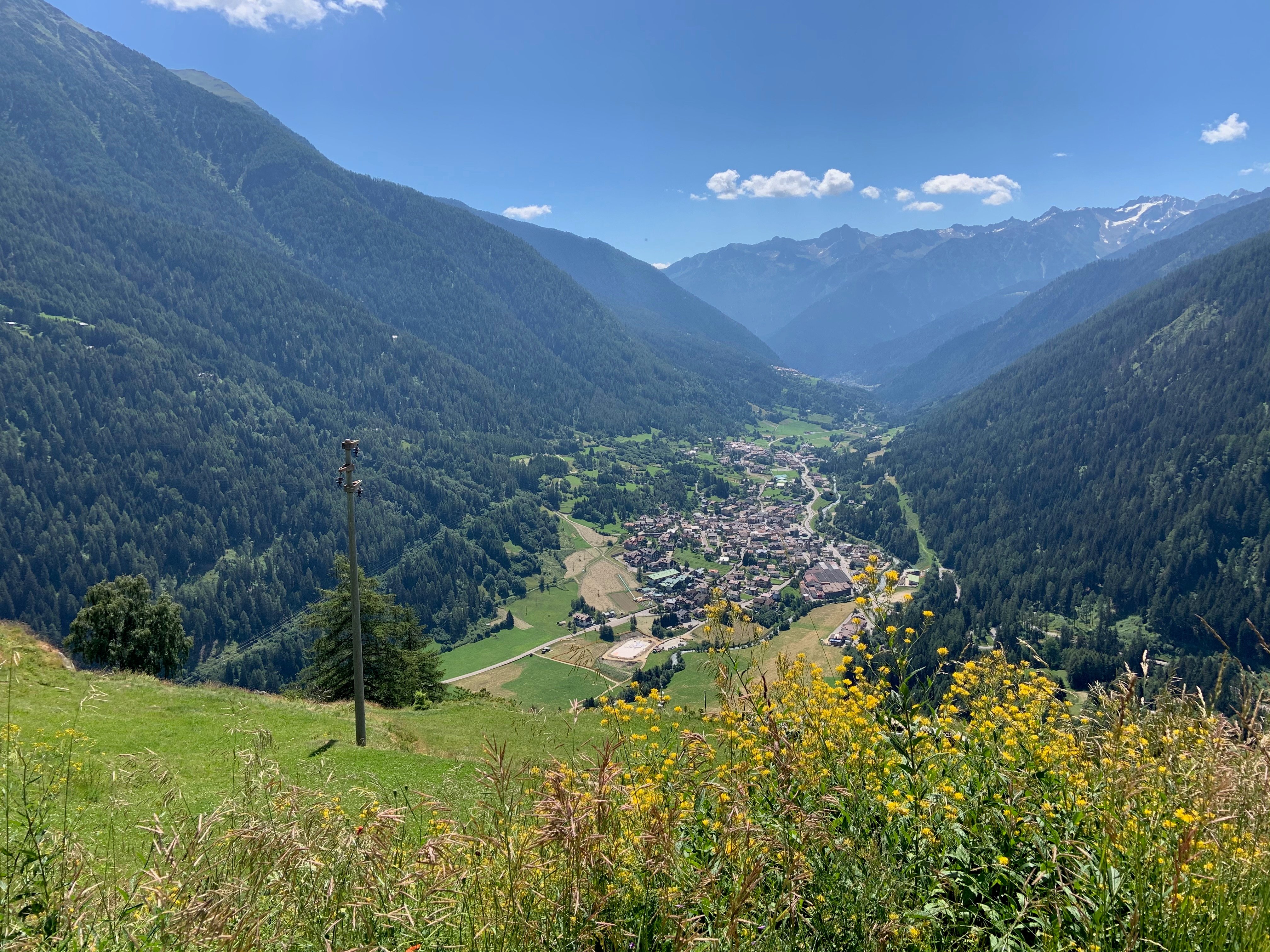 A view of the town of Cogolo in the Val di Peio, from the town of Peio
Val di Sole is a large nature reserve that is dominated by water. The Noce River, deemed by National Geographic as one of the top ten rivers in the world for rafting, hosts international canoeing competitions, rafting and kayaking. Val di Peio is a spa town dominated by imposing glaciers with crystal-clear torrents that turn into spectacular waterfalls as they flow towards the valley bottom.
SKIING
Val di Sole offers everything ski lovers could want. Thanks to the link between Madonna di Campiglio and Pinzolo, the Folgarida-Marillevaski area forms an immense area of slopes that span over 150km (93 miles). The Presena glacier and passo Tonale, along with the town of Ponte di Legno, make up another network of 100km (62 miles) of ski slopes. Located within the Stelvio National Park, Peio is perfect for family skiing, as well as for ski mountaineering in close contact with nature.
BIKING
Val di Sole is where the mountain bike world championships take place, meaning there is a plethora of various tracks for enthusiasts to try.
The Val di Sole cycling path runs on ancient, rustic roads alongside the Noce River, where you can often spot rafting boats, kayaks, and canoes. The Val di Sole cycling path has an overall length of about 34 kilometers. It starts from the bridge in Mostizzolo, on the boundary with Val di Non, and leads to Cogolo di Peio.
Here is a video from one of our rides along the path.
HIKING
The magnificent mountains that surround Val di Sole are a paradise for all those who enjoy hiking and walking. The unforgettable landscapes offer a wide variety of itineraries and routes, including easy walks or high mountain hiking, each with numerous difficulty levels. Both expert hikers who enjoy long, challenging trails as well as those who looking for a more relaxing walk will be able to find trails that suit their level.
FOOD
The cuisine of Val di Sole has a long history and is steeped in Alpine tradition. Many dishes use dairy products still carrying the aroma of hay, the fragrance of fresh grass, and the smell of pristine mountain air.
Casolèt is a traditional Val di Sole mountain cheese made with raw ingredients and whole milk. It can be bought right at the local dairies (called malgas) that dot the landscape, high into the mountains and hills. It is a Slow Food presidio.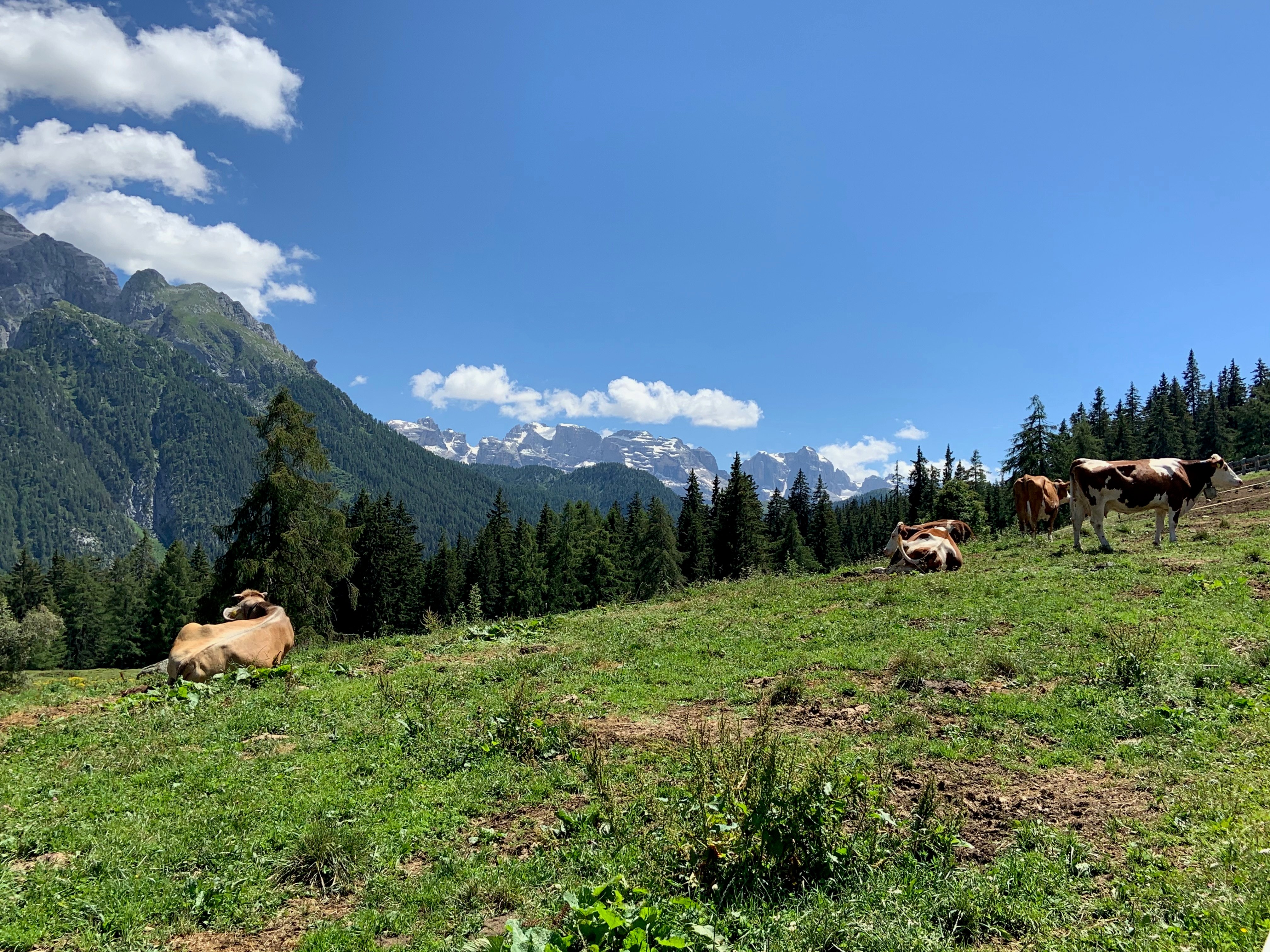 A view from a malga, where cows graze and cheese is made.
Speck is a typical product of the nearby Alto Adige area that is also widely produced in Trentino. It is a smoked ham with a strong flavor. It's saltier than prosciutto crudo, and so is often used to flavor other dishes like pasta, vegetables and soups. It is an essential ingredient for making canederli, a type of traditional dumpling that is made with old bread, parsley and speck.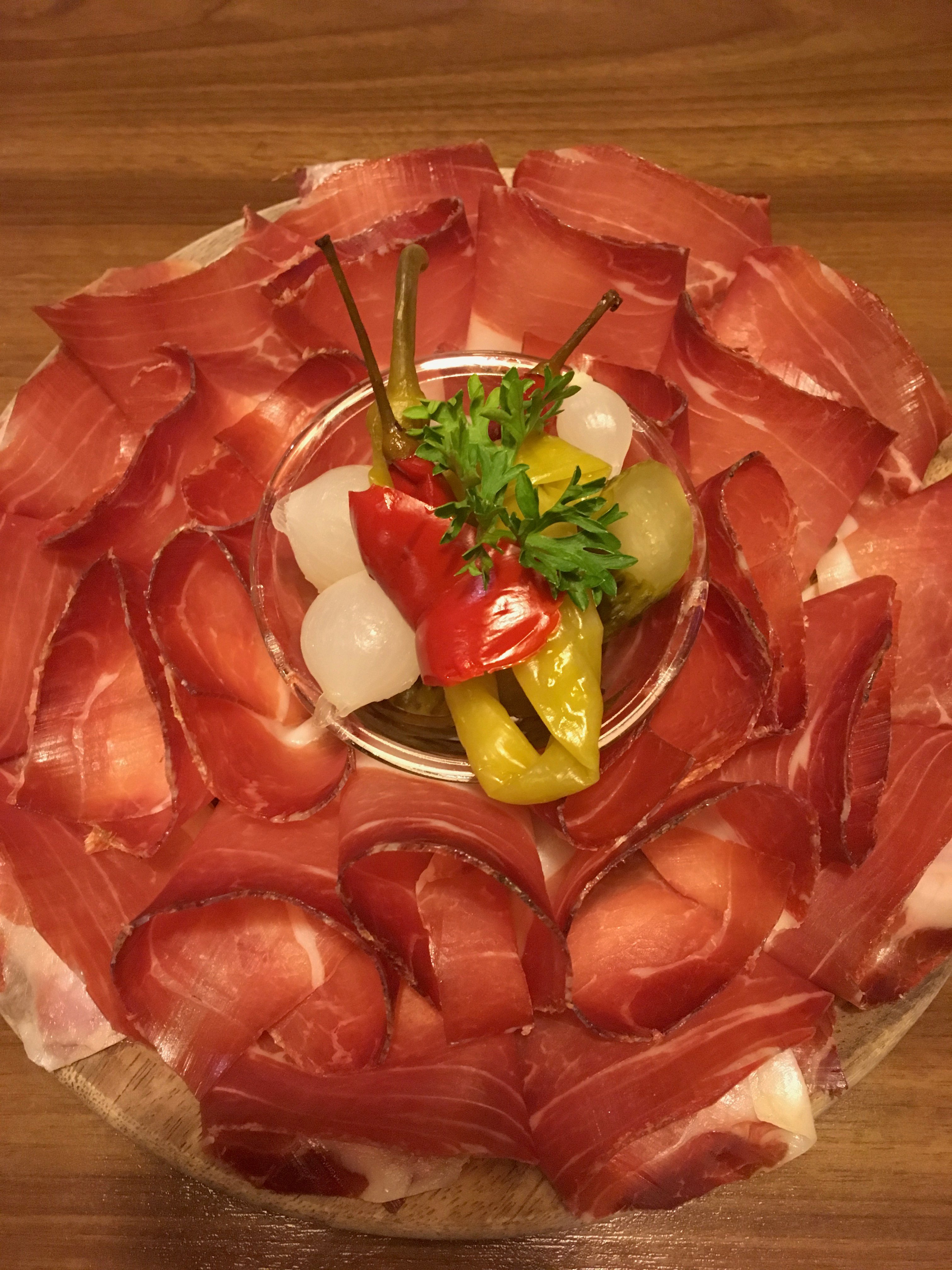 A Plate of Speck
Apples are cultivated in the lower part of Val di Sole, and have a DOP designation. They are eaten as a simple snack, can be added to dishes such as risotto, pastas, and various meats, and are the star of many typical desserts such as strudel, apple fritters and apple cake. Apple juice, apple vinegar and dried apple slices are other typical products made from apples.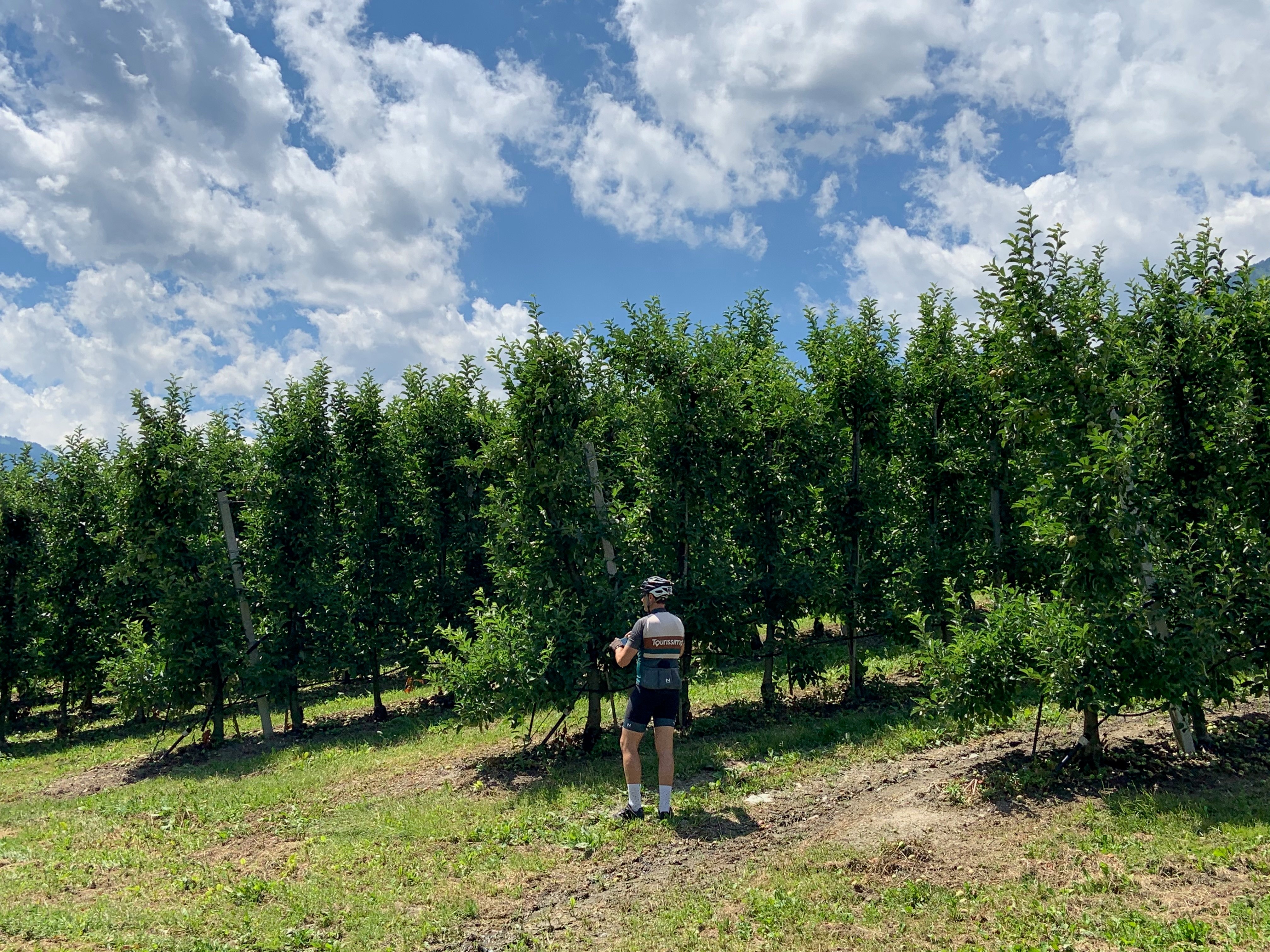 Applies trees are grown in long rows, like grape vines.
Schüttelbrot is a round, crispy, spiced flatbread that is also from Alto Adige but is common and popular in Trentino. It's the perfect accompaniment to the local cheese and meat.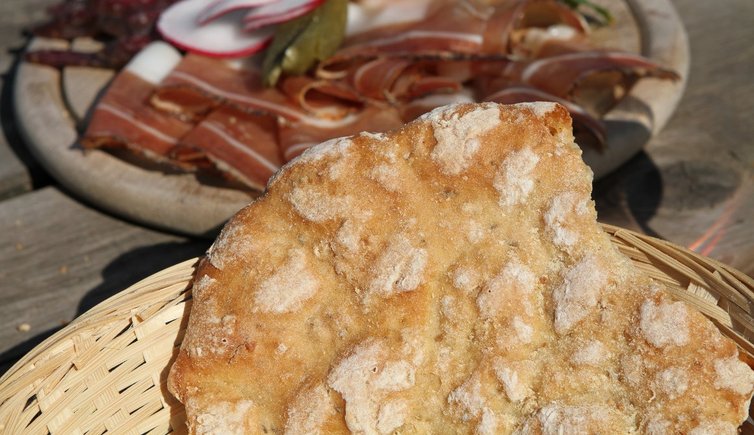 Schüttelbrot
NATURE
Lovers of nature and mountains will find a real treasure in the Val di Sole. The two side valleys Val di Peio and Val di Rabbi are characterized by majestic peaks, green mountain huts, imposing woods and crystal-clear pools of the Stelvio National Park. The municipalities of Dimaro, Monclassico and Commezzadura in Val di Sole, on the other hand, fall within the protected area of ​​the Adamello-Brenta Natural Park, which extends beyond the Val di Sole to the Val di Non, Val Giudicarie and Val Rendena. The Adamello-Brenta Natural Park is the largest protected area in Trentino and contains over 80 lakes.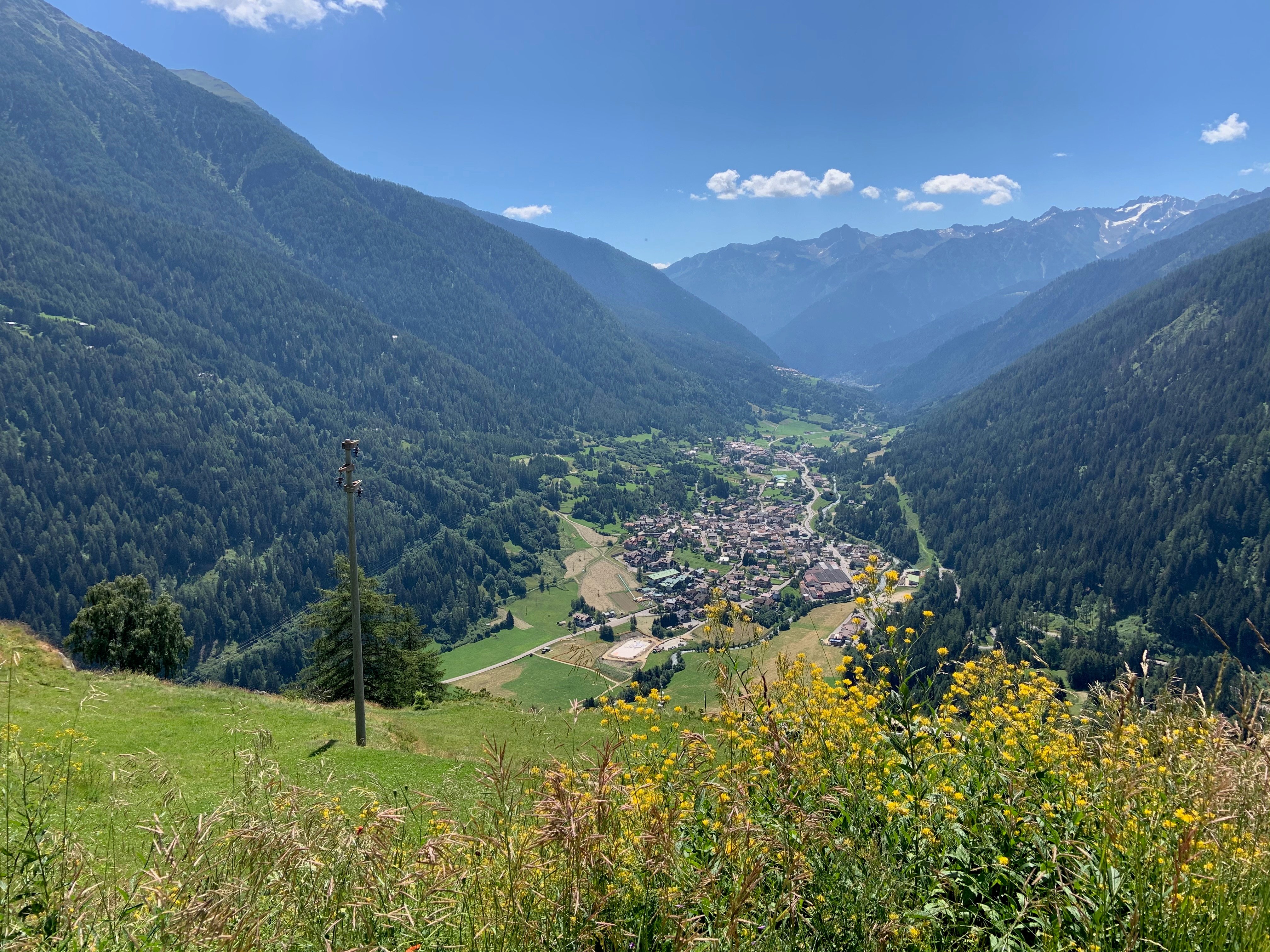 CULTURE
The attitude here is the perfect blend of cultures: Italian warmth, hospitality and kindness, with Austrian efficiency and cleanliness. The infrastructure is well-kept and everything is in order, but people still take their time, enjoying long strolls, good food and friendly company.
Ready to experience the Val di Sole for yourself? Contact us today to plan your perfect trip!