Congratulations!
You've finally made your decision and booked an active travel tour halfway around the world.
So, now what?
What should you do to make this trip as organized and as hassle-free as possible?
Well, here are 10 questions you should be asking yourself right now so that your holiday adventure goes out smoothly.
By the way, I've got a special surprise for you towards the end of this article. Watch out for that because you'll definitely love it.
Have I confirmed my tour?
Before everybody gets excited about this tour, you have to confirm your booking first.
You should have at least received a confirmation email stating the schedule of your tour, the cost, the date and time of your trip, the agency's contact information and travel itinerary. Read the fine print in the terms and conditions on cancellation due to under enrollment. A pre-departure info pack should be ready days before the travel date.
The pre-departure info pack should contain advice on visas, inoculations, packing, medical tips, local customs, currency, weather, etc. Call your tour operator a couple of weeks before your booked flight if you haven't received any of these materials.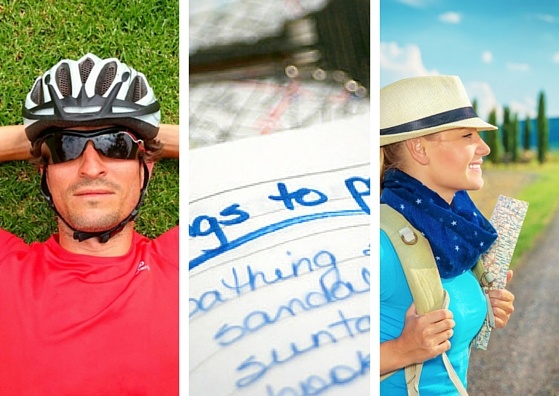 Is my passport valid 3 to 6 months beyond the travel date?
Without a doubt, having your passport renewed 3 months before the travel date is the best decision you will ever make. In fact, some countries require the validity of your passport 6 months beyond the travel date.
Here is the reference to countries with various passport validity:
List of countries with 6 Months Passport Validity
List of countries with 3 Months Passport Validity
Am I physically fit for active travel?
Let's say you're gearing up for a Sicilian bike tour. The first question you should be asking is, "Am I up for the task?"
Remember, active travel requires you to walk, run, jog, ride and even climb. And a Sicilian bike tour takes you to one of the most challenging, yet exciting, bike routes on the planet.
So before you book a vacation, better set an appointment with your travel consultant first; they know how much beating your body has to take for that specific program. Then visit your health practitioner for a thorough physical screening.
My best advice is to crank up your physical activity (e.g. resistance and cardio workout or regular bike ride) 1 to 2 months leading to the trip.
Are my meals covered during the trip?
While some active travel tours provide breakfast and dinner, lunch and snacks could be a different matter. You might have to bring your own nibbles or buy some once you have a stopover at a local food shop or restaurant.
Inform the travel company if you have food allergies or particular dietary needs, such as lactose intolerance, vegetarian, Halal, or Kosher.
Do I need a special travel requirement?
If you're from the EU traveling to the US and vice versa, there's a big chance you are qualified for a visa waiver agreement. However, if you're traveling to countries with complicated visa requirements, then it's best to ask your travel company to provide you with visa application forms. Fill out this form and send it to the respective consulate or embassy.
Do I need travel insurance?
Check your health insurance policy if you're covered from illness or injury overseas. But what if you're not? Then the next best thing to do is obtain travel insurance as soon as possible. That way, you can benefit from cancellation coverage as well as claim lost funds related to travel fees, accommodation, bookings and so on.
What vaccinations or health requirements do I need before traveling abroad?
Making an appointment with a travel health expert allows you to safely enjoy your active travel abroad. While health experts recommend certain vaccinations, there are some countries that will require special vaccinations before you visit.
The World Health Organization releases regular reports to inform travelers about vaccinations against endemic diseases. You can see this list on their website. Centers for Disease Control and Prevention has a similar list which you can visit over here. Simply indicate your destination and the type of travel.
How much should I spend for this trip?
Based on our experience, a comfortable, safe trip costs $300 to $700 a day.
A 7-day European active travel tour is around $3,000-$4,000 not including airfare. An Asian or African tour costs $4,000 to $6,000. A trophy tour – like riding Antarctica on fat bikes – costs $50,000 or more.
Many tour operators offer programs with one or two night stay in a hotel before moving on to the next town or city. Some operators provide services to transport your luggage from one accommodation to the next, while others offer a villa-based program where you get to stay in one base during the length of your stay.

Your best bet is to shop for 2 to 5 providers. Get daily itineraries for trips that interest you. Some travel agencies will certainly offer similar trips, with the only difference being trip routing and accommodation.
(Check out our own pricing range for more information)
How much tip do I have to give?
My ballpark figure for tour leaders is between 5-10 percent of the tour cost depending on the service. Bear in mind that tour leaders work behind the scene just as much as they do when they are with guests. The tour price covers service people from waiters, attendants, porters, housekeepers, hotel staffs or local field staffs.
Remember to tip in local currency. That way, the service person doesn't have to change the tip to local currency and incur additional charges.
How many guides travel with me?
Most active travel tours provide guides for security and efficiency. There should be at least 2 guides per group and a stand-by vehicle in case someone needs a breather or gets injured. Active tours can be tricky, because not all guests have the same pace. By having two guides, you can be sure that no one is left behind.
If you'd like to find out more about active travel and how to organize a fun-filled adventure holiday, take a look at our "Ultimate Active Travel Guidebook".