Re-post: Almost two years after I wrote the original blog I am still raving about Emilia Romagna. Keep reading if you missed it and you are interested in a "new" and exciting cycling destination.
A while back I wrote that the Apennines were the next European riding destination for riders heading to mountains.
Unexpectedly, some months after the blog article appeared, I received an invitation to do a Fam trip to Emilia Romagna by the cycle tourism office and Terrabici (a regional consortium of bike hotels). Read on to find out how it went.
A Fam trip is a program offered by a tourist destination (or aspiring one) to the press, opinion leaders, travel agents, and tour operators. It aims to showcase the area, its excellences, its "selling points," and the local operators such as hotels. My friend Fred Morini at Bianchi is from there, and he is an ambassador for Romagna cycle tourism. He was the one who got me in touch with Andrea Manusia, the man behind this project.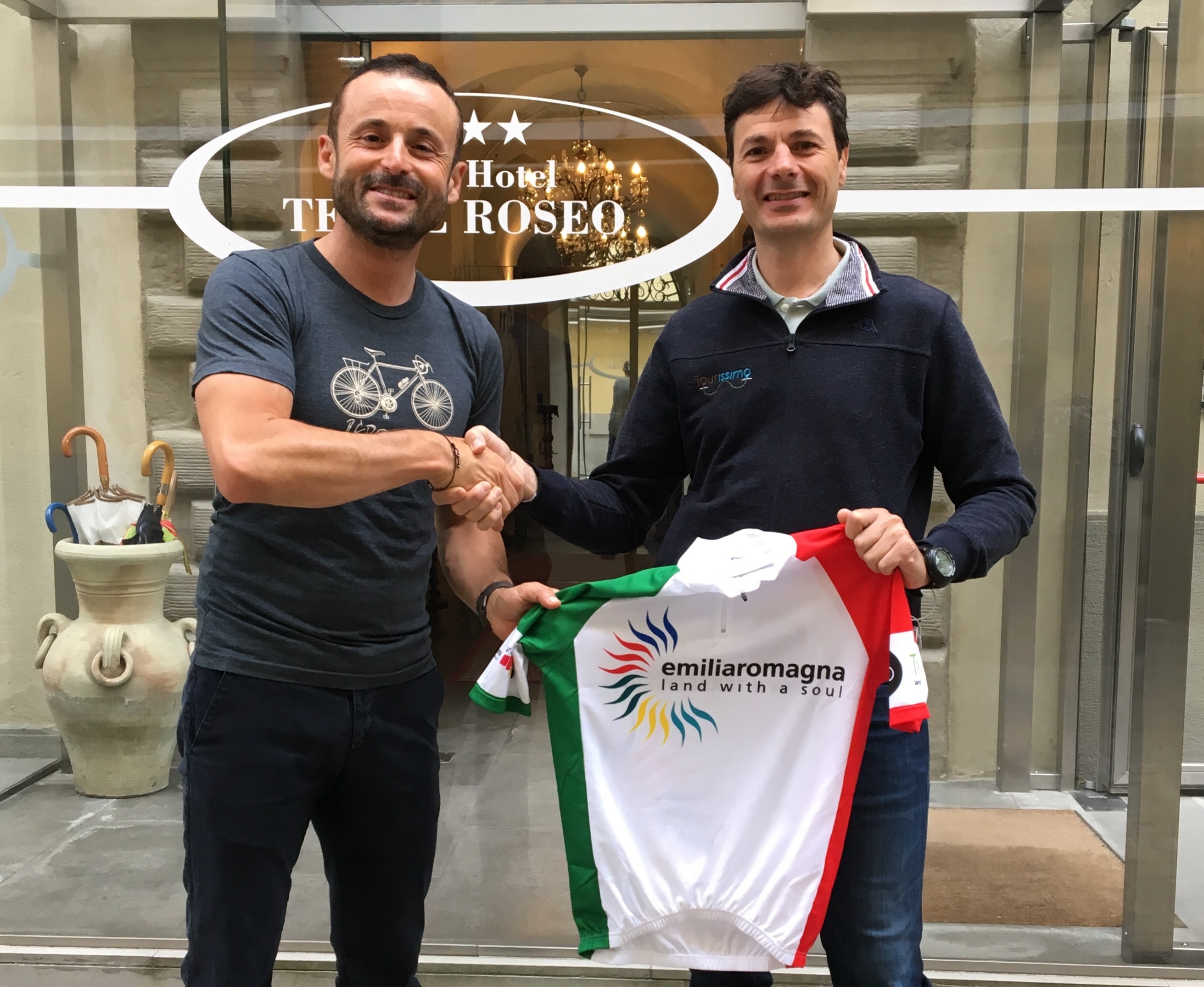 First of all, you might not know Emilia Romagna but you sure know some of its staple brands: Ferrari, Parmigiano Reggiano, lasagna and bolognese sauce (ragù alla bolognese). If you followed the great stage races in the late 90's early 2000, Marco Pantani.
Emilia Romagna, whose regional capital is Bologna, sits between the Adriatic coast and the Apennines. Tuscany is on the other side of the watershed, towards the Tyrrhenian.
Emilia and Romagna are actually two 'sub-regions'. Very similar, but Romagna is much more touristy.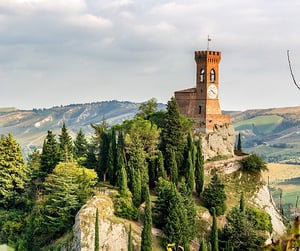 Emilia Romagna Cycling describes the region as one with a strong identity based on the warm and welcoming character of its people, it boasts among its "pearls" unique art cities lined up along the Via Emilia (historical Roman road). Cycling in Emilia Romagna means breathing the history of unique UNESCO world heritage sites, discovering ancient routes between fortresses, castles and abbeys leading through valleys, open plains and forests that are centuries old, through parks and pine forests, criss-crossing hills or following the magnificent coastline. Cycling in Emilia Romagna is a unique experience due to its local traditions of this region and the wonderful synergies between culture, scenery and excellent food and wine products.
To reinforce my plans and try to make it in spite of my tight schedule (May and early June are the peak of our spring season) was the commonly shared knowledge that food from Emilia Romagna would rate as being the best in the world. Read Forbe's article Italy's Greatest Gastronomic Treasure, Emilia Romagna.
---
We have two tours that are food focused in Emilia Romagna: go to Chef Bike Tours.
---
So, I embarked in this journey to discover the obvious and the hidden gems of that region to eventually design a cycling tour to connect them, riding from the Apennines to the Adriatic.
What a 4-day trip I had!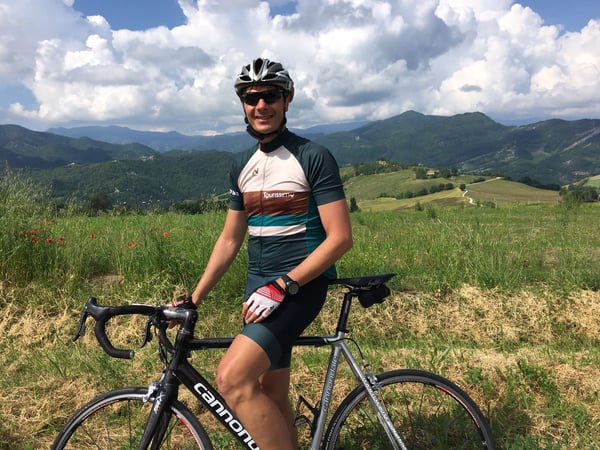 After getting aligned with my hosting crew about my expectations (the ones of my future guests, really), it was a daily treasure hunt. And the treasures were many.
From perfectly preserved villages with healing thermal waters such as Bagno di Romagna to inspired local producers, to stunning wine resorts, and many secondary roads.
The thing is, in Romagna, they get lots of riders from all over the world. But Tourissimo caters to travelers on wheels. My guests would think it is pointless to climb on top of that mountain unless they have been reassured that there is a stunning view, followed by a succulent dish of handmade pasta and hearty wine waiting on top.
So, I patiently explained that what we do is active tourism with a cultural angle, and that we don't travel to train for the next Gran Fondo (unless...see above).
Speaking of GF, Romagna has the second largest one in the World: the Nove Colli of Cesenatico is second only to the Cape Town Cycle Tour in South Africa. 12,000 riders signed up for the Nove Colli (nine hills), which took place on May 22nd.
I had to check out several possible rides and make the best use of my time there. To accomplish that, I was accompanied by a formidable rider. Fabio Sacchi has been a pro for 14 years (7 Giro, 5 Tour) and trusted gregario of many top riders. He was on the team that launched Mario Cipollini to the World Champion title in Zolder.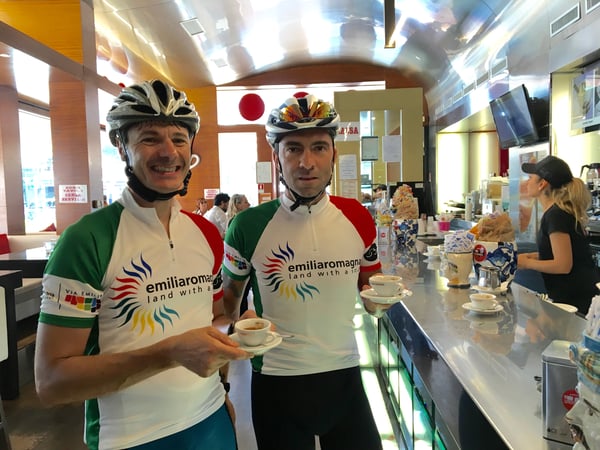 Fabio is a guide and testimonial for Emilia Romagna cycling. He worked and organized things in the peloton with Zabel, Petacchi, Super Mario Cipollini, but practically he was my personal gregario for three fast (for me) riding days.
It's been fun.
Now we need to sit down at the drawing board to put ideas into an organic itinerary. I took some notes and, here are some of the highlights that you can expect on a bike tour of Emilia Romagna by Tourissimo:
San Marino and San Leo
Thermal waters in Bagni di Romagna and Fratta Terme
Wine resort on the hills around Forlì
Castle-topped villages Sant'Agata Feltrea e Verucchio
The village of Bertinoro
Pellegrino Artusi museum and restaurant
Seaside resorts Cervia, Cesenatico, Rimini, Riccione, and Cattolica
Stay tuned, but in the meantime enjoy my interview from the Fam tour.
Any questions about this cycling destination? We are working with several cycling clubs that have chosen Italy and Emilia Romagna for their next bike trip.
Give us a call right now or send a message.