Italy is certainly known for its culinary traditions, for the recipes that carry family secrets passed down through the centuries and we have a very high number of internationally recognized products of comparable value to a Ferrari; in short, if you say Italy you say the art of eating well.
During your Italian vacation the problem will certainly not be what to eat. In this regard I suggest you not to be on a diet and to stay at least one month to be sure to taste most of our specialties, the problem could be where to eat and how recognize the right restaurant for you.
Here is a list that better explains the features of the various places to eat so you can choose the experience that suits you best.
For those who want to aim high and taste perfectly studied dishes, look for starred restaurants that take tradition to point to the future. Some of the most famous restaurants in Italy are: Esplanade in Desenzano del Garda, Osteria Francescana in Modena, Le Logge del Vignola in Montepulciano. Many others can be found directly on the Michelin site.
Read about one of the best meals of your life on our Piedmont Chef Bike Tour.
The types of restaurants that take the widest slice of the market are the tourist ones, which offer basic menus with few variations and focus on the popularity of the dishes and on the quantity. These, having more affordable prices than the first ones, could give less care to their dishes also to facilitate a faster service in the dining room. They are usually found in the center of the most famous cities or along the coasts and are not recommended to have the most authentic experience, even if in recent years the sense of quality has grown even in the tourists areas.
Always located in the historic centers you can find quick solutions to eat traditional and play safe; let's talk about the Trattorias. For those who want to have table service, here you will find a much more friendly welcome and almost 100% the menu will be all homemade, respecting tradition. Another place where conversely the food will be mainly to go, are the Rotisseries, where you will find food ready to eat or to take home and are usually quick solutions for those who do not want to cook in the evening.
Very characteristic are the Osterias, which today are also called Enoteca, whose history speaks of places where they used to sell only wine and the food could be brought from the outside. Here the 'cover' was introduced as a sort of tax for those who wanted to eat a hot meal indoors. Osterias were places usually frequented by the people, brigands and those who wanted to hide some bad business; today the most famous osterias are: Osteria al Brindisi in Ferrara (considered the oldest in Italy) and Osteria del Sole in Bologna. Others have also introduced menus to enrich their offerings over time, so I recommend checking if there is possibility of eating or not.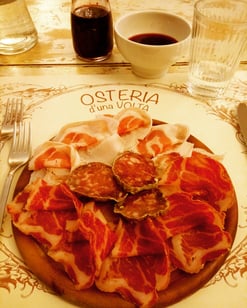 Moving from the historical centers and the most crowded areas you can discover another type of restaurant called Agriturismo. Here the philosophy will be to use only local products at km 0 or cultivated and transformed directly by the owners of the structure, in these places you will have the opportunity to eat organic and cured products from beginning to end. You will also be surrounded by the territory and you can therefore have a 360 ° experience.
We end this list with some places that are unique in the world for a particularity and are therefore worth seeing at least once:
In Rome and Naples there are two restaurants respectively

'Cencio la Parolaccia'

and

'Trattoria da Nennella'

whose particularity is to have a decidedly intrusive staff with a rude language that simply wants to speak the simple language of the people, so don't expect a treatment with gloves.

Definitely different is the '

Grotta Palazzese'

restaurant in Polignano a Mare – Bari that is completely built in the rock overlooking the splendid Apulian sea.

Going to the land of Prosecco we find the osteria '

All'oste che non è c'e'

which means that at the end of your meal you will not go to any cash desk, you will decide the compensation to be left in a simple box showing your honesty.

In Florence there is a restaurant that allows you to pay with money or with barter, just show in advance what you can offer and lunch is served, let's talk about '

L'è Maiala'

If you want to visit Milan in an alternative way, do it dining at the

'ATMosfera

' a retro-style tram transformed into a restaurant that during the evening will move to let you see the city and between courses, you will be catapulted into another era.
Here is the receptive panorama offered to the visitors of our beautiful country and we hope that you already have your mouth watering.