It's no secret that we love the region of Piedmont! It's our Italian base, and Beppe grew up here. The rolling hills in the countryside and the iconic passes of the western Alps are our backyard. When you visit Piedmont with us you are guaranteed to experience the best of what the region has to offer!
On our Chef Bike Tour in Piedmont food takes center stage, and there is one experience that stands out from the rest: dinner at Piazza Duomo in Alba, currently the 16th Best Restaurant in the World and with three Michelin stars.
Piazza Duomo is tucked away down one of Alba's narrow streets not far from the cathedral, behind a purple door. The kitchen is run by Chef Enrico Crippa.
Enrico Crippa, photo courtesy of Cristiano Bonino
Crippa's background is impressive: he has worked with Michel Bras in Laguiole and Ferran Adrià at El Bulli in Spain. He's also worked in Japan. He is currently ranked the 7th Best Chef in the World.
The focus at Piazza Duomo is on local, quality ingredients, such as Fassona beef, hazelnuts, chestnuts, and of course the famous white truffle. Most items are locally sourced (within 30 miles).
"The local products are what guide my hand: Langa beef, for example, being lean and not marbled, is perfect for hand-cut carne cruda (raw meat). These are the same principles that have always inspired the work of a great trattoria."
The real stars at Piazza Duomo are the veggies, and most of them come from Crippa's own nearby garden. He visits the garden every morning to pick out the greens he will use that day.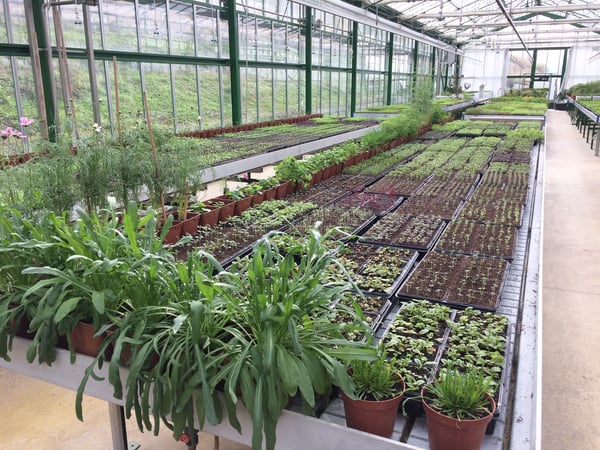 Crippa's garden with nearly 400 different greens, photo courtesy of Cristiano Bonino
"When an ingredient is no longer available, the dish must be reconsidered: the same vegetable that was the feature, may not go so well the following week because it is bigger, or longer, or more bitter, or more leathery: in its place there will be another, or its role in the dish will have to change."
The most famous dish on the menu is Salad 21, 31, 41, 51, which refers to the number of individual greens that can be in the salad. The salad comes with a paper that lists all of the greens.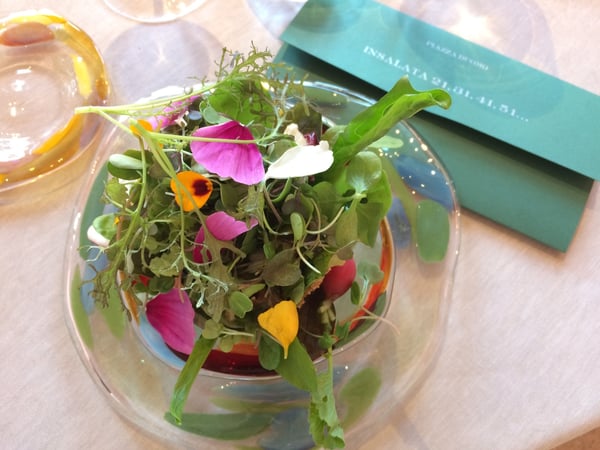 Salad 21 31 41 51, photo courtesy of Cristiano Bonino
The main dining room is all pink and is painted with a fresco by Neapolitan artist Francesco Clemente that depicts grape vines and images inspired by the local landscape.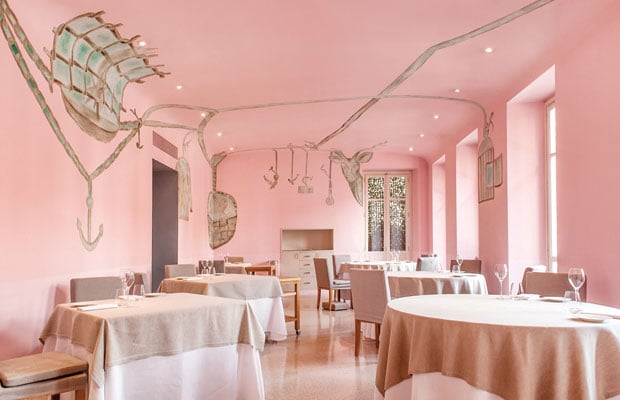 Dining room, photo courtesy of theworlds50best.com
Reservations are hard to get at Piazza Duomo, but on our Piedmont Chef Bike Tour guests are in luck. We've done the hard work and a table is waiting. Will you join us?