When one thinks of Italy, certain images most likely come to mind: rolling hills, walled medieval villages and Roman ruins, to name a few. But what about volcanoes? Italy is the only country in mainland Europe with active volcanoes. Three of them (Vesuvius, Stromboli and Etna) have erupted in the last 100 years. Read on to learn more.
Vesuvius
Situated in the province of Naples, Vesuvius is the most studied volcano in the world. Its explosive eruptions can throw gas, ashes and vapors at a very high speed hundreds of kilometers away, which is what happened during the famous eruption in 79 AD which buried the nearby cities of Pompeii and Herculaneum under a cloud of ashes and pumice rocks. Vesuvius has been in "hibernation" since 1944, but is still fully active.
It is possible to hike the crater of this imposing volcano, visit its lunar-like surface and view its steaming vents. On a clear day the views are superb from the Vesuvius crater: they stretch from the city of Naples all the way to the Amalfi coast, a real-life Mediterranean painting, dotted with lemon orchards, olive groves and a clear-blue sea.
The ancient city of Pompeii is one of Italy's most popular tourist attractions. It was destroyed in 79 AD when Vesuvius erupted. Lesser-known (and much less crowded) in the neighboring city of Oplontis (now called Torre Annunziata) where some of the area's best-preserved Roman ruins can be found. This villa is said to have belonged to Nero's wife, Poppaea. The paintings on its walls, in elaborate 3D trompe l'oeil, are the most astounding we have from anywhere in the Roman world. To cap it all off, in the back garden there is an Olympic-sized swimming pool. This UNESCO heritage is still relatively unknown, allowing quiet, calm visits, unlike Pompei.
Stromboli
The island of Stromboli (in the Aeolian archipelago) is home to the volcano of the same name. Stromboli is the only continuously eruptive and active volcano in Europe, as it erupts every 15 minutes. It hosts two tiny villages, where no cars are allowed, of bright white houses nestled on two opposite slopes of the volcano, crowned by colorful bougainvilleas, palm trees and caper plants. Here the local economy, after tourism, is still based on fishing, practiced with pride in the traditional method which is passed down from generation to generation.
The most dramatic time to hike to the crater is at sunset, and from the top you'll be treated to quite a show of the eruption against the backdrop of the night sky.
Video from Stromboli
Etna
Mount Etna is Europe's highest and most active volcano. Located on the island of Sicily, it towers high above the city of Catania. Historical observations of Etna's eruptions go back as far as 3,500 years, with geological observations reaching back hundreds of thousands of years. It is currently in the midst of a series of eruptions that began in 2001. More than 25% of Sicily's population lives on Etna's slopes, and it is the main source of income for the island, both from agriculture (due to its rich volcanic soil) and tourism.
The Etna National Park is 224 square miles and includes the volcano and surrounding mountains, lava fields, forests and several nearby towns. The park is also home to numerous hiking trails, including trails that take visitors up the slopes of the volcano itself. During colder months, many areas are open to skiing and snowboarding, making Mount Etna a major winter attraction.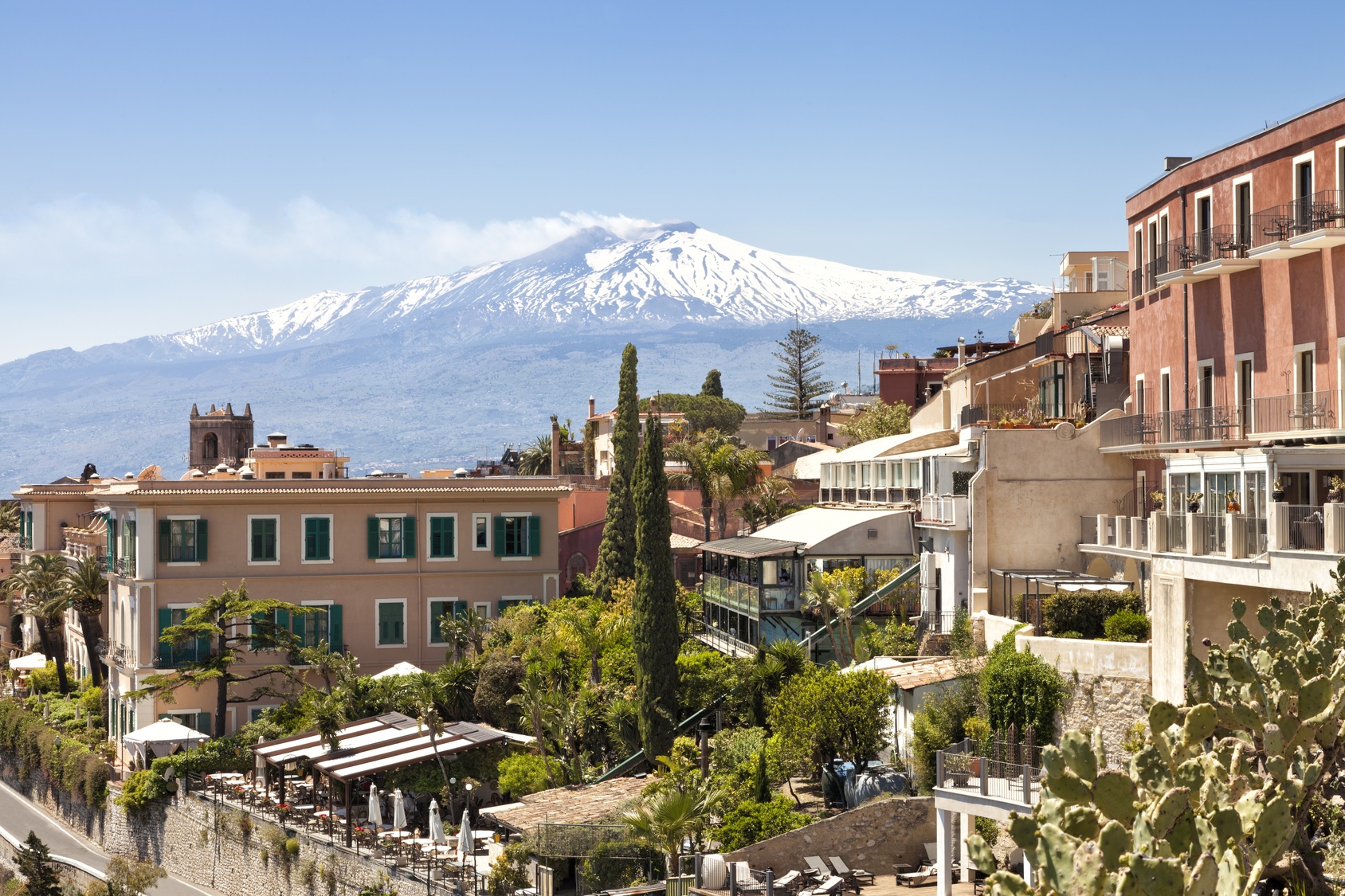 Etna from the town of Taormina
Tourissimo offers a tour that includes hikes on these three volcanoes and much more. To request the detailed itinerary or to reserve this trip for your private group: