Your bike tour is approaching and it's time to talk about an aspect that cannot be underestimated: your bicycle fit. By that we mean how your body and bicycle will come together and work harmoniously for maximum efficiency and enjoyment. My goal here is not to talk about performance or to dive too deep into bike geometry or cycling biomechanics, but rather to explain how to achieve a comfortable fit for your rental bike during your tour.
After deciding the type of bike among the ones offered by your bike tour company (click here to see the type of bikes Tourissimo offers on tour) it is time to talk about bike size and bike fitting.
Bike Size
How important is it? It's very important. Think about your bike as your running shoes. Would you run in shoes that aren't your size? You probably could, but how would that feel (insert sad face here)? You want running shoes of the right size and a bicycle should be the same.
Bicycles come in different sizes and the size is given by the size of the frame. Picture a bike frame (just a frame without the fork): it's a set of tubing that forms a front and a rear triangle, sometimes referred to as a classic diamond frame (and sometimes they cost as much or more than a diamond). Put very simply, the size of the front triangle determines the size of the bike frame: bigger triangles for taller riders, smaller triangles for shorter riders.
Bike Fit
The frame is the main component of a bicycle but there are other components that determine your bike fit and feel and that affect both comfort and handling. Put very simply, there are components that make up the body-bike contact points: seat, pedals, handlebar (attached by a stem).
Those contact point components come in different sizes and sometimes shapes or angles. You can tweak your position on the bike by adjusting those or by swapping them for different ones.
Bike manufacturers do a good job with specs that match most riders for a given bike size. For example, a small bike is available on shop floors with a narrower handlebar and shorter stem.
Because road bikes were invented in Europe they are measured in cm. Conversely, mountain bikes are measured in inches. Nowadays, it's not uncommon to see bikes in Small, Medium, Large…but it comes down to the measurements and angles of the front triangle.
Remember: Your bike should adapt to your body and not the other way around.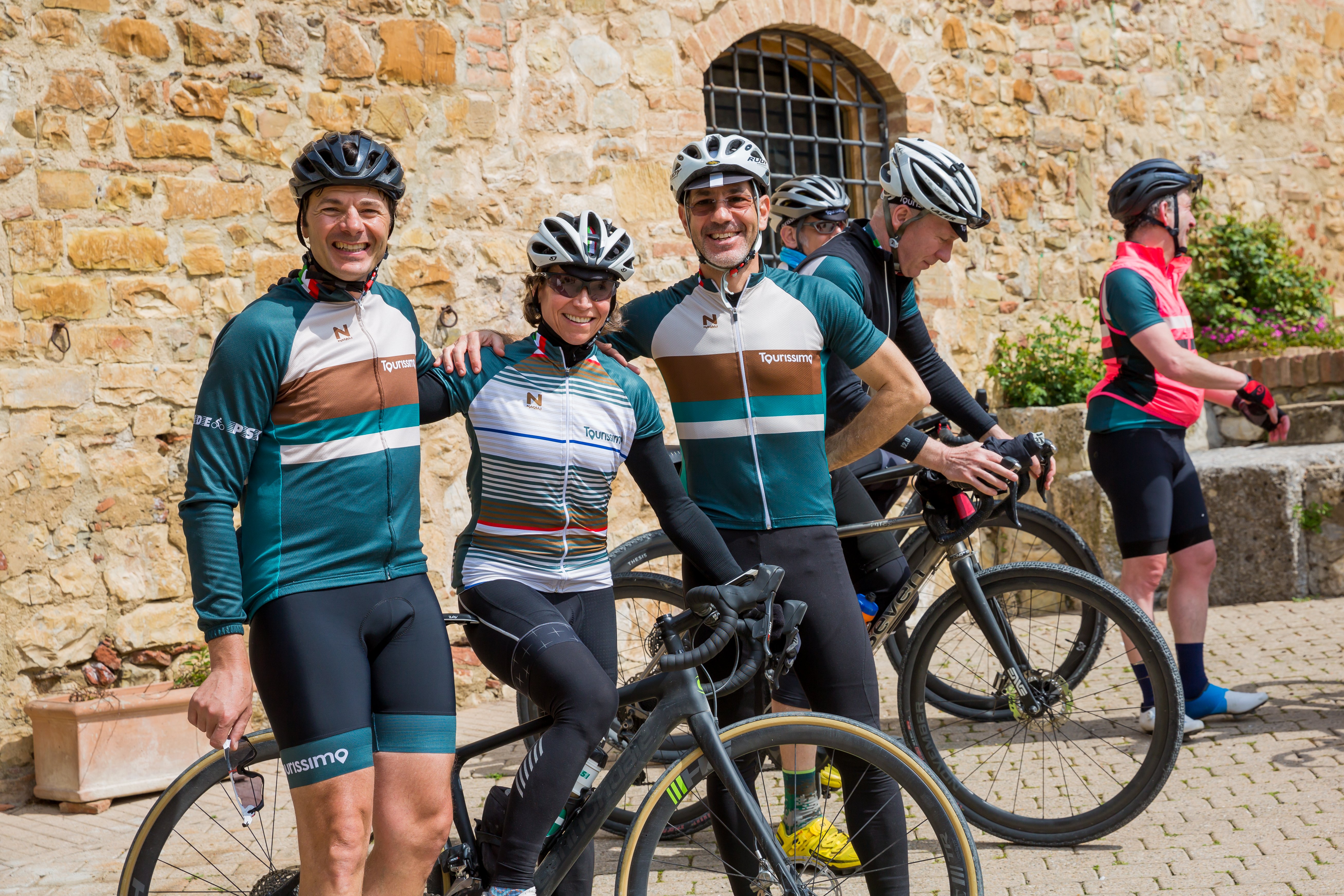 Just like riders, bikes come in different shapes and sizes.
You have some information that a bike tour company or bike rental company will need.
About you:
Height: it goes without saying that that is taken without shoes on
Inseam (also referred to as seat height): very hard to measure it correctly. If you are sure about the method of measuring it you can provide it, if not don't provide it
Body build: long legs, short torso
Health issues: stiff neck, recovering from knee surgery, and so on
Your personal bike:
Make and model: frame charts by different companies can be compared with that info
Size as claimed by the maker (there should be a sticker or an engraving) but you can also measure it (measurement B below).
Bike fit measures:
You have to measure how the contact points (saddle, pedals, handlebar) relate to one another (if you are cool you'll use centimeters).
Over the years, we've found that a chart with a bicycle picture and legend explains better than any description what and how to measure your bike fit.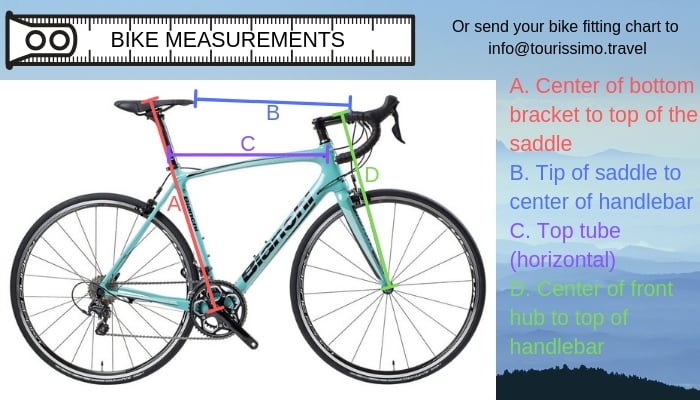 With this information, we hope that your bike will be waiting for you at the beginning of a bike trip with a nearly perfect fit. On the first ride, you should listen to your body and see what adjustments need to be made.
If and when you are ready to invest in professional bike fitting, you'll be provided with a chart that shows the proper bike setup. That is something that you should provide when booking a bike tour and renting a bike.
I hope that this was helpful. I love bikes and I Iove how they function; I enjoy repairing them and I like it when a rider is properly fitted to a bicycle.