One of the oldest restaurants in the world, Turin's Del Cambio is embracing its storied past while innovating.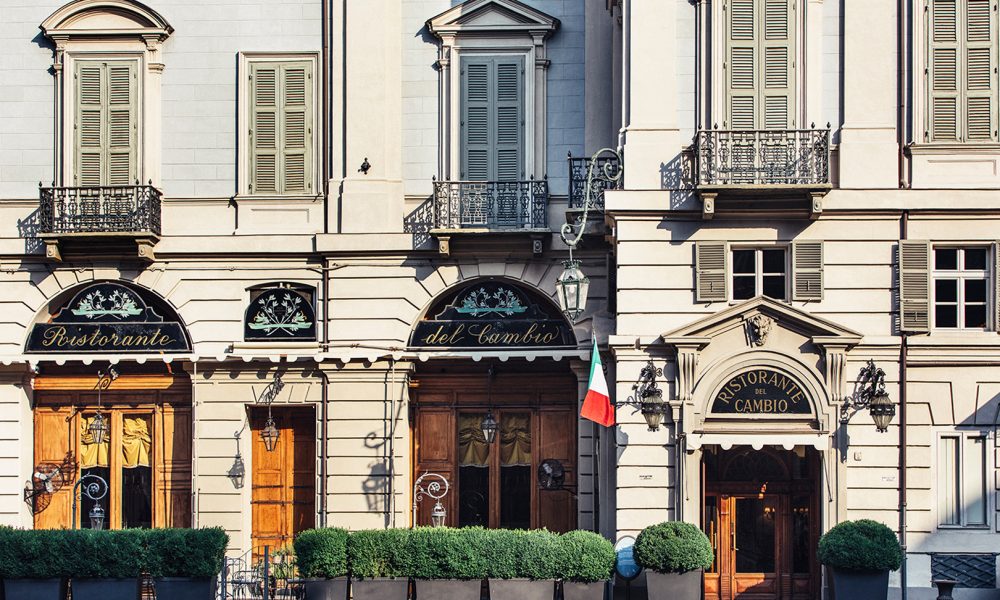 "Oggi abbiamo fatto la storia e adesso andiamo a mangiare."
"Today, we made history. Now, let's go to eat something."
Cavour (Italy's first prime minister who played a pivotal role in the unification of Italy) said these words after reading the war proclamation against Austria on April 29, 1859.
And where did he go to eat? To his favorite restaurant, Del Cambio, which was located in the same plaza as the parliament building in Turin (Turin was the first capital of Italy, from 1861 to 1865).
Piazza Carignano and Del Cambio in an old, undated photo
The Ristorante del Cambio opened as a café in 1757 and was run as one until 1840 when the business got permission to use gas lighting, one of the first places in the city to receive this service.
It became a meeting place for politicians and aristocrats and was so liked by Cavour that he had a permament spot in the restaurant overlooking Piazza Carignano. Balzac, Mozart, Nietzsche and Audrey Hepburn were among other famous guests who dined there.
The fate of the restaurant has always been tied to that of Turin, and as the city went into decline so did Del Cambio. By the 1980's the once-thriving auto industry (Turin is the home of Fiat) tumbled, and in 2012 Del Cambio was on the brink of bankruptcy when it was bought by the investor Michele Denegri, a Turin native.
"When I was growing up in the '70s, this was a city for old people. And so was Del Cambio, with its horrible food and its staid interiors," he said.
Modern Turin
Nowadays Turin is experiencing a comeback, driven in large part by food. Turin is home to the original Eataly, and the Slow Food movement was born in Piedmont. Denegri wanted to update Del Cambio to match Turin's newfoud reputation as a foodie destination while at the same time retaining its elegant interiors and storied past. The restaurant represents Savoy elegance and refinement: tall mirrors running along the walls, sumptuous crystal chandeliers, stuccoes and velvets.
Denegri enlisted a team of 100 restorers, carpenters and upholsterers to rehabilitate the main salon's 19th-century frescoes and regilded the boiserie.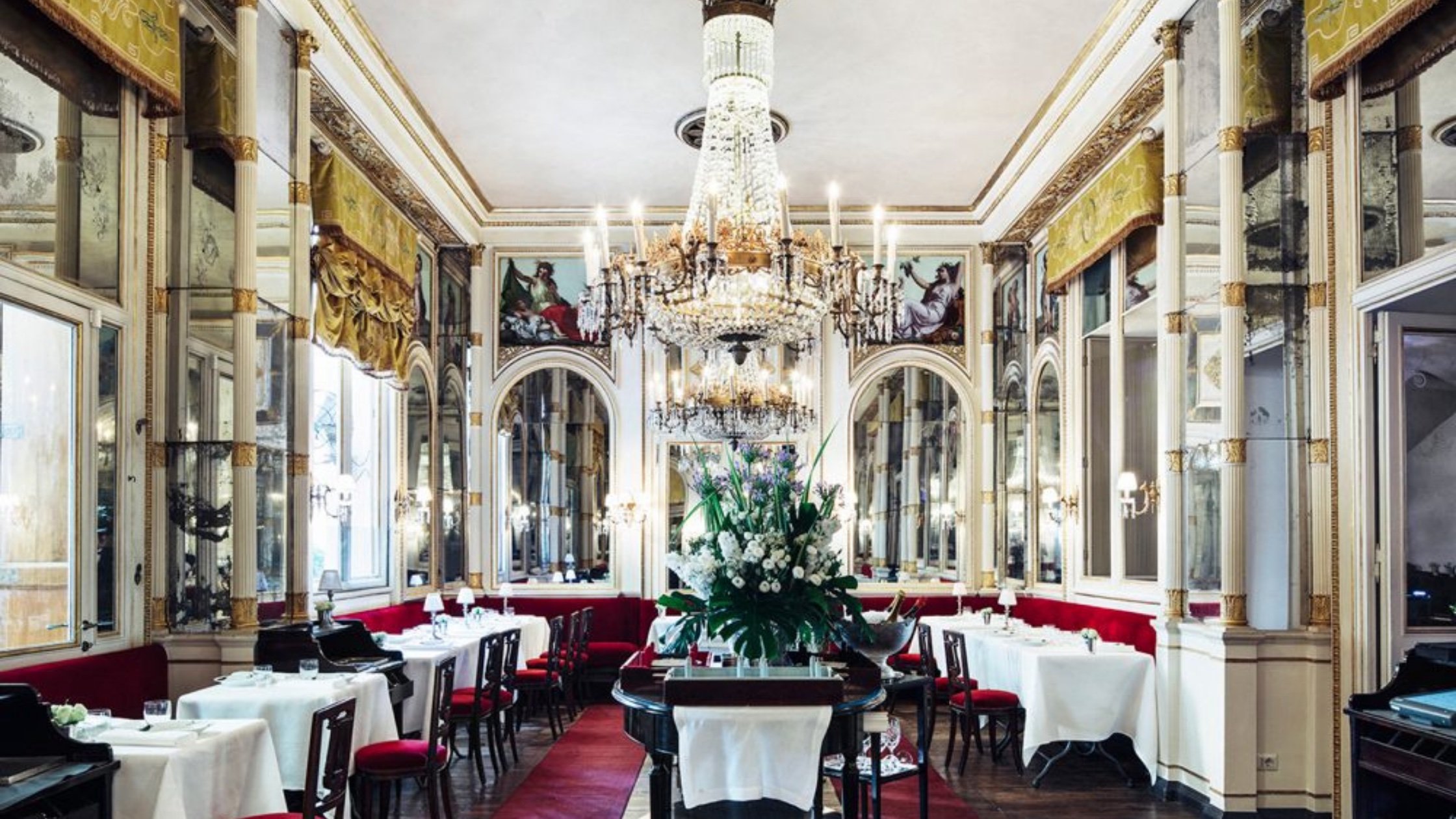 The main salon of Del Cambio is called the Sala Risorgimento, in honor of Italy's unification.
He also wanted to bring some modernity into the space, so he commissioned the Israeli artist Izhar Patkin to graffiti 200 Sèvres platters. Through a grand passageway is a second dining room, paneled in artwork by Michelangelo Pistoletto. The London-based Italian designer Martino Gamper created round tables with modernist wood inlays and plush red velvet chairs. Up a new marble staircase lies Bar Cavour, a vaulted room decorated in a calligraphed mural by Venezuelan artist Arturo Herrera.
Tradition and Innovation
The second part of the transformation was to update the food. Denegri invited the 36-year-old chef Matteo Baronetto who had worked for nearly two decades under Milan-based chef Carlo Cracco, who had been the culinary advisor on the movie, "I Am Love." He agreed to come only if Denegri would give him a custom French kitchen. Denegri agreed, and three days later Baronetto was in Turin. Under Baronetto, Del Cambio earned one Michein star in less than a year.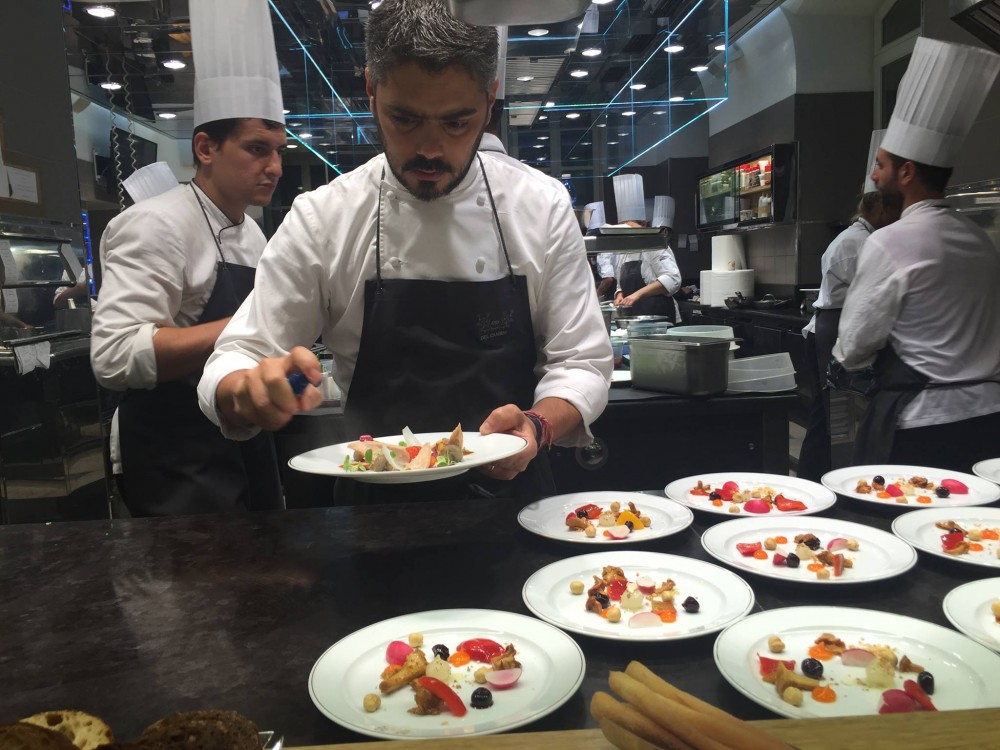 Matteo Baronetto
There are two set menus: the first one is concentrated on tradition, with the most classic dishes, from vitello tonnato, to mixed boiled veal (finanziera), to agnolotti (meat-filled pasta). The second menu combines the traditional versions of the great classics with Baronetto's decidedly more contemporary reinterpretations. The à la carte menu also offers a mix of past and present with timeless Piedmontese classics and dishes that have been reinterpreted by the chef. Baronetto echoes Denegri when he explains Del Cambio's newfound success: "the idea of returning to my own Piedmontese roots."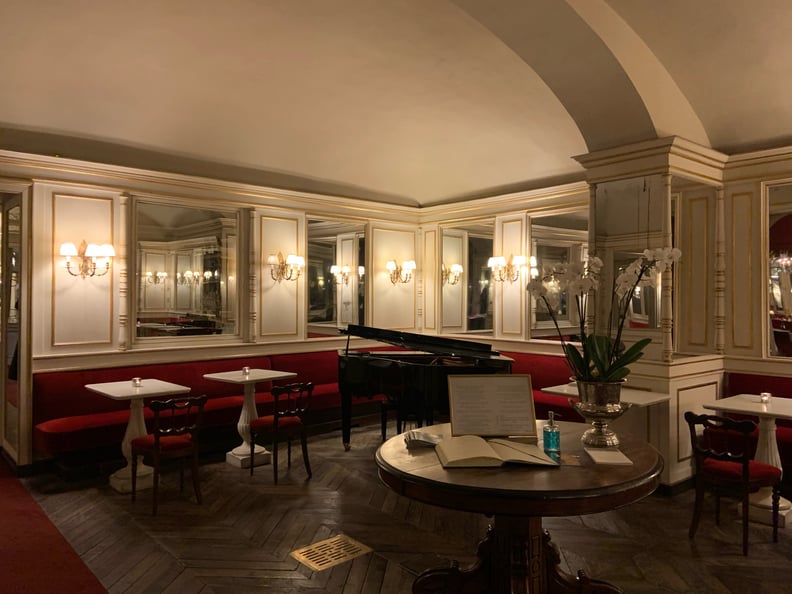 Light lunches are also served, plus there's an excellent café ("Farmacia") and "Il tavolo della cantina," a private dining room laid out in the wine cellar, the spiritual heart of the restaurant, which is perfect for convivial dinners and wine tastings. The Bar Cavour can be found on the upper floor.