UPDATE D2022: ETIAS is expected to take effect in May 2023. We've written an update where you can find the latest: ETIAS UPDATE.
Re-posted with updates- If you travel internationally, you've likely enjoyed the worry-free Visa Waiver Program. You can travel with your passport to Europe and other countries without the need for a visa. However, people working within tourism and tourists alike are getting uneasy with the latest news. Here's our own digest of the situation.
The European Parliament has drawn a tough line with Washington in a dispute over visa-free travel. The issue started appearing in the news at the beginning of March 2018.
Reuters was among the first news sites to report on it. It summarized the dispute this way: "Washington refuses to grant visa-free access to people from four east European states and Cyprus, while those from the other 23 member states can enter using the U.S. Visa Waiver Program. EU rules call for equal treatment for all Union citizens."
The European Union is demanding that the United States extend the privileged status to all 28 European Union countries with a soft threat to cancel the VWP for Americans visiting Europe.
What is the Visa Waiver Program?
The Visa Waiver Program (VWP) is a program of the United States – yes, the US wrote the rules - which allows citizens of specific countries to travel to the United States for tourism, business, or while in transit for up to 90 days without having to obtain a visa. All of the countries selected to be in the program are, in Wikipedia's wording, "high-income economies with a very high Human Development Index that are generally regarded as developed countries.
38 countries worldwide currently participate in the program. Italy is one of them.
New Developments or Old News?
This struggle predates the Trump administration. In 2014 the European Commission was first notified that five countries, including Australia, Canada, and the US, were failing to reciprocate visa-free travel to all EU citizens. Since then, Australia has granted visa-free travel for all EU citizens, with Canada doing so last in December 2017.
The European Commission, the bureaucratic engine-in-chief, had until 2016 to respond to the first notification but has yet to take any legal action. Though, even when European lawmakers imposed another deadline for the Commission to respond, they don't have the power to enforce the request.
It's no news here in the United States either. In August 2016 – before Presidential elections - ESTA online website stated that "It's unlikely that the Visa Waiver Program would be shut down, but it is perfectly possible that the next government, whether Republican or Democrat, will decide to tighten the program further and put more rigid restrictions in place.
For a long time no one paid attention, not even travel professionals. Until now.
Changes Were Delayed, and for Good Reasons
The non binding motion of March 2, 2017 called to temporarily reintroduce visa requirements for US citizens "within two months." Nothing has taken effect and that act was seen as attention-grabbing news ahead of a June 15th 2017 meeting between European and American diplomats.
It's undeniable that the economic cost of imposing visa restrictions on the millions of American tourists and business travelers who visit Europe each year would be a major disincentive in imposing the restriction.
The Issue of Full Reciprocity
The reasoning is simple. American visitors can enjoy visa-free travel throughout European countries within the Schengen area, but the US doesn't reciprocate. EU travelers from some member countries still need visas to enter the US. Namely: citizens of Bulgaria, Croatia, Cyprus, Poland, and Romania.
In plain English: if we don't make your people procure the document, you don't make ours.
Forbes pointed out that "using this logic, it would be as if citizens of, for example, California, Oregon and Nevada (collectively about 14 percent of the U.S. population) were required to go through the often cumbersome, time-consuming visa application process to travel overseas, while citizens of the rest of the states faced no such hurdles." Why are those countries left out? Allegedly they have a history of failing to honor the VWP by staying longer than 90 days. Other countries, including Australia and Canada (which take immigration as seriously as the US if not more), have bought into the argument of European lawmakers. One more thing about reciprocity. Countries like Poland and Romania participate in NATO missions often under US leadership.
An Evolving Scenario, but with a Clear Path
What we've learned so far is that the disparity of treatment challenges the EU's core principle of equal treatment for all its nations.
"It is high time for the commission to show administrative will and political strength, not only for defending those citizens' rights, but also for reinforcing the strength and unity of the European Union on the international scene." ALDE group Vice President Filiz Hyusmenova in a statement following the vote a year ago.
We've also learned that the European Parliament does not have the authority to change visa policies. Also, imposing visas for American travelers would have likely touched off huge economic disruptions and could force a retaliatory move by the United States.
What to Expect Next: ETIAS
The European Union has finally decided for a soft approach that won't ask for the issue of a visa but that involves a pre-screening system very much like the US ESTA.
The Electronic System for Travel Authorization (ESTA) is the online application that visa-waiver country visitors must submit before visiting the United States. The application costs $14.
It means that the situation will remain unchanged until 2021 and possibly longer. After that ETIAS will kick in.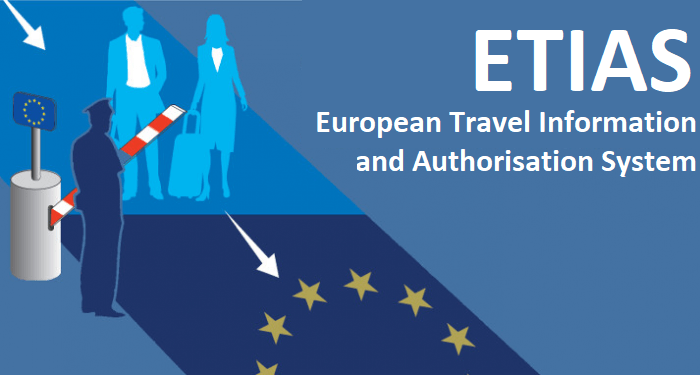 ETIAS - European Travel Information and Authorization System - is an online form that North American travelers will have to fill out in order to travel to Europe. It will cost 7 Euro to apply. Mind that ETIAS is a visa waiver pre-screening program and not a visa.
As of now what we know and what we keep reminding travelers is this: "You need a valid passport with expiration date 90 days beyond your entry date." By the way, I noticed a discrepancy between sources. The Italian ministry of foreign affairs confirms that North Americans must have a passport validity of at least 90 days from the time of entry (other sources stated 6 months).
Of course, if/when we find out that you need to add an ETIAS application to your packing list, you will be promptly notified.
A traveler can be denied an ESTA or a ETIAS. I think it's accurate to say that they are visa de facto. The main difference is that you apply once, and you are good for multiple entries for the following 24 months (ESTA) and up to 3 years (ETIAS).
In our opinion, ETIAS - by itself - will not slow down travel to Italy. We will all adjust and, with the electronic application, it won't be much different than buying flights. However, anything more than an electronic - and fairly cheap visa - will create undesirable friction in people's travel. I will leave the "safe borders" issue to the expert.
It goes without saying that travel associations are voicing their concerns. Each year, some 30 million Americans visit Europe, spending an estimated 54 billion USD, according to the Telegraph.
Any changes to visa and visa waiver policies concerning Italy will be published at the following link: DGIT - Directorate General for Italians Abroad and Migration Policies.
If you enjoyed this article you might also like: What You Should Know Before Booking an Active Travel Tour, How to Get Money Back on Purchases in Italy