Famed for its truffles, and with towns like Barolo and Barbaresco, it's easy to understand why Piedmont is a gourmand's paradise.
In fact, many argue that the region produces the best food in all of Italy. The Langa and Roero regions of Piedmont are in one of the most important wine production areas in Italy, and received UNESCO World Heritage status in 2014. The Chef Bike Tour of Piedmont will take us to the heart of these regions, over rolling hills covered with endless vineyards and past ancient castles and hidden hilltop hamlets. You'll see how connected the local people are to the land, and how they take pride in everything they produce.
Our guest chefs will play an important role in understanding the local productions and the preparations that better tell the story of the territory.
---
Chef Benjamin Cohn participated in the inaugural Chef Bike Tour in 2017. His knowledge and charm made the trip come alive. He was as happy in the kitchen as he was on the bike and he jumped on the opportunity to come back with Tourissimo in Piedmont!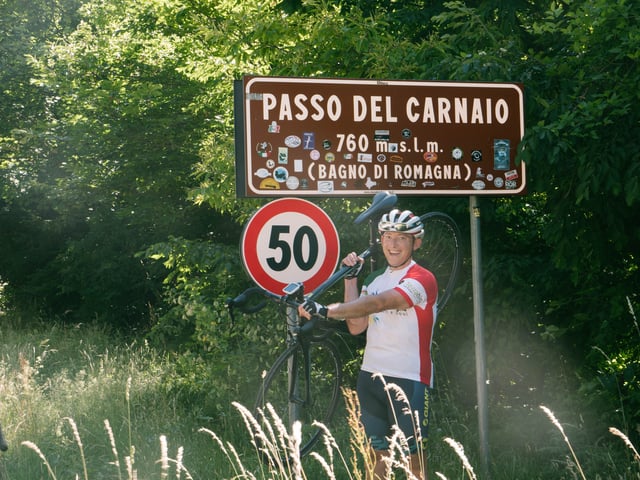 Ben is the executive chef at Westside Tavern in West Los Angeles. However, his formal training took place in the San Francisco area, which provided him with a bounty of great ingredients and a culinary scene like no other. There, Ben worked with Traci des Jardins at Jardinière, where he cultivated a deep understanding of seasonality and developed relationships with artisanal purveyors of sustainable products. At Masa's, Ben perfected his technical skills with French Laundry trained chef, Gregory Short, and had a natural eye for creating beautifully plated food. As Executive Chef of Spruce, Ben led the restaurant to their first Michelin Star.
Chef Marc Meyer has built with his wife Vicki Freeman a small restaurant empire in the fierce restaurant scene which is New York. Marc has an extensive experience as a chef and restaurant owner and we are sure that he will feel at home in the Italian kitchens, too!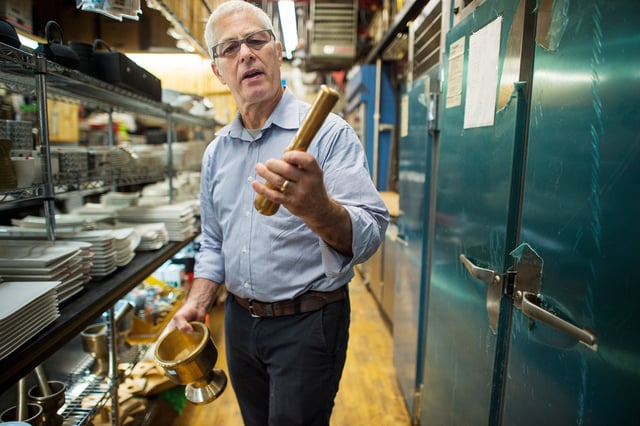 In the 80's and 90's, he worked with some of the most celebrated chefs in NYC and San Francisco. He then opened his own Five Points on Great Jones in 1999 (reimagined as Vic's in 2014), and became a mainstay of Greenwich Village. Chef Meyer has since opened Cookshop, which has been one of the hottest restaurants in NYC for over a decade, Rosie's , and Mediterranean inspired Shuka, all showcasing local and seasonal food through vibrant, ingredient-driven cuisine.
---
Vineyards cover most of the hills here and wines such as Barolo, Barbaresco, Barbera and Nebbiolo are perfectly paired with dishes that will make each meal a gastronomic event. Towns like Pollenzo, Monforte and Alba are perfect stops for a taste of what the region has to offer, where strolling through the cobbled streets and sitting in geranium-decked piazzas is a great way to end a day on the bike. The Alba truffle fair gets in full swing in October and November, beginning with the "Palio degli Asini," the donkey race. Throughout the year the nine quarters of the city prepare for the race that awards victory for the parade and for the best quarter. The medieval parade, with over a thousand participants in typical costume, winds through the city streets, ending in the arena of the Palio, just before the donkey race.
On this special edition Chef Bike Tour you will stay in Pollenzo where the Slow Food University of Gastronomic Science is based. You will learn about the Slow Food movement right at its birthplace and with the students and chefs of the University.
Accommodations during your journey include a UNESCO site, a wine estate, and a boutique hotel in the countryside. In early October, it might still be harvest time for the nebbiolo grapes and the colors make the hills and vineyards look like they are painted!
Request a Tour Summary
[fa icon="plus"]
Highlights
Two important wine regions, Langa and Roero

UNESCO World Heritage Site (vineyards landscape)

Villages of Barolo and Barbaresco, the namesakes of two world-famous red wines

Lecture at Slow Food University

Stunning cycling along rolling hills covered with vineyards and quaint medieval villages

Views that stretch as far as the Alps

Castle-topped villages, which lend a historic and romantic feel to the area

Some of the best regional food in Italy, including truffles, cheese, and hazelnut Gianduja chocolates

Dinner at 3 Michelin-starred restaurants
[fa icon="plus"]
Tourissimo Experience
Meet winemakers, and immerse yourself in the authentic wine and farming culture of Piedmont
Learn about the history of Barolo wine right at its birthplace
Discover the Ligurian and French influences in the local cuisine
Go truffle hunting with a real trifulau
Hands-on cooking class with mamma Giovanna at the Marrone Winery estate
Learn about the microclimate around the Tanaro River Valley that gives Barolo and Barbaresco two distinctive characters
Get acquainted with the enology of the region with the most DOC and DOCG wines in Italy (over 60)
Learn about Slow Food and its Piedmontese roots
Stay at one of the estates of the Royal Family of Italy in Pollenzo
Learn, smell, and taste truffles, the food of gods
[fa icon="plus"]
Day by Day
Day 1
Where: Pollenzo
Terrain:
Ride: None
Meals: L, D
One of your guides will meet you at Milan Airport for a late morning shuttle to Corte Albertina in Pollenzo. You'll have time to visit this interesting village, which is steeped in history. This site received the official recognition of UNESCO World Heritage Site in 2001 as part of the Residences of the Royal House of Savoy. It now houses the University of Gastronomical Sciences, founded by the internationally recognized Slow Food Association. Slow Food began as a sophisticated parody of McDonalds' arrival in Italy (Slow Food vs. Fast Food) and has grown into an international crusade for the preservation of culinary traditions, biodiversity and "the right to good taste." We will stay at Albergo dell'Agenzia, which is in the main building of Corte Albertina, and which includes an immense park that was a hunting reserve of King Carlo Alberto. We will gather for a late lunch and for introductions over a glass of wine. In the afternoon we'll check the bikes and adjust them to your liking. Our first dinner is at the hotel and it will showcase some elegant preparation of Slow Food presidia.
Hotel: Albergo dell'Agenzia
Day 2
Where: Pollenzo and Roero
Terrain: Hilly
Ride: 32 mi or 51 km
Meals: B, L, D
We'll start the day climbing a ridge overlooking the Tanaro river valley. We'll pass through San Martino Alfieri, Castello di Govone, Priocca and Castellinaldo, all on the high plateau of the Roero region. Here you are in true wine country where grape varieties include Nebbiolo, Barbera, and Arneis, no doubt a part of your evening celebrations! Each village you pass through today is topped with a castle. Most are now privately owned and very seldom open for visits, but they add to the uniqueness of the landscape as you enjoy exploring this region. Back in Pollenzo, we'll meet a local Slow Food representative to learn a bit more about the movement, then we will visit the Banca del vino (Wine bank), a unique wine cellar housed in the Corte Albertina. Dinner is at an agriturismo where most products served are locally sourced.
Hotel: Albergo dell'Agenzia
Day 3
Where: La Morra and Manera di Benevello
Terrain: Hilly
Ride: 31 mi or 50 km
Meals: B, L, D
Today we'll say farewell to the Roero and ride from Pollenzo to the Langa wine area past more vineyards, where no doubt you will see local workers in the fields. Tractors and trucks laden with grapes might hoot as you cycle along wine must scented villages. Our first stop is in La Morra. La Morra is considered the balcony of the Langhe because of its wonderful views of the entire area. Take your time here and have your cameras ready! Today we have our cooking class and lunch at the Marrone Family Winery. Time to enjoy life and to taste some Barolo on the terrace! Our chef and the Marrone family ladies will engage everyone during this fun, yet professional cooking workshop. We then ride to the 13th century Grinzane Cavour castle, once home to the famous strategist Cavour. We then pedal on a ridge, which is part of the Alta Langa, the highest and wildest portion of this territory. The vegetation changes as hazelnut-topped woodland covers the northern side of the round and gentle hills. These hazelnuts are harvested by the ton and transported to the Ferrero factory in Alba to make the famous Nutella spread, as well as Italian Gianduja chocolates, which you should of course try! Our hotel affords a great view of the Alps. Dinner is at the Michelin starred hotel restaurant.
Hotel: Villa d'Amelia
Day 4
Where: Manera di Benevello and Barbaresco
Terrain: Hilly
Ride: 30 mi or 49 km (shorter and longer options available)
Meals: B, L, D
The area southwest of Alba is part of the Barbaresco wine production zone. The three villages where Nebbiolo grapes for Barbaresco wine can be grown are Neive, Treiso, and Barbaresco. The original, small, and elegant villages of Barbaresco and Neive will be part of our ride today. As you approach Barbaresco, its imposing 12th century tower stands out in the landscape. Almost square shaped, its height originally reached 36 meters, making it a strategic position overlooking the Tanaro Valley below. The tower is what is left of an imposing fortification once crowning the hilltop where Barbaresco rises. Down a winding descent, we'll head towards Pertinace Winery. It's the perfect opportunity to understand the wine production of this part of Italy. Our chefs will help understand wine pairing based on the characteristics of each wine. The complete range of Pertinace wines is a true expression of traditional Langhe winemaking. After lunch and wine tasting, we head back to the hotel where you can enjoy some free time before heading to dinner prepared by Chef Marc Meyer and Chef Ben Cohn. Buon Appetito!
Hotel: Villa d'Amelia
Day 5
Where: Serralunga d'Alba and Alba
Terrain: Rolling
Ride: 18 mi or 29 km (longer option available)
Meals: B, L, D
This morning we'll have a late start so that you can enjoy the stunning Fontanafredda Estate. We will visit the on-site "royal" cellars of the estate. The Savoy royal family, in fact, owned the place. It could very well be the birthplace of Barolo itself.
Our loop ride will lead to a secondary valley where we will go truffle hunting with a real trifulau and his trusted dog. This is an experience you won't forget! The white truffle of Alba is a delicacy that has made these hills famous among chefs worldwide. It's not hard to imagine that white truffles will be part of our dinner feast.
For dinner, we will land in Alba, the capital of the white truffle area, also nicknamed the town of a hundred towers. Only a few of these fine redbrick towers have survived, but they still give the town its distinctive appearance. Of Celtic and Ligurian origin, called Alba Pompeia by the Romans, the town has kept a spiral-shaped medieval plan. You will have time to explore the elegant town center before gathering for dinner. There are only 8 three Michelin star restaurants in Italy. Piazza Duomo in Alba is at the pinnacle of regional cuisine. They are currently the 15th Best Restaurants in the World (50 Best Restaurants in the World.) The kitchen is headed by Chef Enrico Crippa who procures the freshest regional ingredients (everything comes from a radius of 50 kilometers), some of which comes from the restaurant's vegetable garden. An impressive wine selection will afford a memorable wine pairing. White truffles, of course, will be on the menu.
Hotel: Villa Contessa Rosa and Foresteria delle Vigne (Fontanafredda)
Day 6
Where: Barolo loop
Terrain: Rolling
Ride: 28 mi or 45 km (shorter and longer options available)
Meals: B, L, D
Today is Barolo day! We ride to the unpretentious village named after the King of Wines. We'll visit the Enoteca Regionale di Barolo (regional cellar of Barolo), where you will have an instructive explanation of the Barolo wine production area. Between La Morra and Barolo, you'll ride past rows of nebbiolo vines cultivated by such legendary producers as Renato Ratti, Bartolo Mascarello and Roberto Voerzio.
The final highlight of this epic culinary journey is dinner with Chef Ugo Alciati. You will learn how "Da Guido" restaurant - started by his father - completely changed fine dining in Piedmont.
Hotel: Villa Contessa Rosa and Foresteria delle Vigne (Fontanafredda)
Day 7
Where: Serralunga d'Alba
Terrain: Departure
Ride: None
Meals: B
After breakfast, you will be transferred to the airport by Tourissimo's group shuttle (unless you decided to extend your stay).
[fa icon="plus"]
Other Info and Cost

How to Get There
Airport/s - Milan Malpensa (MPX), or Turin Caselle (TRN)
Other transportation - Private transfer by Tourissimo from the airport to the first Hotel. Upon request, guests can be picked-up elsewhere (additional cost).

How to Depart
Airport/s - Milan Malpensa (MPX), or Turin Caselle (TRN)
Milan Malpensa (MPX), or Turin Caselle (TRN) - Private transfer by Tourissimo from last hotel to the airport.

Climate Data
In October, temperature average is 7C (45F) low / 16C (61F) max - precipitation probability 12%.

Tour Program Cost (All-inclusive)
Tour price per person in double room is USD 5,995
Private room surcharge is USD 650
We include the finest Piedmontese Barolo and Barbaresco wines of the best vintages, as well as white truffles included with a minimum of two dinners

All-inclusive Program
• Bikes equipped with Garmin GPS with choice of Bianchi road carbon or hybrid; Ebike for an extra charge
• Two professional tour guides throughout the program
• All accommodations
• All breakfasts, all lunches, and all dinners
• Wine and beer with meals, coffee, cappuccino, and gelato stops
• Support vehicle during the tour and luggage transfer
• Group shuttles at the beginning and at the end of the tour
• All activities mentioned in the day-by-day description
Info about food and wine, and Slow Food products
The Langa region is a true paradise for gourmands. In Angelo Gaja's words, (Gaja is a central figure in Piedmont's wine identity) "People truly come here to explore their passion for food and wine." The territory offers first class ingredients, that together with traditions handed down from generation to generation, allow you to enjoy the authentic Langa dishes. The egg pasta used to prepare the tajarin, or plin, ravioli is homemade and the precious veal meat from the Province of Granda (name of the province of Cuneo in local dialect) is the basis for the preparation of ancient recipes like hand chopped raw meat, cold veal with tuna sauce and red wine braised meat. The simplest dishes are usually the most delicious and they look like they have been specially created to espouse the most precious autumnal ingredient, the Alba White Truffle, which will enhance their perfumes and tastes. In fact, the Slow Food movement was born in Bra (near Alba). The regional wine production boasts the most DOCG appellations of any other region in Italy, and during the week we will learn about Barbera, Dolcetto, Nebbiolo, Arneis and many other indigenous grapes. Most family-run wineries in Barolo are small and don't do winery tours, as you would expect if you were in France or Napa. Luckily, Tourissimo will get the doors open for you.