Our bike tour leaders speak out! Even though riding is part of their work, guides are usually quiet about their favorite rides, especially when they work in more than one geographic area. In today's blog two of our guides open up about their favorite rides. I share one of my favorites, too.
Sette Ponti, Tuscany
80 Km (50 mls) - Rolling
This is a fairly easy ride in the heart of Tuscany that is suitable even for families with children. Our senior guide Federica says it's one of her favorites.
The via Setteponti follows the traces of what was once the Etruscan and Roman route linking Florence and Arezzo. On modern maps it's SP1 (where SP stands for strada provinciale). This itinerary is an exciting and panoramic ride for those looking to try the gentle, hilly country roads and take in the Tuscan charm while checking out classic views over vineyards, small towns and olive groves.
Once known as Cassia, the via Setteponti (Seven Bridges Road) is so named because it crosses the streams and rivers that flow from the Pratomagno Mountains at least seven times. The continuous curves expose several totally unique vistas including small towns, pieve (hilltop churches), the Balze and the smooth grassy top of the Apennine Mountains. This is a road to take at a leisurely pace, stopping often and indulging in a bit of unplanned sightseeing especially with the numerous parish churches, lush olive groves and inviting vineyards. Among our favorite detours is Cortona, offering plenty of charm and gorgeous views. Cortona became famous thanks to the book Under the Tuscan Sun.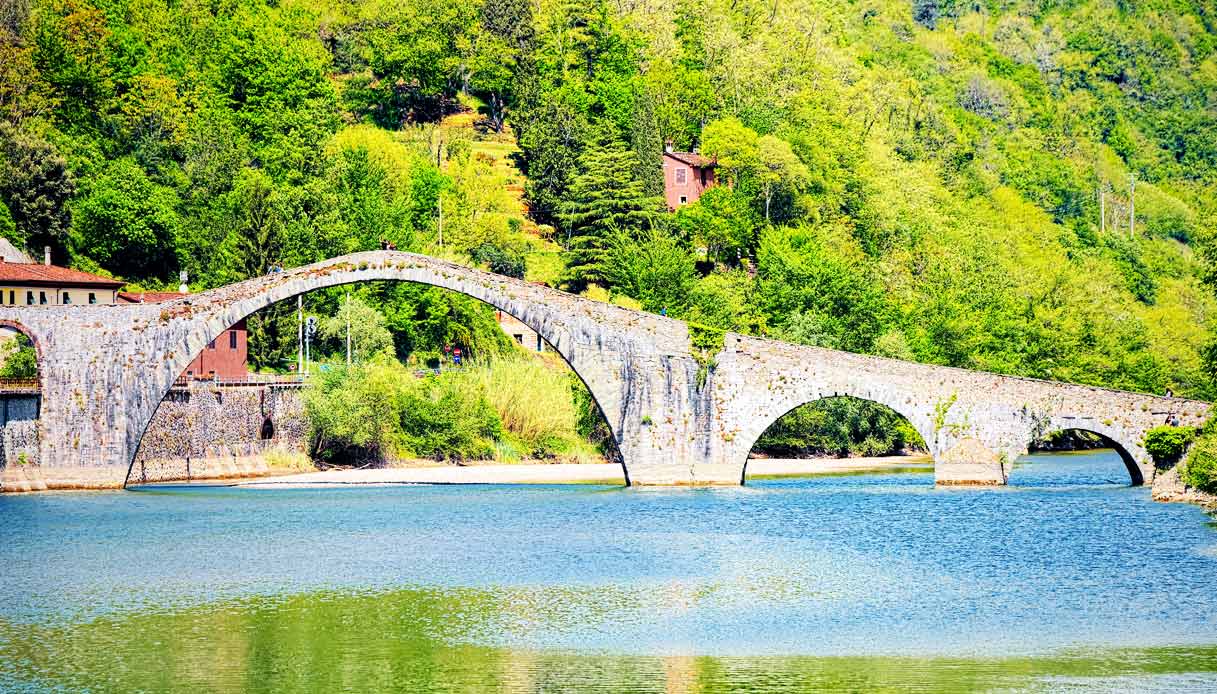 Photo courtesy Siviaggia.it
Not to Miss- Ponte a Buriano
The evocative stone bridge with seven arches was built in 1277 and many believe is the iconic structure in the scenery immortalized by Leonardo da Vinci behind the right shoulder of Mona Lisa.
Passo Pordoi, Dolomites
9.2 km (5.7 mls) – Mountain Pass
This is Federica's favorite pass in the Dolomites. From the Arabba side you'll face a steady 7% grade, (just painful enough) for the length of the climb. You actually have to appreciate the engineering of a road like this that puts you on top of the pass while caressing the side of the mountain with well-designed switchbacks and a constant gradient. The Arabba side (unlike the Canazei side) is mostly above the tree line and you're left with green pastures and some shrubs here and there, as well as unobstructed views of the road, of the riders ahead of you and of those chasing you.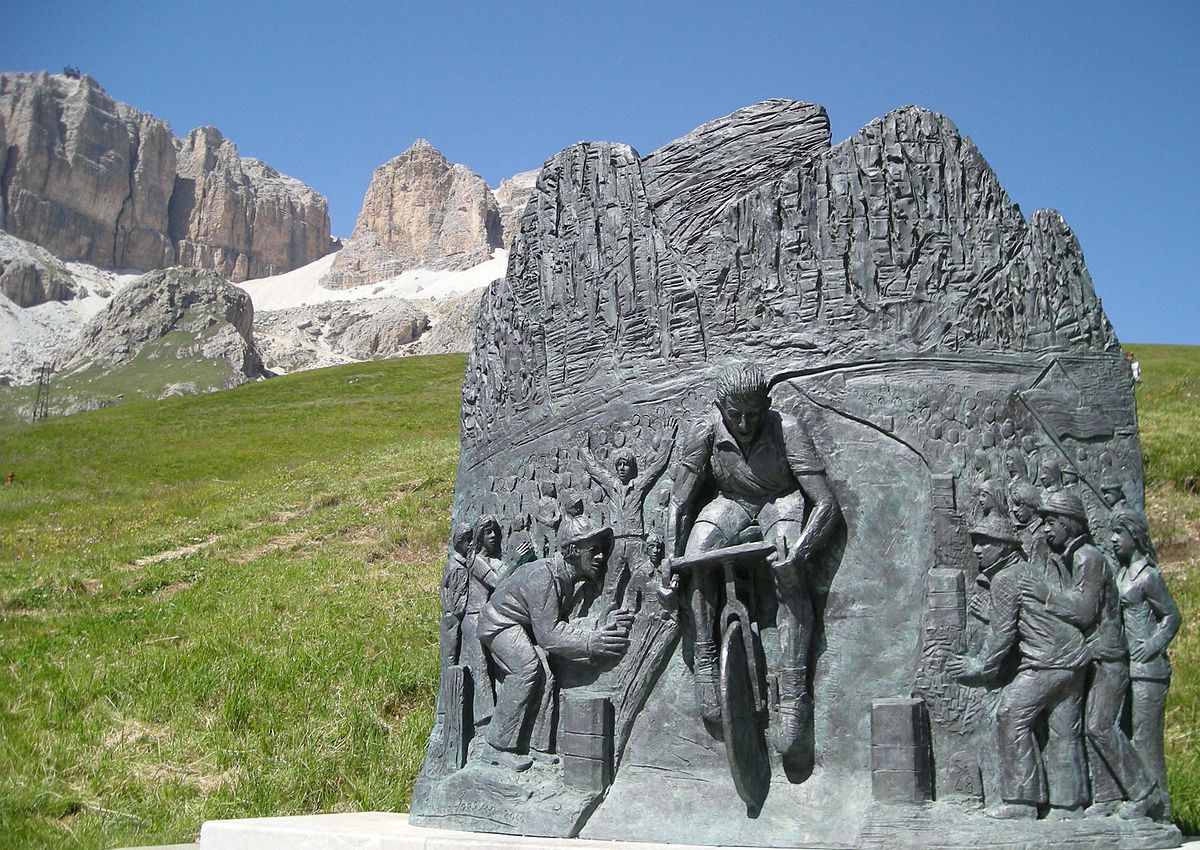 No trees means no shelter from the wind and if it is windy you should adjust your pace. Starting at km 3.5 (ml 2.2), The Pordoi presents 22 hairpins in 4.5 km or less than 3 miles! This is an average of 1 hairpin every 200 meters and it's very cool to ride! The scenery is the best you can imagine and it gets better as you ascend. Passo Pordoi is part of the Sella Ronda loop.
Not to Miss - A picture next to the Fausto Coppi memorial
Sella Ronda, Dolomites
58 Km (36 mls) – Mountain Passes
Our guide Massimo embraces Federica's mountain riding choice. Being the great climber that he is he's choosing the whole Sella Ronda loop ride as one of his favorites. Pordoi (from Canazei), Campolongo, Gardena, and Sella. The sequence of these passes comprises a loop called the Sella Ronda (the loop of the Sella massif 3,151 mt - 10,335 ft). Cycling legends have been made on these passes for nearly a century. Mountain stages of the Giro d'Italia (the iconic three-week professional bike race) have seen legendary riders both rise and fall, as riders could gain the Pink Jersey (the leader jersey) and seal the final victory, or lose it all on a bad day. It all happens on the Dolomites year in and year out. This ride has become a mountain cycling must and is right in the middle of the stunning UNESCO-recognized Dolomites. Low gears recommended!
Pro-tip
Look for events such as the Sella Ronda Bike Day because in those events Pordoi and other passes are closed to motorized traffic.
Not to be missed - The views
The view of the Sella massif from all sides but also cappuccino and Strudel at one of the passes.
Related: Dolomites and Stelvio Bike Tour
Inner Sardinia
147 km (91 mls) - Mountains
Massimo is from a region that in my opinion has the most to offer if you're looking for peaceful roads and authentic villages. Known for its emerald coastline, Sardinia also has great mountain riding. Massimo describes one of his favorite "home" rides with more than a touch of pride.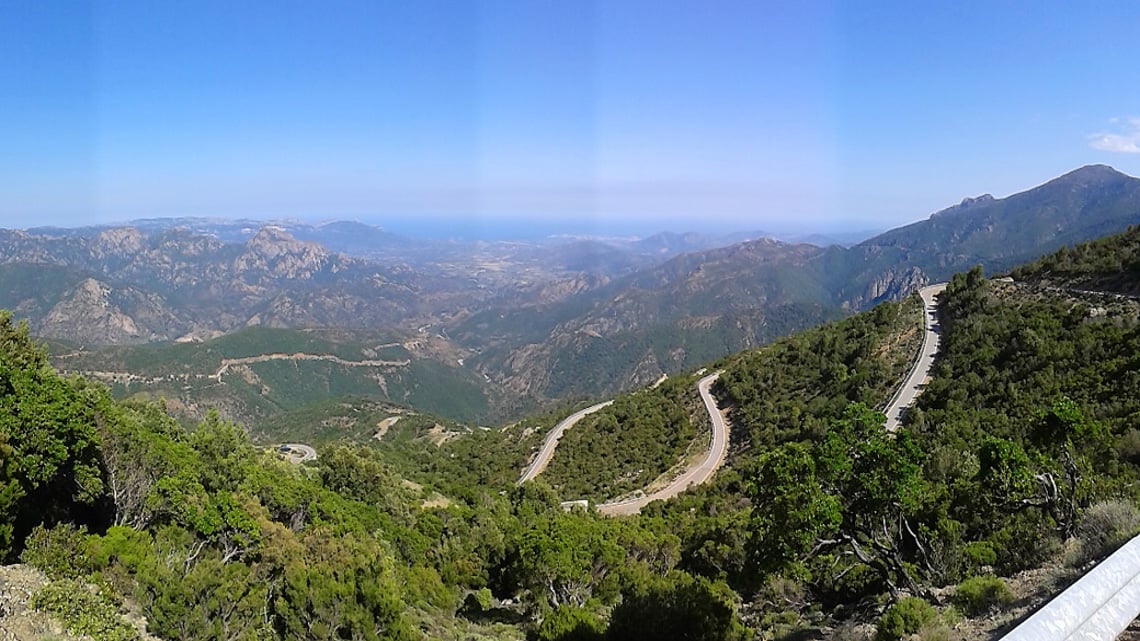 Photo credit Lifegate.it
"You ride from Cala Gonone to Santa Maria Navarrese, then you climb again to Villanova Strisaili via Villagarande, Talana, Santa Maria Navarrese. Impressive Limestone mountain range, climbing from the sea level to 1,000 meters pass (3,280 ft), Genna Silana, along a gentle road on the edge of a deep gorge, then down to the sea with incredible views. From the sea gulf up again to 1,000 meters(3,280 ft) on the plateau at the feet of the main mountain range of Sardinia. The last downhill along a quiet road and a series of switchback from 1,000 m asl with the view of the gulf in the distance."
I would add that this ride (I've done it three times myself) will become a lifelong memory if you are lucky enough to do it. It's just so dramatic and quiet.
Not to be missed - Genna Silana
Take your time at the top of Genna Silana, look around, and take a selfie with a sheep.
Ok, it's time to add one of my own for part one of the Best Bike Rides in Italy Italian bike rides according to our Bike Tour Guides.
Strade Bianche – Tuscany
Various distances from 30 to 200 km (18 to 125 mls) – Hilly
If you are crazy about gravel roads and gravel bikes you have to know about strade bianche. Strade bianche literally means white roads and they are unpaved roads in the countryside of southern Tuscany.
They are usually country lanes and farm tracks, called sterrati (unpaved) in Italian but here they are strade bianche due to the bright calcareous top layer.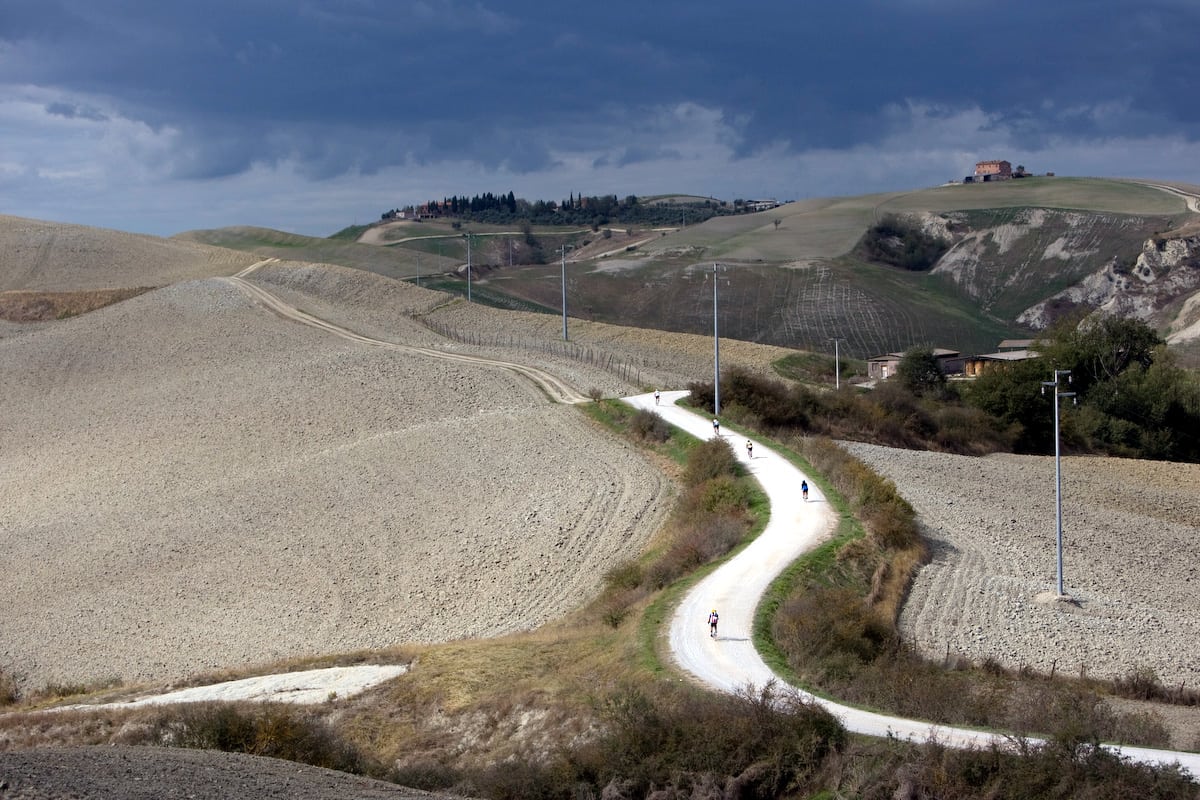 These roads twist through the hills and vineyards of the Chianti region and Val d'Orcia. Some of the dirt roads are flat, while other sections include steep climbs and winding descents, testing riders' climbing abilities and bike handling skills. The longest and most arduous climbs are the ones in Lucignano d'Asso (9.5 km, 6 mls) and Asciano (11 km, 6.8 mls). The views are worth the sweat, though. It gives you the sensation of turning back in time for two main reasons: the unpaved roads of course, and the fact that the area is not overbuilt like many other areas. In particular, Val d'Orcia as a UNESCO site has very strict rules when it comes to new buildings.
How did these roads become world-renowned? One word: Eroica. L'Eroica (literally, "The Heroic") circuit was conceptualized in 1997 by the visionary Giancarlo Brocci, as a means of preserving Tuscany's fabled 'Strade Bianche' (white gravel roads) and preventing them from being paved. The Eroica classic ride can only be entered by riders on vintage steel bikes (pre-1987). The fascinating Eroica permanent circuit totals over 125 miles of mostly white roads covering three major areas: Chianti, Crete Senesi, and Val d'Orcia. Thanks to the vision of Giancarlo Brocci, Eroica founder, the white roads are protected by law and shall not be paved.
In March, the organizers of the Giro d'Italia also organize a UCI professional race called...Strade Bianche, of course. It's epic and it has become in just a few years a spring classic along with Paris-Roubaix, Milano-Sanremo and Tour of Flanders. Some call it the southernmost classic of northern Europe due to its rough terrain and the dust or mud depending on the weather.
So, to experience strade bianche you can take part in the Gran Fondo, be part of the Eroica event, or watch the UCI pro race. At times, the Giro d'Italia also features portions of it. Another option is to join our Strade Bianche of Tuscany Bike Tour.
Not to be missed: Gaiole in Chianti
Make a stop in Gaiole in Chianti for some Eroica memorabilla and espresso coffee in this Chianti sleepy village.