Lake Garda is Italy's largest lake and enjoys a privileged position at the foothills of the Dolomites. A stay on Lake Garda combines breathtaking mountain views with a mild, mediterranean climate. It's also a popular destination for cyclists, who can now enjoy the first section of a stunning bike path that once complete will circle the entire lake.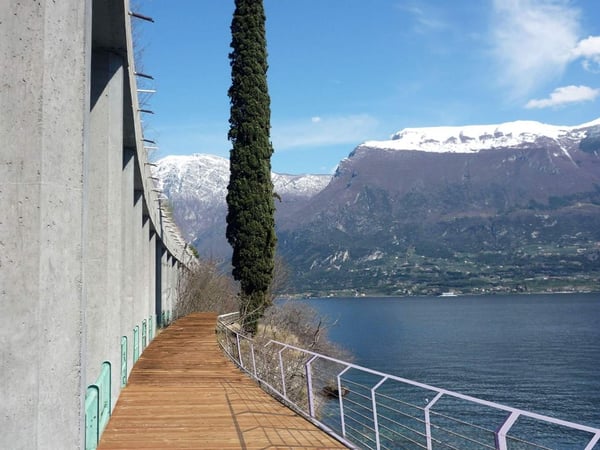 © ATT - Società d'ingegneria (all photos)
In July 2018 the first two kilometers of the Ciclopista di Garda (Garda Bike Path) opened in the town of Limone sul Garda. The path, which when finished will be 140 kilometers, floats 50 meters above the water and is 2.6 meters wide. It is already being described as the "most beautiful bike path in the world" for its incredible views of the mountains and the water.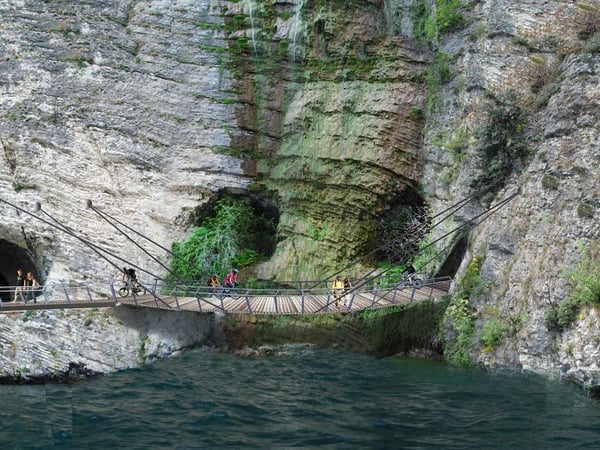 It's also remarkable for its engineering. For the first section, harnesses, cables and even helicopters had to be used to hook the thin wooden and steel walkway to the rocky walls of the mountain. Steel struts inserted six meters into the mountainside and protruding outward for 2.6 meters sustain the track. Large sections of the mountainside were covered with wire netting to prevent rockslides.
This first completed section took two years to construct and cost 7 million Euros. Estimated completion is the year 2021 at a cost of 102 million Euros. Once complete, the path will bring tourism to more remote villages along the route and will traverse three regions of Italy (Trentino, Veneto and Lombardy).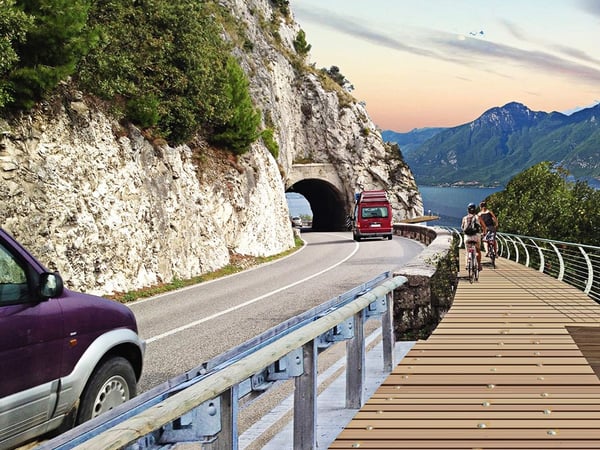 The path is open to pedestrians and cyclists and is completely separated from traffic. It is open 24 hours a day and is lit at night.
Our Lake Garda to Venice Lagoon bike tour starts in the town of Riva del Garda, not far from the completed section of the path. We'll try out the path during our warmup ride on the first day.