On January 2nd 2019, Fausto Coppi's memory was honored in his native Castellania, in a calm corner of Piedmont that is not far from those Alps that forged so many of Coppi's victories. His legacy has remained very much intact in the cycling world and for very good reasons.
Coppi died at 40 years of age on January 2nd 1960 and each year he is still remembered with a gathering and a mass in the tiny town of Castellania that cycling fans, family, friends – including his few domestiques that are still alive – authorities and journalists attend. Some ride there, no matter the cold.
Sports journalists agree that no other Italian sports figure sees so much affection after so many years. And in 2019 on September 15th Coppi would have turned 100 years old!
Coppi was and still is one of the professional cyclists with the most titles, which include the world hour record, a world championship, grand tours, the classics and the time trials. He was the first one to win Tour and Giro in the same year (1949 and 1952). He didn't just win; he dominated. His achievements remain legendary and part of cycling culture to this day.
One example: as I explained in my blog article about the Stelvio pass, Coppi was an unbeatable climber and won five editions of the Giro d'Italia. The Cima Coppi (Coppi's summit) is the title given to the highest peak in each edition of the Giro d'Italia.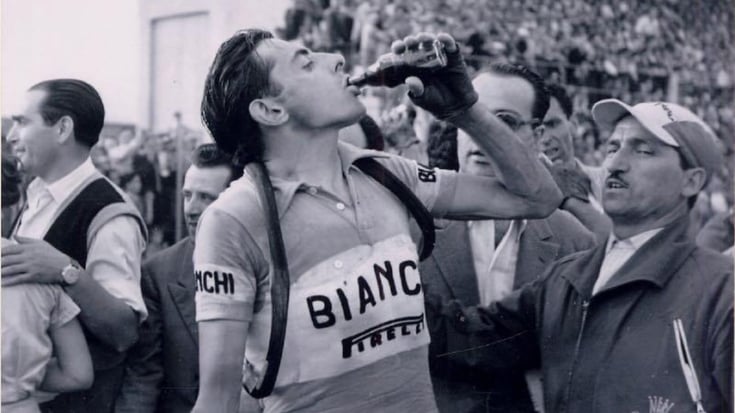 Because Fausto Coppi was racing at a time when Italy was poor and rocked by two World Wars, many Italians link Fausto Coppi's racing days with a particular time of Italian history when the need for inspiration, revenge, and hope relied on the wins of Fausto Coppi "il Campionissimo." Trust me, it is still part of the popular culture. Everyone who witnessed those days would tell you. I wasn't around then, but I've felt compelled to read books about Fausto Coppi and I've ridden to Castellania myself on January 2nd several times.
Fausto was a versatile rider. The best climber and a great sprinter, an unbeatable time trialer, won the classics (from Milano – San Remo, to Paris – Roubaix) and the grand tours. He suffered severe injuries and he was a prisoner of war for two years (at the peak of his physical abilities). Imagine how much more he could have won.
His career was magnified by a rivalry with a fellow Italian (Gino Bartali) that divided the country. Coppi's early career success (mainly the Giro d'Italia of 1940 at age 20) sparked a competition with the outspoken sports hero from Tuscany - the most popular rider up to that point - that defined both men's lives beyond their control. The Italian media were able to create two very different personas and the contrast between the two men polarized the fans and everyone else. Their rivalry probably deserves its own blog entry.
On one side, Coppi: cosmopolitan, innovative in his training, and representative of the economically and industrially progressive north. On the other side there was Bartali: deeply religious, conservative in attitude, not attracted to competition outside of Italy and a man who cherished his roots in rural Italy.
Coppi's personal life caused scandals that became headlines all across the world and transformed him from hero to villain in 1950's Italy. His affair with a married woman (Coppi was married himself) was still a criminal offense at the time and divorce was unlawful.
Giulia Occhini, the so-called "dama Bianca" (lady in white), ended up in prison and Fausto moved her to Argentina with the newly-born Faustino (little Fausto) to stay out of legal trouble and away from gossip. Fausto stayed behind trying to sort things out in a country with a strong Christian-Democrat party and heavily influenced by the Vatican. Their love story was tumultuous and many blamed Mrs Occhini for having ruined Coppi's career. But their story, due to Coppi's high profile, pointed the finger at the social issue at hand that eventually led to timid shifts in attitude towards adultery and divorce. Yet, neither the marriage celebrated abroad nor their son were officially recognized by the Italian authorities.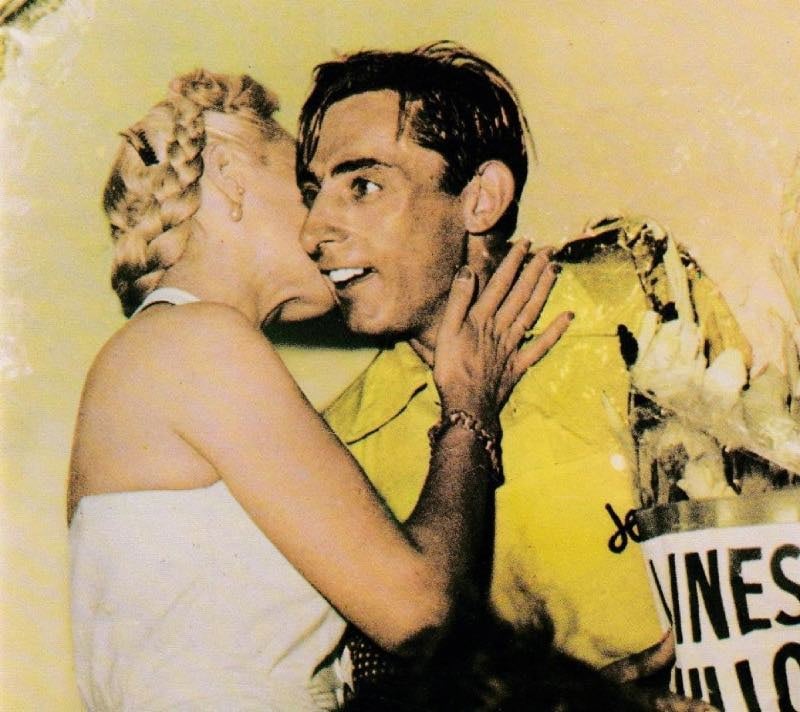 He died due to misdiagnosed malaria contracted during an exhibition race followed by a hunting trip in Africa. His teammate, Raphael Geminiani of France, also contracted the disease, but he was correctly diagnosed and treated with quinine. The Italian's doctors instead treated Coppi for a bronchial complaint and he never recovered. No one could believe it. Years later, Geminiani claimed that while recovering had passed the - correct - diagnosis to the Coppi house. According to some sources, Mrs Occhini has always denied that.
My tour of Piedmont and Liguria designed for the article in Peloton Magazine is partially biographical. We visit Castellania and ride to San Remo, where Coppi accomplished one of his most dominating victories.
Here's how it went down in 1946 at the Milano – San Remo
The 37th Milano-San Remo took place in an Italy with plenty of scars from the war but eager to get back to normal and to get back to bike racing (the most popular sport at that time). It was the first edition after WWII and 115 riders started from Milan for the 293 km classic. Coppi and a few others attacked immediately. Teisseire and Coppi climbed the Turchino pass together but the French rider was soon dropped. The Campionissimo continued alone for 151 km and won with a margin of 14 min over Teisseire and 18:30 min over his rival, Bartali. He won after a 286 km breakaway averaging 24.6 mls/hr. Races had live radio coverage (TV came later) and the commentator, not annoyed but due to disbelief, played some ballroom music between Fausto's arrival and the rest of the bunch.
Nicolò Carosio, informed about the gap, said something that elevated that win to an all new level and all of Italy was listening: "Primo Fausto Coppi, in attesa di altri concorrenti trasmettiamo musica da ballo" – First Fausto Coppi, we'll play ballroom music waiting for other riders.
Books about Fausto Coppi:
Fallen Angel: The Passion of Fausto Coppi - William Fotheringham
The Giro D'Italia: Coppi Vs. Bartali at the 1949 Tour of Italy - Dino Buzzati
Coppi: Inside the Legend of the Campionissimo -

Herbie Sykes
Bike tours where you can live the spirit of Coppi's racing career: