What is it about riding a bike that keeps us coming back for more? Here are 18 cycling quotes that explain the joy of experiencing life on two wheels.

"Your bike is discovery; your bike is freedom. It doesn't matter where you are, when you're on the saddle, you're taken away." - Doug Donaldson
"Nothing compares to the simple pleasure of riding a bike" – John F Kennedy
"People like to travel: that is why the grass is greener over the fence. We are walkers – our natural means of travel is to put one foot in front of the other. The bicycle seduces our basic nature by making walking exciting. It lets us take 10-foot strides at 160 paces a minute. That's 20 miles an hour, instead of 4 or 5… It is not only how fast you go – cars are faster and jet planes faster still. But jet-plane travel is frustrating boredom – at least the car gives the pictorial illusion of travel. Cycling does it all – you have the complete satisfaction of arriving because your mind has chosen the path and steered you over it; your eyes have seen it; your muscles have felt it; your breathing, circulatory and digestive systems have all done their natural functions better than ever, and every part of your being knows you have traveled and arrived." - John Forester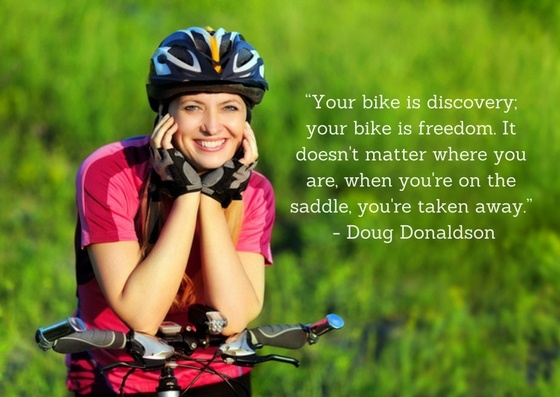 "The bicycle is the most civilized conveyance known to man. Other forms of transport grow daily more nightmarish. Only the bicycle remains pure in heart." - Iris Murdoch
"Cyclists see considerably more of this beautiful world than any other class of citizens. A good bicycle, well applied, will cure most ills this flesh is heir to" – Dr K.K. Doty
"To me, it doesn't matter whether it's raining or the sun is shining or whatever: as long as I'm riding a bike I know I'm the luckiest guy in the world" – Mark Cavendish
"A bicycle ride is a flight from sadness" - James E. Starrs
"Cycling is possibly the greatest and most pleasurable form of transport ever invented. Its like walking only with one-tenth of the effort. Ride through a city and you can understand its geography in a way that no motorist, contained by one-way signs and traffic jams, will ever be able to. You can whiz from one side to the other in minutes. You can overtake £250,000 sports cars that are going nowhere fast. You can park pretty much anywhere. It truly is one of the greatest feelings of freedom once can have in a metropolitan environment. It's amazing you can feel this free in a modern city." - Daniel Pemberton
"When the spirits are low, when the day appears dark, when work becomes monotonous, when hope hardly seems worth having, just mount a bicycle and go out for a spin down the road, without thought on anything but the ride you are taking" – Arthur Conan Doyle
"It is by riding a bicycle that you learn the contours of a country best, since you have to sweat up the hills and coast down them. Thus you remember them as they actually are, while in a motor car only a high hill impresses you, and you have no such accurate remembrance of country you have driven through as you gain by riding a bicycle." – Ernest Hemingway
"You either love spinning the pedals and watching scenery whiz by, or you don't. And if you love it, not much can sour you on the idea of riding your bike." - Keith Mills
"I'll tell you what I think of bicycling. I think it has done more to emancipate women than any one thing in the world. I rejoice every time I see a woman ride by on a bike. It gives her a feeling of self-reliance and independence the moment she takes her seat; and away she goes, the picture of untrammelled womanhood." - Susan B. Anthony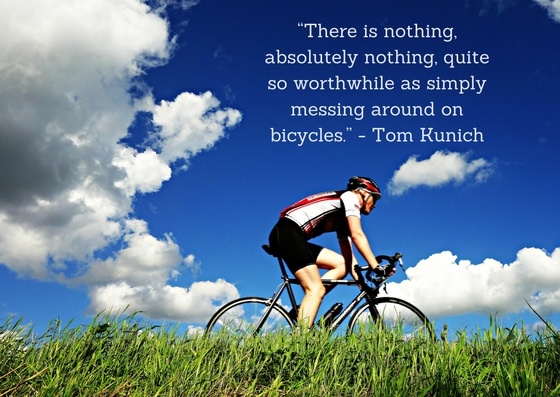 'Think of bicycles as rideable art that can just about save the world." – Grant Petersen
"There is nothing, absolutely nothing, quite so worthwhile as simply messing around on bicycles." - Tom Kunich
"A bicycle is a bit like a guitar in that they are both inert objects that only come alive and flourish when put in contact with a human being. Both have the ability to concentrate the mind. Just as when you are performing, you tend to lose yourself when you are on the bike. For those precious hours that you are in the saddle, nothing else matters except the bike and the road ahead." - Gary Kemp
"The bicycle saves my life every day. If you've ever experienced a moment of awe or freedom on a bicycle; if you've ever taken flight from sadness to the rhythm of two spinning wheels, or felt the resurgence of hope pedalling to the top of a hill with the dew of effort on your forehead; if you've ever wondered, swooping down bird-like down a long hill, if the world was standing still; if you have ever, just once, sat on a bicycle with a singing heart and felt like an ordinary human touching the gods, then we share something fundamental. We know it's all about the bike." - Robert Penn
"Bicycling...is the nearest approximation I know to the flight of birds. The airplane simply carries a man on its back like an obedient Pegasus; it gives him no wings of his own. There are movements on a bicycle corresponding to almost all the variations in the flight of the larger birds. Plunging free downhill is like a hawk stooping. On the level stretches you may pedal with a steady rhythm like a heron flapping; or you may, like an accipitrine hawk, alternate rapid pedaling with gliding. If you want to test the force and direction of the wind, there is no better way than to circle, banked inward, like a turkey vulture. When you have the wind against you, headway is best made by yawing or wavering, like a crow flying upwind. I have climbed a steep hill by circling or spiraling, rising each time on the upturn with the momentum of the downturn, like any soaring bird. I have shot in and out of stalled traffic like a goshawk through the woods." - Louis Halle
"The bicycle is just as good company as most husbands and, when it gets old and shabby, a woman can dispose of it and get a new one without shocking the entire community."- Ann Strong
What do you love about riding? Leave a comment below.
You might also enjoy reading: Our 25 Best Travel Quotes for 2016, and 17 Quotes about Italy for 2017.