Have you heard of the spritz? Right now the Aperol Spritz is enjoying a moment in the spotlight and is showing up on cocktail menus worldwide. In Italy, the spritz takes many forms and is a popular aperitivo drink. Read on for a brief history and a recipe.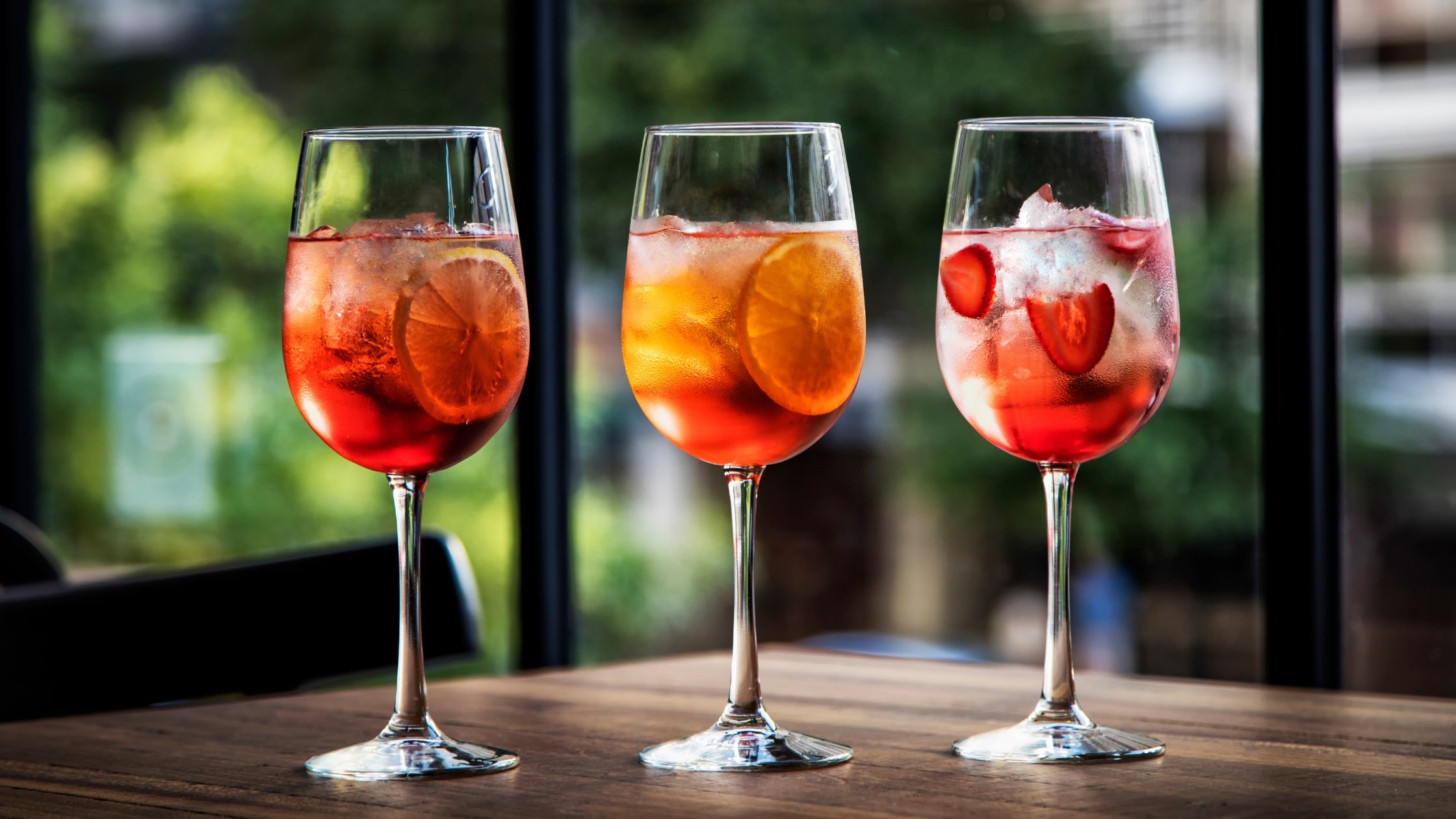 As I'm writing this, we are emerging from the Covid-19 pandemic here in Italy and life is slowly returning to normal. We are finally able to meet up with family and friends for long, leisurely meals, and the pre-dinner ritual of the aperitivo.
While many drinks, both alcoholic and non, are consumed during the aperitivo, one of the most popular is a spritz.
What is a Spritz?
When I say spritz, what probably comes to mind is Aperol. And indeed, the Aperol Spritz is having a moment of international notoriety. The conversation turned into a frenzy back in April 2019 when Rebekah Peppler wrote an opinion piece in the New York Times called, The Aperol Spritz is Not Good Drink:
"Served in branded, jumbo wine glasses, the sugary aperitif is paired with low-quality prosecco, soda water and an outsize orange slice, resulting in something that drinks like a Capri Sun after soccer practice on a hot day. Not in a good way."
Her piece spurred many passionate reactions; just Google the title and you'll see a list of responses in publications large and small.
Regardless of your feelings on the Aperol Spritz, if that's the only version of the drink you've tried then you're missing out.
The origins of the spritz go back to the late 1800's. The drink began in the Veneto region of Italy, which at that time was still part of the Austro-Hungarian Empire. The world spritz is German for splash, and this name was given to the way Austrian soldiers prepared the Italian wine they were drinking. They found it too strong, and in order to make it easier to drink (more like the alcohol content of the beer they were accustomed to) they added a splash (a spritz) of still water.
Over time, the drink evolved. Still water changed to sparkling soda, which changed to prosecco. Fortified wines were added, and eventually, liqueurs such as Aperol.
In Veneto today, the spritz is made with local white wines of Veneto: Pinot Grigio, Soave, or Prosecco, for example. The bitter liqueur could be Aperol, Gran Classico, Select, Campari or Cynar. If you are in Venice and you ask for a spritz without specifying the bitter, you'll most likely be served a spritz with Select.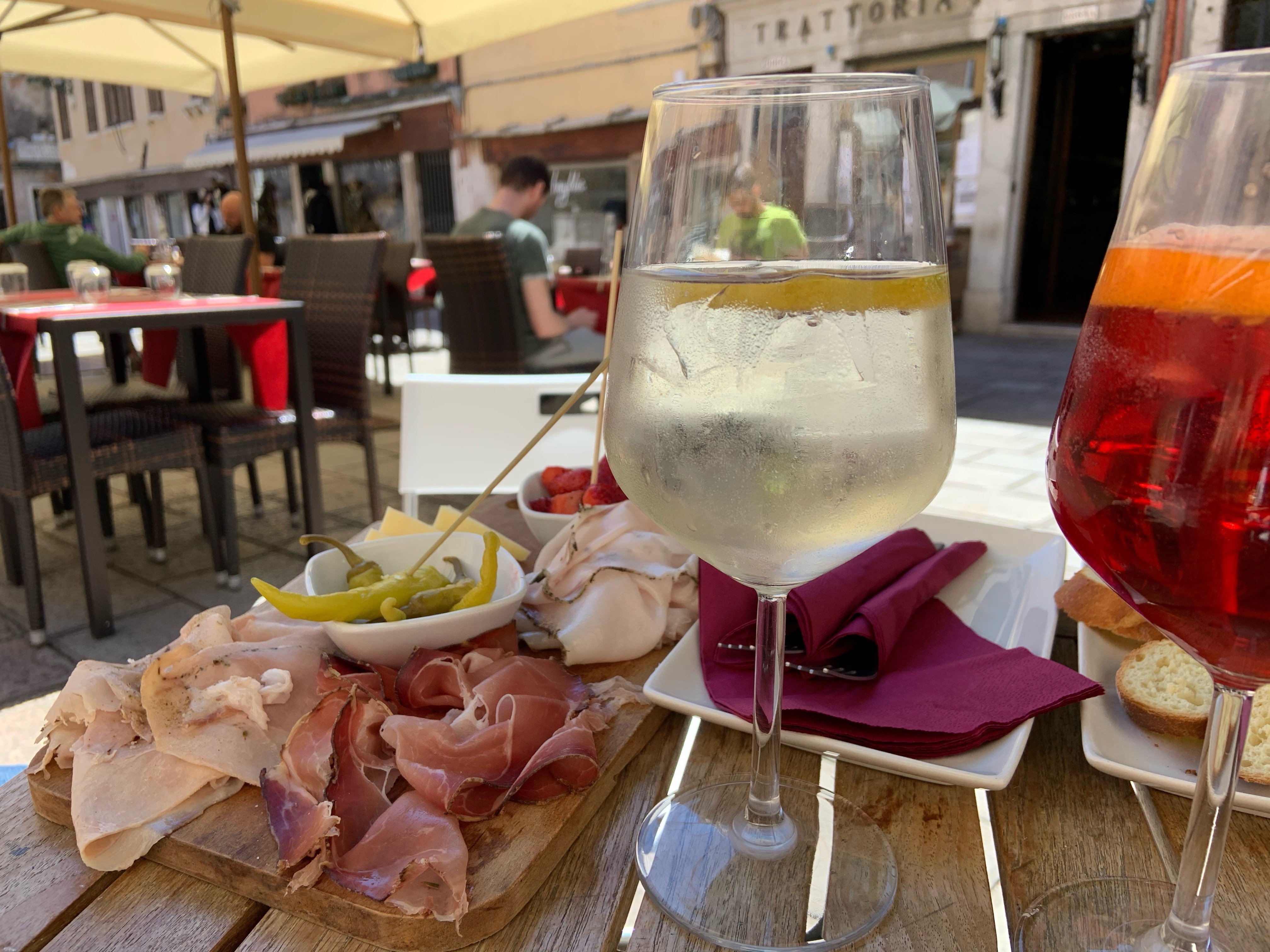 Two types of Spritz served in Venice during a StrEATy tour.
3-2-1
So, what is the recipe for spritz? Just remember 3-2-1 and you won't go wrong: three parts prosecco, two parts of your choice of bitter liqueur, and one part (a spritz) of soda water. Serve over ice. Put out some salty snacks and enjoy with friends.
If you're partaking in an aperitivo out at a bar in Italy, it's best to specify the type of spritz you want. The correct way is to put the word spritz first, then specify the liqueur. For example, to order an Aperol Spritz you would ask for a spritz Aperol. If you'd like to forego a straw you can add, senza cannuccia (without a straw).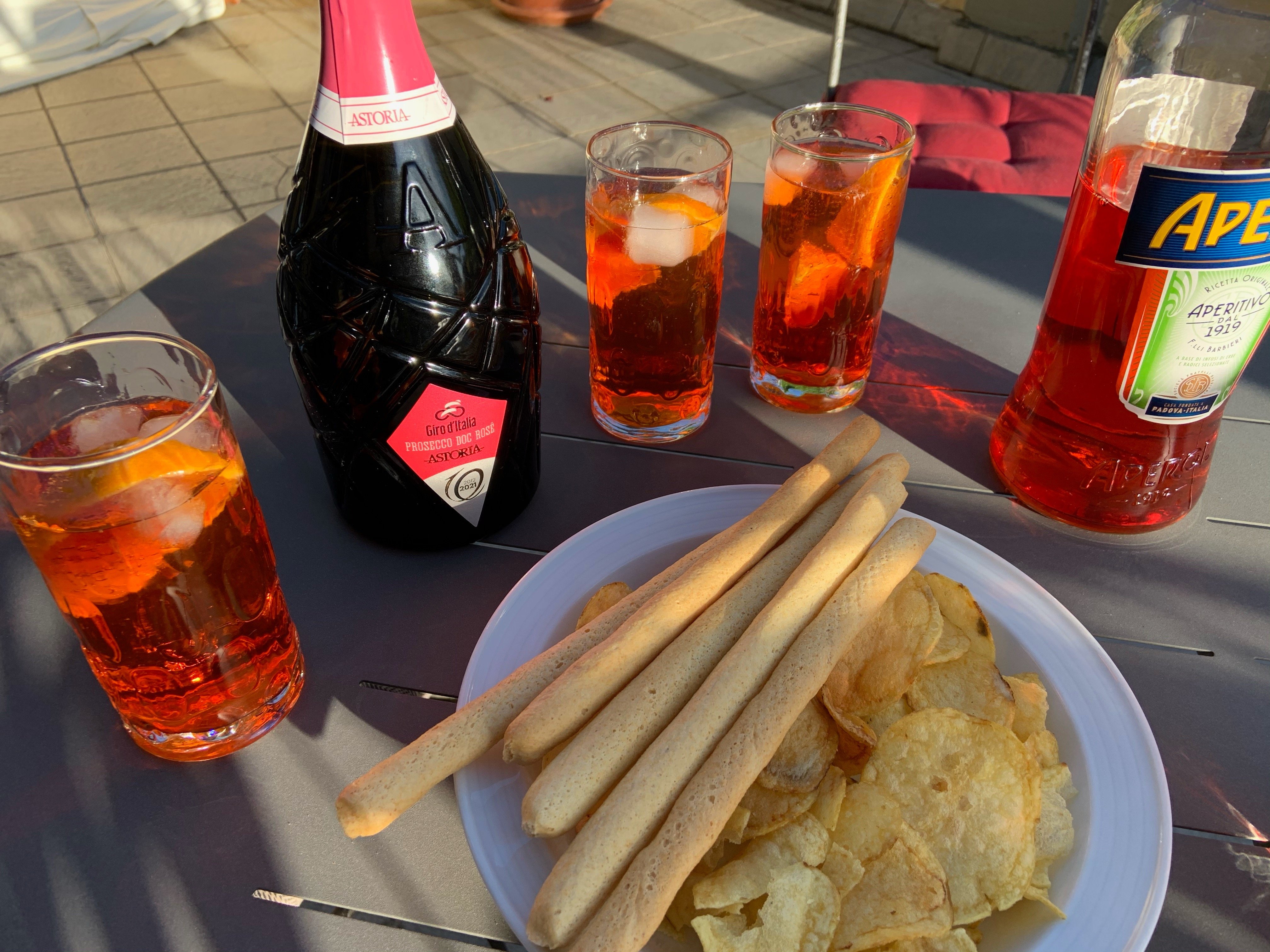 Spritz prepared with Prosecco Rose DOC, during our 2021 Guide Meeting at the Start of the Giro d'Italia
Cheap Prosecco belongs in a Spritz!
While I agree with some of Rebekah Peppler's points, I do think that the Aperol Spritz is a good drink and I order often. I don't limit myself to just Aperol, though, and I encourage any of you who only know this version of the spritz to try something new. I completely disagree with her point that quality prosecco should be used in a spritz. On the contrary, cheap prosecco is made for mixing. The good stuff should be enjoyed on its own.
The history of prosecco deserves its own blog, and we'll write that someday. In the meantime, you can watch this presentation on this history that Beppe and I made after a visit to a DOCG Prosecco producer (this presentation was part of the tasting notes for our Holidays 2020 wine case. See what wines we are shipping right now HERE.)
Or better yet, go right to the source on a bike tour in the Prosecco region with us. Check out the itinerary of our Veneto and Prosecco Magnifica Bike Tour.
Even if you're not on tour with us, if you find yourself in Venice you can learn more about the history of the spritz (as well as much more about the cuisine of the area) on a foodie walking tour with StrEATy Tours. They're the best! Let them know Heather and Beppe sent you.