Stanley Tucci is an American actor and director from NYC with a soft spot for Italy. In part, his interest and love for Italy is due to his Italian (Calabrian) roots but he surely embraced Italy professionally, too, when he had creative freedom.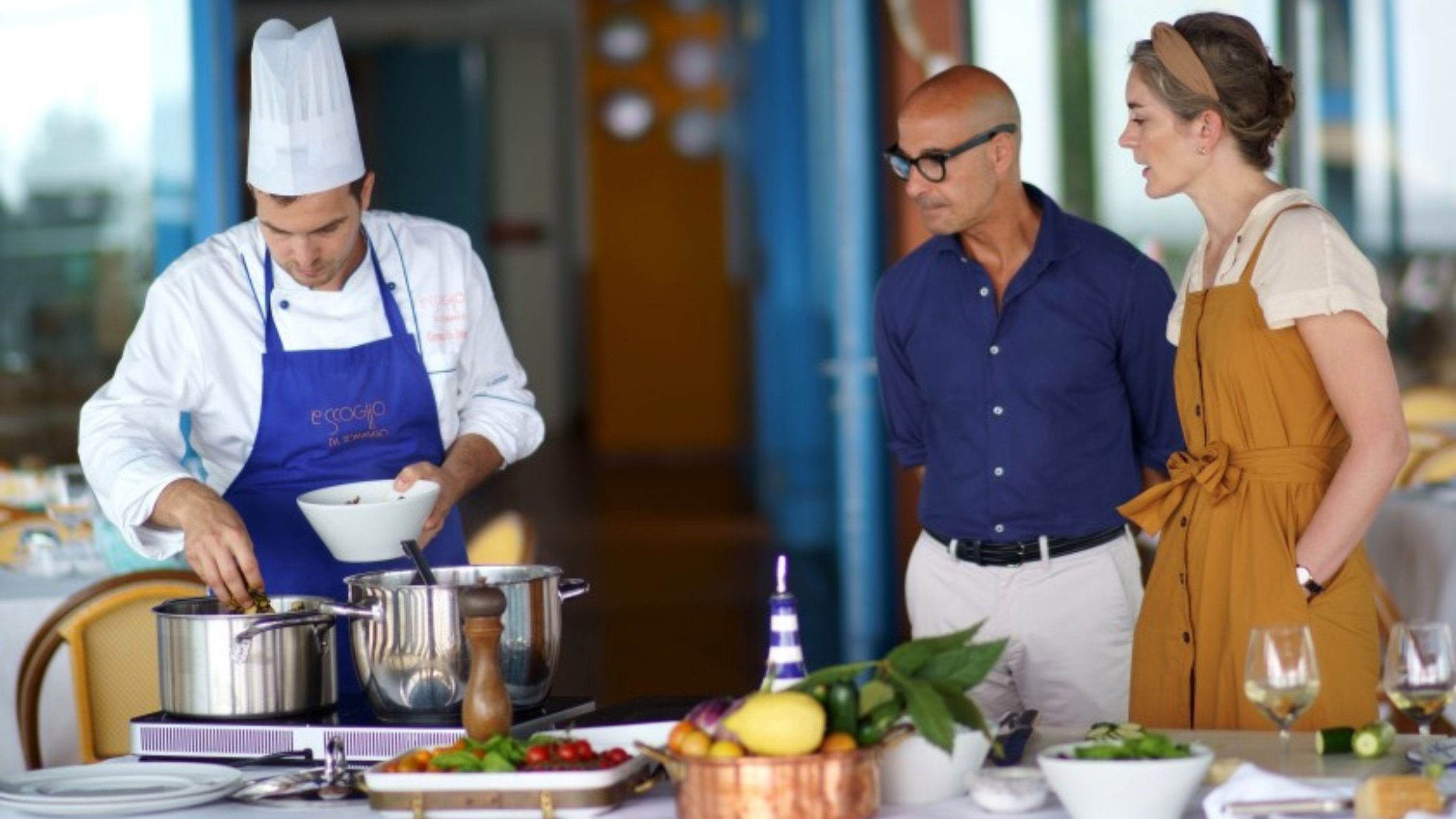 Stanley Tucci and wife Felicity Blunt in "Stanley Tucci: Searching for Italy" on CNN. (CNN)

Before the recent and very successful CNN series Searching for Italy, Tucci's passion for Italy and its food was not all that well-known. However, if you are familiar with his filmography you'll remember one of the very best movies about food and restaurant life ever made: Big Night. He starred in it and directed it; it is memorable and if you haven't watched it already, you should. And if you watch it attentively, you'll understand that when he stresses authenticity of traditional dishes and obsesses over the "right" ingredients on Searching for Italy, that it is not contrived or a theatrical way to make the script of a food program work. Food and its preparation is a language all its own.
Having premiered in 1996, Big Night was not produced to jump on the relatively-recent foodie and celebrity chef bandwagon.
To the best of my knowledge, Big Night is the very first movie to talk about the struggles of restaurant owners and chefs and about the temptation to compromise, to put integrity after success or simply survival.
---
---
Watch it. You won't regret it and you'll appreciate Searching for Italy even more. It does not offer a happy ending, but it's a feel good movie - in its own way - for true food lovers and restaurant aficionados.
Having recently watched it once more, we can't forget that so many friends, people that we care for, and people we work with are in the restaurant and hospitality business and they are facing some of the same struggles and much more right now. All of you are so much top of mind lately.
Think about it: some of our best memories and most joyful moments have happened in restaurants and thanks to people with the passion for cooking and serving their food and for connecting with people through food.
---
---
Reactions to Tucci's program confirm that food remains a big driver for Italian tourism.
Overall, Searching for Italy has been very inspiring and it made Heather and me want to get back on the roads of Italy to pick our favorite spots and experiences for our tours. Admittedly, we were proud that we were very forward thinking with our Chef Bike Tours and that several of the places that left Tucci in awe are familiar to us and part of our programs. The Bologna episode, in particular, basically follows our Chef Bike Tours in Emilia and Romanga.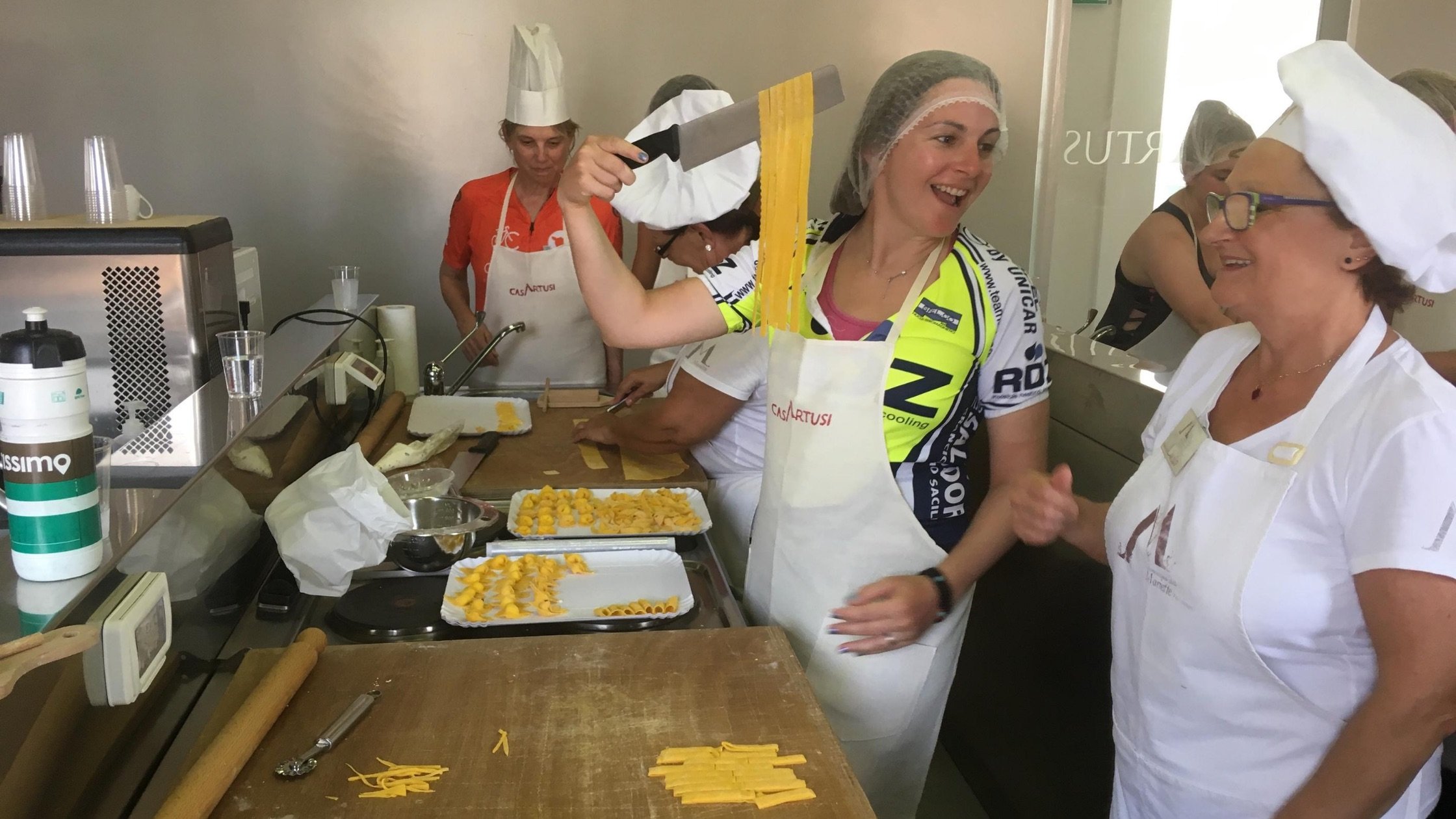 Casa Artusi: Center of Gastronomic Culture
We can say that in the last decade food has almost replaced culture as the main driver for tourism in Italy. In fact, there was a time when travelers selected their hotel close to historical centers and museum districts while now we see people booking hotels close to famous restaurants and they depart for vacation with several bookings already arranged for not-to-miss specific food experiences from Michelin star restaurants to traditional trattorias full of history and charm.
Tucci nails it when he says that each region is a wonderful food destination on its own and there's no need to get too granular with statistics about the number of IGP and DOP products to agree (original products which area of production or cultivation are protected and guaranteed).
CNN has just confirmed – and we expected it – season two. More inspiration, interesting recipes and travel dreams for Italy and food lovers.
Tourissimo makes it easy to transition from inspiration to experience. Check out our Chef Bike Tours.