When it comes to experiencing the enchanting beauty of Tuscany, there's no better place to stay than Hotel La Fortezza in Sorano. Nestled within the ancient fortress walls of this historic town, Hotel La Fortezza offers a unique and unforgettable experience for travelers seeking a blend of history, culture, and modern comforts.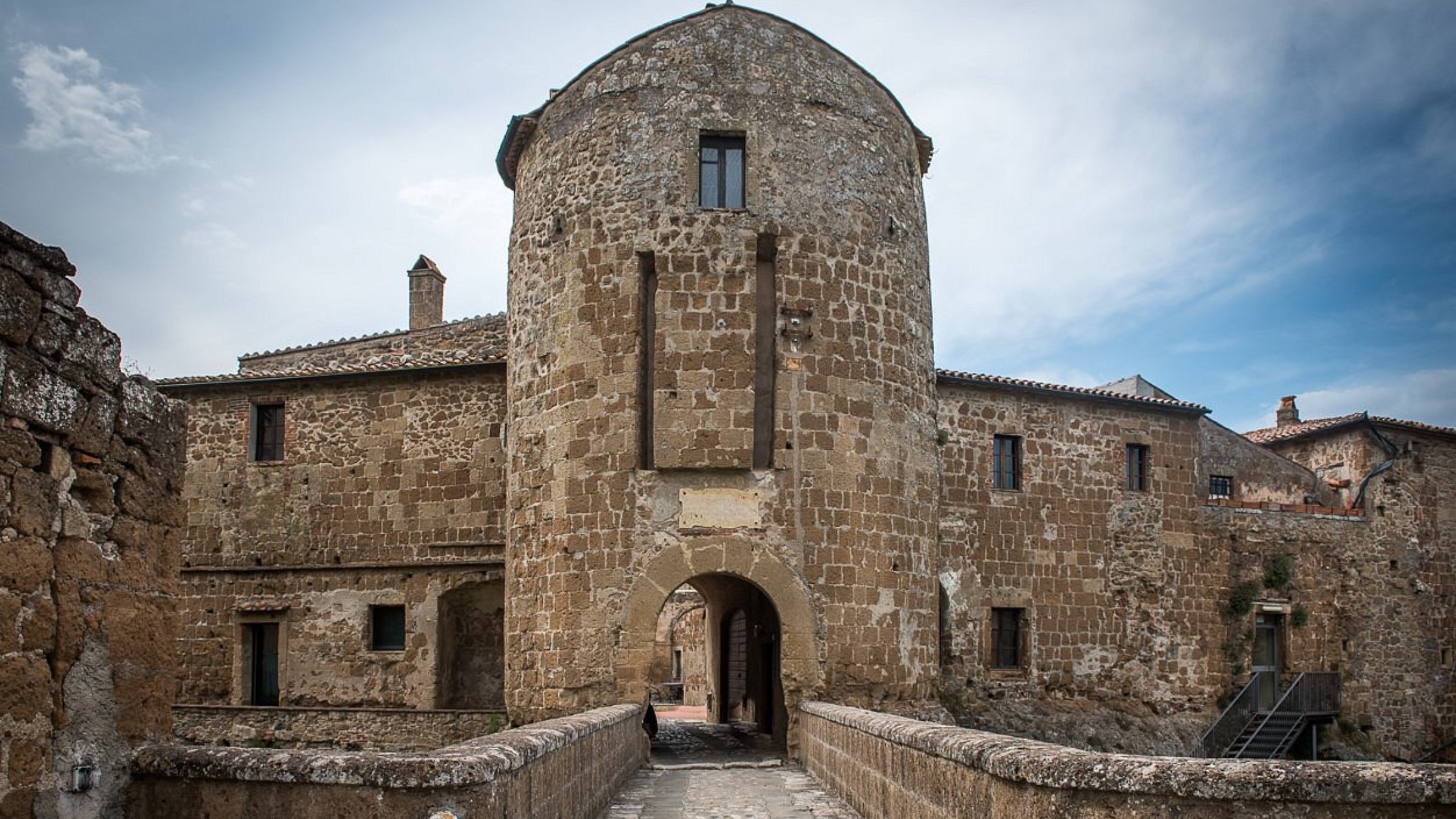 A few years ago Beppe and I were in Tuscany for a gravel event. We weren't scouting for a Tourissimo tour and were booking simple, covenient hotels depending on where we ended up each night. One night we were near the town of Sorano, and the best accommodation turned out to be in a centuries-old fortress that took our breath away.
A Glimpse into History
Sorano itself is steeped in history, and Hotel La Fortezza seamlessly blends with its surroundings. The town is known for its Etruscan roots, and remnants of this ancient civilization can be explored throughout the area. The hotel, occupying a medieval fortress, allows guests to live among centuries-old walls while enjoying modern comforts. As you approach the hotel, you'll be greeted by impressive stone walls and a sense of stepping back in time.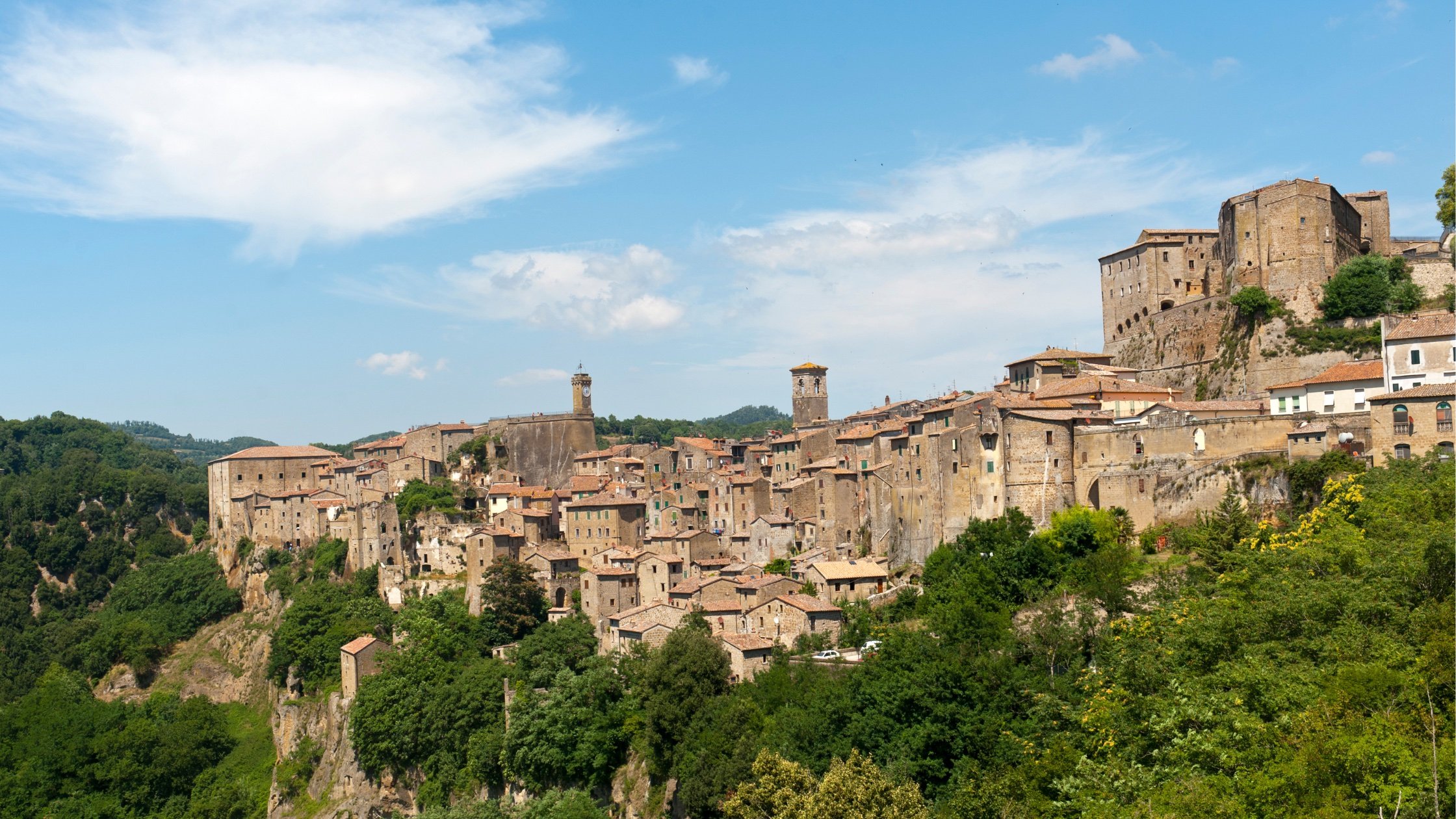 Accommodations
Hotel La Fortezza offers a range of accommodations to suit different preferences. Whether you're a couple seeking a romantic getaway, a family looking for space and comfort, a solo traveler in search of serenity, or a part of a cycling tour, you'll find the perfect room or suite. Each room is meticulously designed to maintain the fortress' charm while providing all the amenities you need for a comfortable stay. Some rooms offer breathtaking views of the surrounding countryside, adding to the overall enchantment.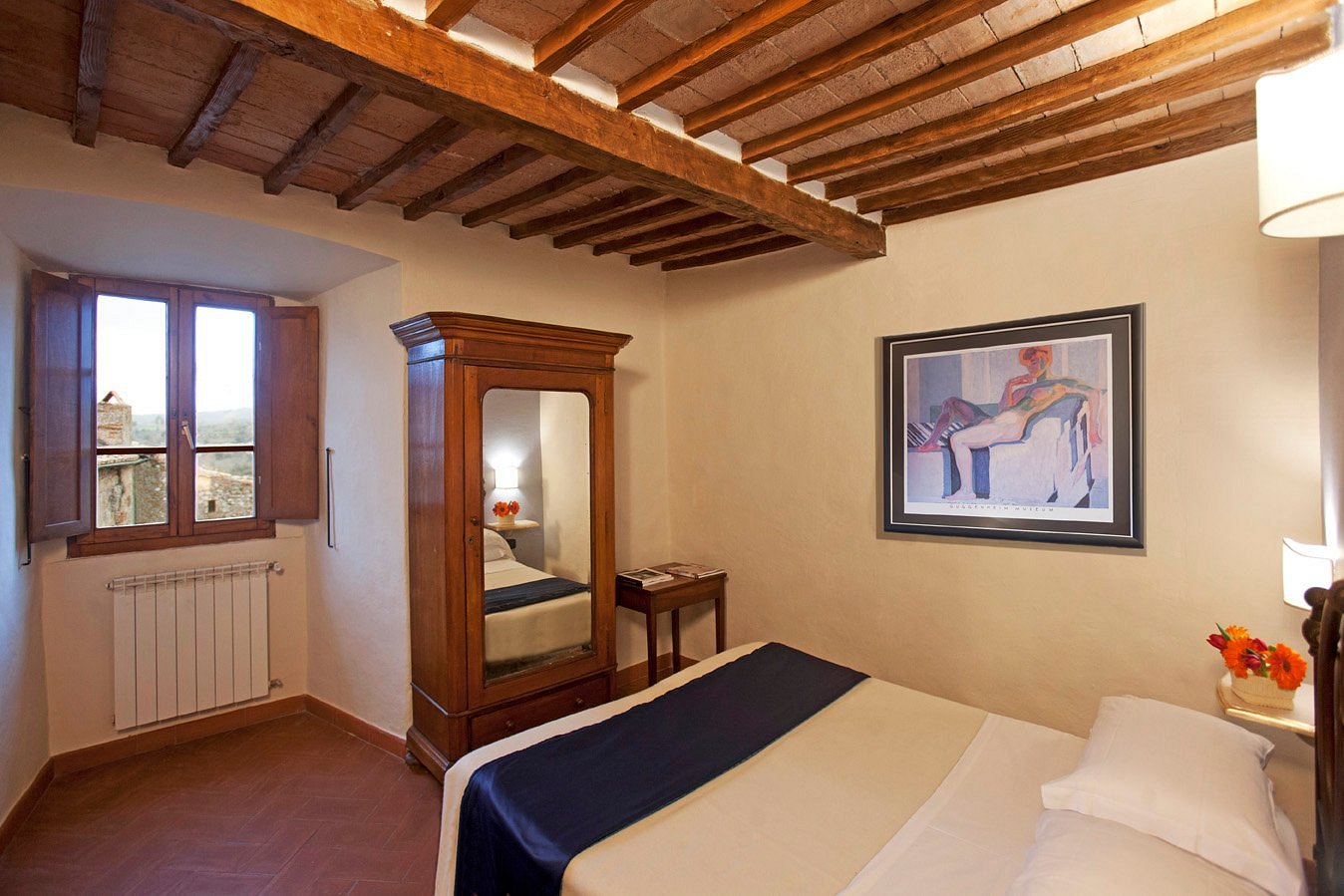 Culinary Delights
Hotel La Fortezza's restaurant, "Il Ristorante del Fortezza," is a culinary delight. It's not just a place to eat; it's an experience of Tuscan gastronomy at its finest. The menu features a wide array of dishes made from fresh, locally sourced ingredients. You can savor traditional Tuscan recipes prepared with a contemporary twist, all in a warm and welcoming atmosphere. There's also a carefully-curated selection of wines.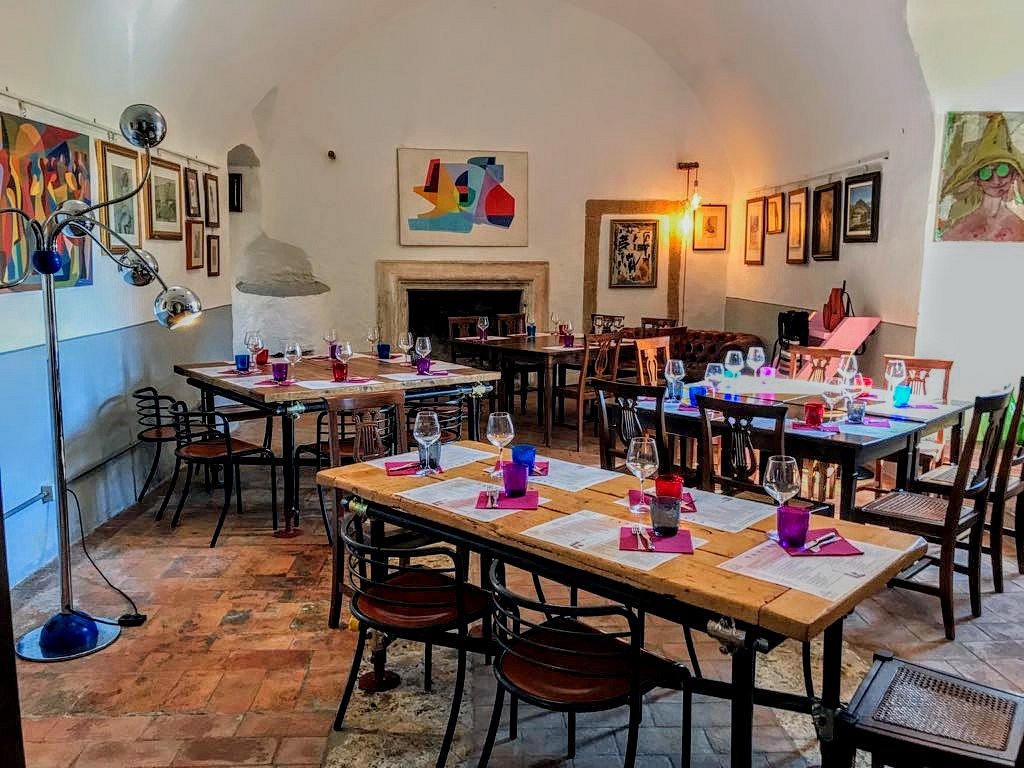 Exploring Sorano
Beyond the comforts of the hotel, Sorano itself is a treasure trove of history and natural beauty. The town's cobblestone streets wind through charming alleyways, leading you to ancient churches, museums, and panoramic viewpoints. Don't miss the opportunity to explore the fascinating Etruscan caves, visit the nearby town of Pitigliano, known as the "Little Jerusalem" for its Jewish history, and soak in the breathtaking landscapes of the Maremma region.
Relaxation and Wellness
After a day of riding, the hotel's spa and wellness center provide the perfect opportunity to relax and rejuvenate. You can indulge in a range of treatments and massages in a serene environment, allowing you to unwind and refresh your mind and body.
Events and Weddings
With its historic charm and scenic beauty, Hotel della Fortezza is an idyllic venue for weddings and other special events. The historical backdrop and Tuscan scenery create a romantic ambiance that's perfect for saying "I do." The hotel's event planning team is skilled in making dream weddings and celebrations a reality.
Eco-Friendly Initiatives
For environmentally conscious travelers, the hotel emphasizes sustainability. They employ eco-friendly practices and are committed to preserving the beauty of their surroundings. The hotel is also bike-friendly and promotes active, slow tourism.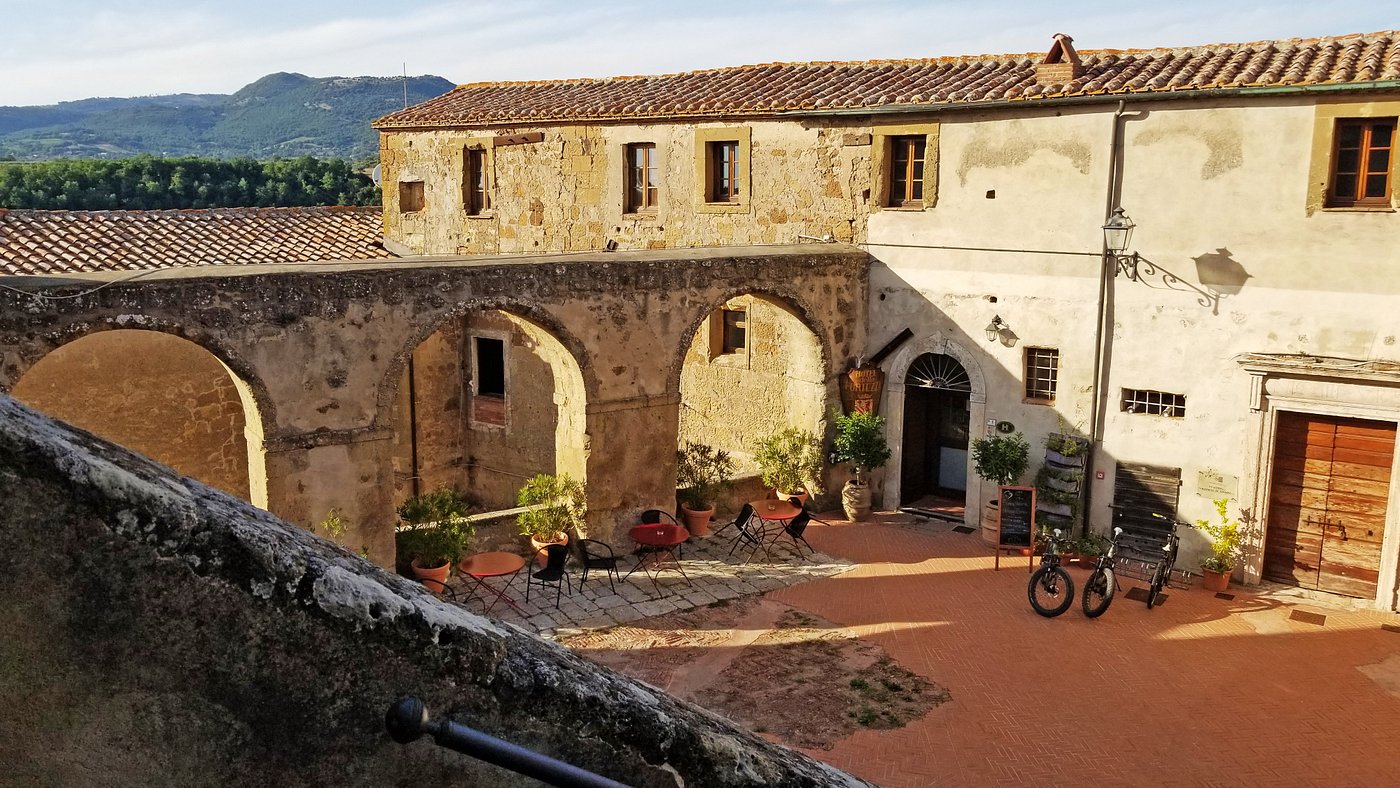 Plan Your Escape
Whether you're planning a romantic getaway, a family vacation, a special event, or a bike tour, Hotel La Fortezza in Sorano offers an enchanting setting that will leave you with lasting memories.