Many months before Christmas, Italian stores start piling huge clusters of Panettone and Pandoro in glossy boxes. Every possible empty square foot on the selling floor is taken over by the boxes.
Closer to December 25th, higher end pasticcerie – bakeries – fill their shopping windows with decorated Panettone and Pandoro samplers. Some are real works of art.
In Italy, no Christmas meal is complete without either panettone or pandoro, but often both. It is a real dilemma in many Italian families, often split between panettone lovers and pandoro lovers. The first group finds pandoro to be too simple and buttery; the second group usually dislike raisins and candied fruits which abound in traditional panettone. More often than not, you buy both.
Kids tend to prefer pandoro, while adults are more fond of panettone. But let's explore the actual differences: Panettone is a Christmastime cake from Milan. The sweet, yeasty cake has a distinctive domed shape. Panettone is often compared to fruitcake because both are traditionally made with raisins and candied fruits. Pandoro is a Christmas cake that originated in Verona. True to its name (pan d'oro means 'golden bread'), the cake has a bright yellow color. Pandoro is traditionally a star-shaped cake that is dusted with powdered sugar.
If you serve panettone or pandoro at your Christmas celebration, you'll be in good company: Italian bakers sell an astonishing 117 million cakes a year! Nowadays, bakers use 'non-traditional' fillings to appeal to people who want something beyond tradition. Chocolate and creamy limoncello fillings seem to be gaining traction. Unlike most of the food we Italians prepare at Christmas, no one that I know makes panettone or pandoro at home. A panettone has to rise (and fall) several times and the process lasts 30 hrs. It is something that you buy, for yourself or as a gift.
Eataly, with its now worldwide expansion, has become an ambassador of panettone and pandoro. I don't believe they bake them themselves, but they import many Italian brands.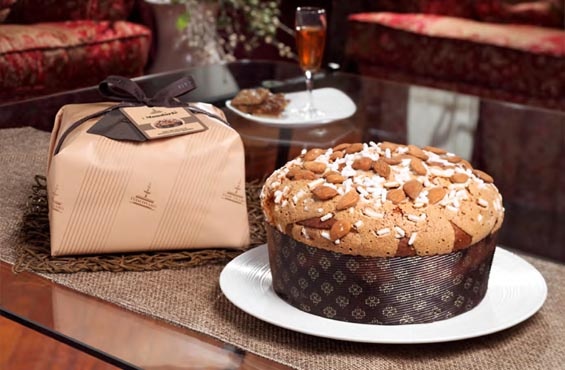 To wash them down you need bubbles such as a Prosecco or Franciacorta.
Enjoy your holiday meals! Why not start dreaming with your family and friends of a walking or cycling vacation altogether? Read my articles An Intro to Active Travel Vacations for Your Family and Are Bespoke Tours the Way to Go?