To clip in or not to clip in...On our bike tours about 50% or riders "clip in" and 50% of riders don't. Are half of the participants doing it wrong? And which half? Read on to find out.

Clipping in or Clipless Pedals
To explain what we mean by clipping in and clipless pedals we have to go back several decades to a time when modern pedals did not exist.
Back then, you had flat pedals (a simple platform which is more or less what we use now) and race pedals. Race pedals - road race - used to have a toe cage bolted to the front of the pedal with a strap around it at a level slightly above the metatarsus that would make the cycling shoe tightly adhere to the surface of the pedal with a leather or hard rubber sole that sometimes had a groove for a firmer bond to the pedal.
Old timers might remember the motion of racers reaching down with one hand - and then with the other - to pull the edge of the strap before a sprint finish. Old pictures and race video footage will show that the strap was left pretty loose until a climb or a sprint effort. The metal cage that was part of those pedals was called the "clip". That is why we refer to modern pedals as clipless even though we "clip-in."
Look (the French company) was the "inventor" of race clipless pedals. By borrowing their know-how from ski attachments, they created the first pedals that attached to a cleat screwed to the bottom of a specific road cycling shoe. We may argue that Bernard Hinault and Greg LeMond (Look-sponsored riders) were able to outperform the competition also by the use of that technology that became a big development in the world of cycling.
Here's a mighty 1980's Look pedal: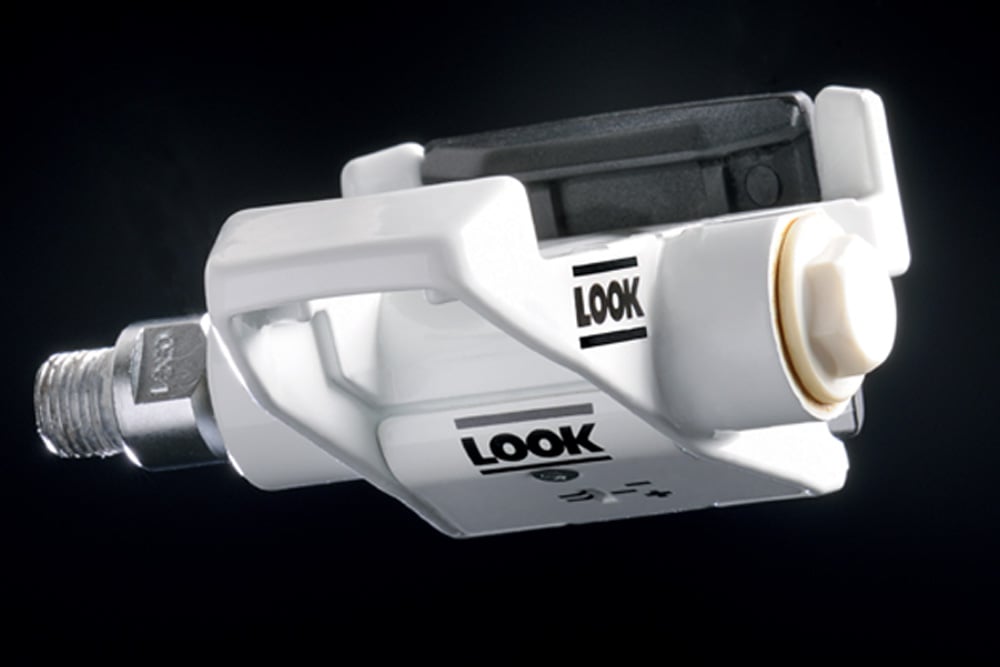 Type of Pedals
Flat
The simplest and most versatile. They are used on kids' bikes, on city bikes, but also for aggressive bmx and street stunts (and everything in between really). They vary based on material, surface space, and on how grippy they are. Flat pedals have a grippy surface or even metal teeth to hold on to your shoe sole.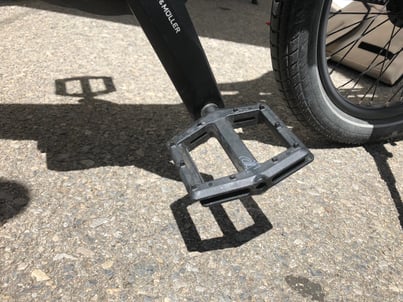 Pedals with Toe Cages
These are often flat pedals with a front plastic appendix that holds the front of the shoe when riding standing and in the pull motion of the pedal stroke rotation. Nowadays, the strap of the old race pedals is largely gone.
Road
They are meant for performance riding and they require specific cycling shoes. The Look system dominated the market for decades but there are now a few standards that are becoming riders' favorites such as Speedplay. The concept is that your foot is tightly attached to a very stiff shoe-pedal combination. Stiff means efficient. My suggestion is not to over-tighten the shoe straps until you have to (before a long climb) especially in hot summer riding. Also, use rubber cleat covers when off the bike; you'll lengthen the life of your cleats and be better off when walking on slippery surfaces and up and down the stairs.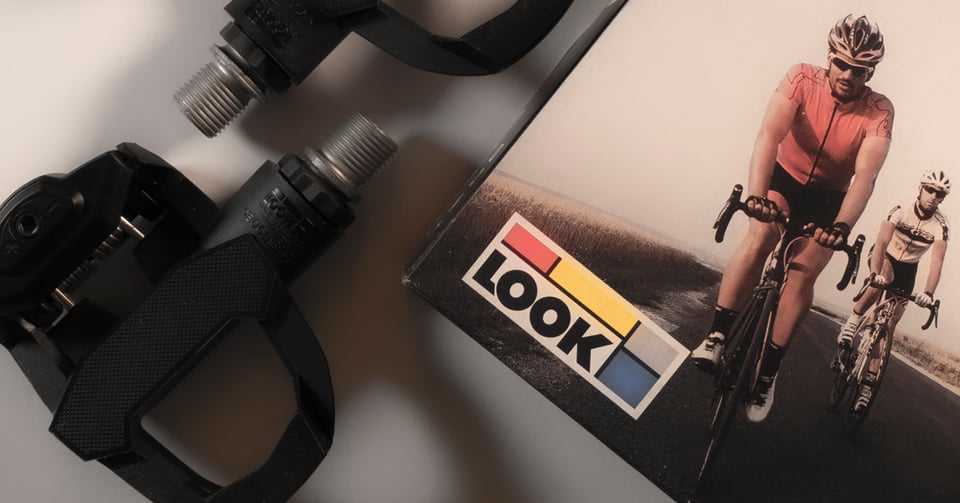 MTB Pedals
On mountain bike pedals you can clip in on both sides (on some models with an egg beater shape on 4 sides). The most common standard is called SPD which is the one used by market leader Shimano. They require specific shoes that take a metal cleat which is hidden flush under a hike-worthy rubber sole. They are a very good option for long distance cycle touring.
Tourissimo gives you the option to have your bike outfitted with flat, toe cages, Look Keo road, or Look SPD compatible pedals.
What types of pedals should you use for a bike tour? The short answer is the ones that you are used to. It's not wise to try something for the first time on a multi-day cycling vacation.
To clip-in or to Not Clip-in?
There's no right or wrong with all of those options and infinite riding styles and ability levels. But there's one golden rule: do not go on a cycling vacation with new clip-in pedals expecting to learn on the fly. In my next blog I'll talk about how to start with clipping-in - if you want - and the learning progression.
Tip for new cleats: after the first ride, re-tighten the cleat bolts. Almost certainly they need to be checked. As cleats wear out it becomes harder to clip-out.
Tip for removing pedals: to prevent the left pedal from coming loose due to forward rotation, that side's thread is backwards. That means that when you take them off your bike you must turn clock-wise.
Still have questions? Ask them by leaving a comment below, or you can CONTACT US.