Vittoria Bussi is the Italian athlete who is attempting to break the UCI world hour record on September 12th, 2018. Her adventure started many months ago and Tourissimo followed her closely as I am a friend of Vittoria. Her mission is a great story of determination - in and out of the velodrome - that it was worth sharing.
VITTORIA'S HOUR
You can read my first article introducing Vittoria Bussi on this page. To break the hour record you ride as fast as possible for one hour in a velodrome. The total distance you cover at the 1 hr mark is your number. Vittoria will have to ride more than 47.980 km, which is the previous record by Evelyn Stevens (USA). Vittoria already holds the Italian record and she was 404 meters short of the world record on her first attempt last October (second best time after the record holder).
"I don't ask for a salary. I don't want to get rich with this attempt. I just want the opportunity to do it."
How was preparing for the UCI world hour record? Tough, tiring, and often lonely. But Vittoria also had to raise money. UCI anti-doping controls and genetic passport costs thousands and the velodrome rental is also an expense that came out of Vittoria and her husband Rocco's savings. Thanks to Endura and a handful of other sponsors things came together. The reality is that the attempt is mostly self-funded and probably underfunded.
Of course, Vittoria has been training full time. Her background is almost as remarkable as the hour record attempt.
She holds a Phd in pure mathematics from Oxford University. She understands that breaking the record comes down to a mathematical formula that is all very clear in her head, but she can also write it down for you! Aerodynamics is not her area of expertise, but she is unlikely to be troubled by the fundamentals of a drag coefficient.
Vittoria got into cycling - through triathlon - late (she is 31). She was a 10,000 mt runner in her youth and participated in the World Cross Country championship, and in the European Track Championship. While studying at Oxford she was searching for something that would allow her to rediscover her athletic potential. She joined a UCI team for some time after a win at the national level in the UK and before setting her sight to the velodromes to make history.
Tourissimo came on board as a sponsor last April when Vittoria had to raise money for a training camp at the Aguascalientes (Mexico) velodrome. Next week, the custom Drag2Zero Endura skinsuit will have Tourissimo next to Endura, Giant Liv, Vittoria tires, and her other technical sponsors.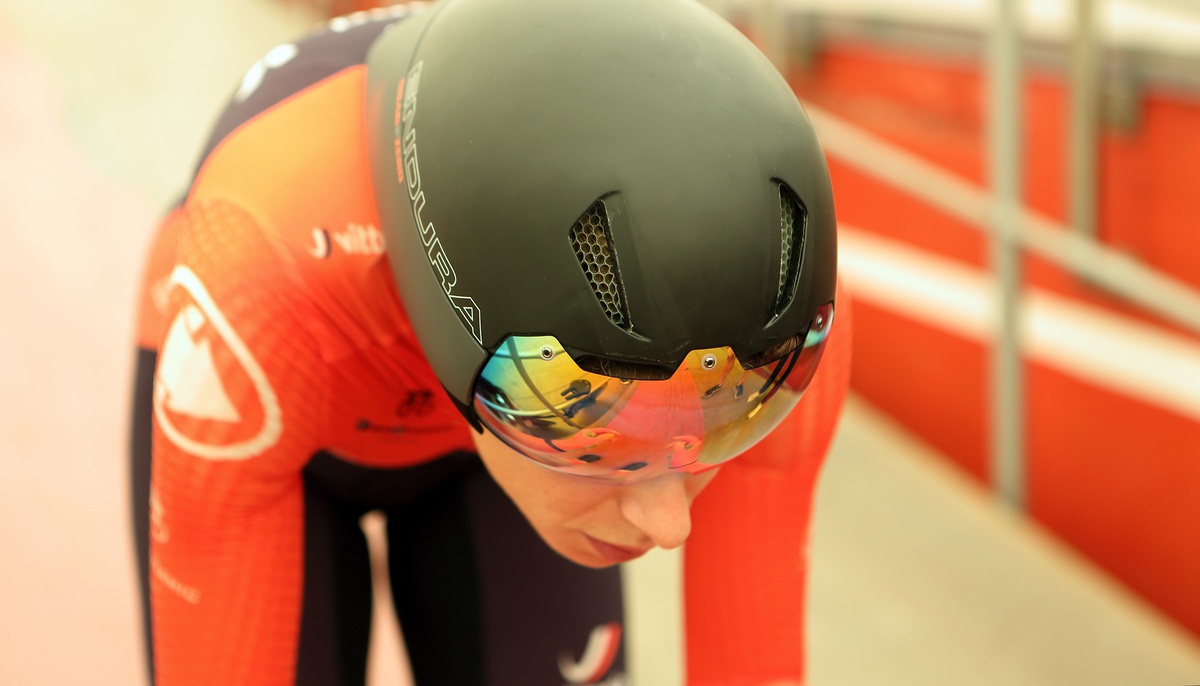 Foto credit: Endura Sports
I had conversations with Vittoria over the phone over the past several months while she was driving to and from different velodromes. She had setbacks - for example when the 'good' velodrome in Italy was shut down because of expired certifications of the building - but she never sounded discouraged. It seems to me that the harder it got the harder she trained. She was/is on a mission and we will wait for her time next week with deep sense of respect for her journey. Her attempt starts on 9/12/18 at 3 pm Central Time (GMT -5).