There are many beautiful hotels in our portfolio: from wine estates, to luxurious mountain chalets, to castles. But there are only a couple for which the term "magic" would be appropriate. One of them is La Subida.
La Subida is located in the hills of Cormons in the region of Friuli Venezia Giulia (often just referred to as Friuli). We are in the northeastern part of Italy near Gorizia and just a short walk from the Slovenian border. We are halfway between the Julian Alps and the Adriatic Sea.
This gentle, hilly countryside, called Collio (Brda on the Slovenian side), is known among wine lovers as a very gifted area for white wines with Ribolla Gialla being the most representative white grape.
On a country road, just before the road starts descending toward Slovenia, sits La Subida. And it's not what you would expect a hotel to look like. Actually, the hotel is not even visible. What you see is a restaurant on either side of the road and not much more.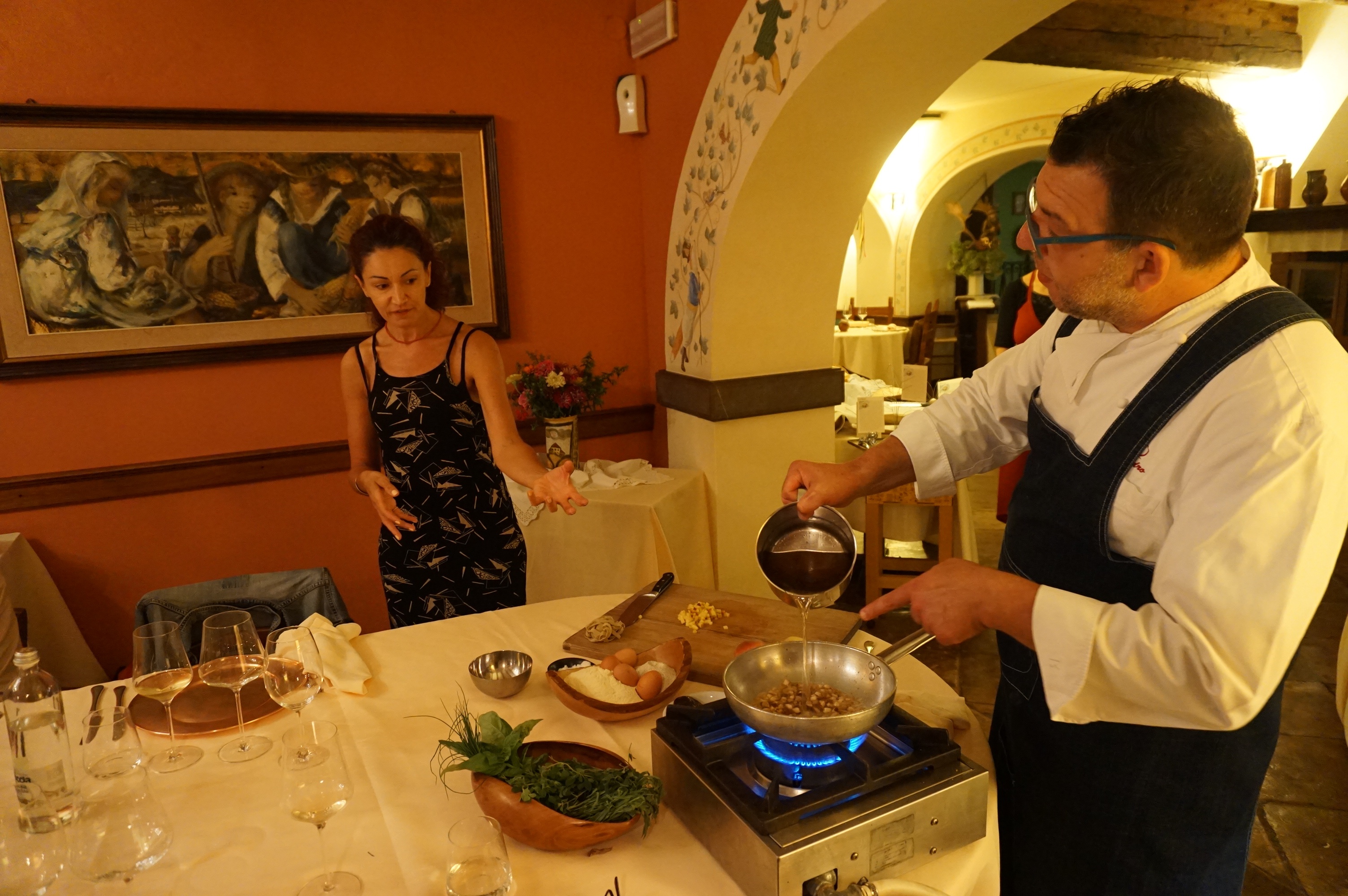 When our groups visit we often organize a cooking demo with Chef Alessandro Gavagna.
Let's start with the restaurants. Everything here started where Trattoria del Cacciatore is housed. In this place in 1959 Pepi Sirk and his wife Emma opened a place that today would be considered an agriturismo. Pepi and Emma had to flee Yugoslavia because they were vocally in disagreement with the political situation there. They bought some land and relocated at La Subida, which was merely five miles from their hometown but with a border in between that meant freedom and free enterprise. Today the border is an afterthought and you notice that you crossed it because some road signs look different.
Josko Sirk took over at a very young age and with his wife Loredana they decided to take the restaurant to the next level while abandoning farming for hospitality. We are now at the third (and soon fourth) generation of the Sirk family's "la Subida dream." Nowadays, Trattoria del Cacciatore is a one Michelin-star restaurant under Chef Alessandro Gavagna.
Tanja Sirk (wife of chef Gavagna), and her brother Mitja (in charge of the superb cellar with wines from both Friuli and Slovenia) are running day-to-day operations.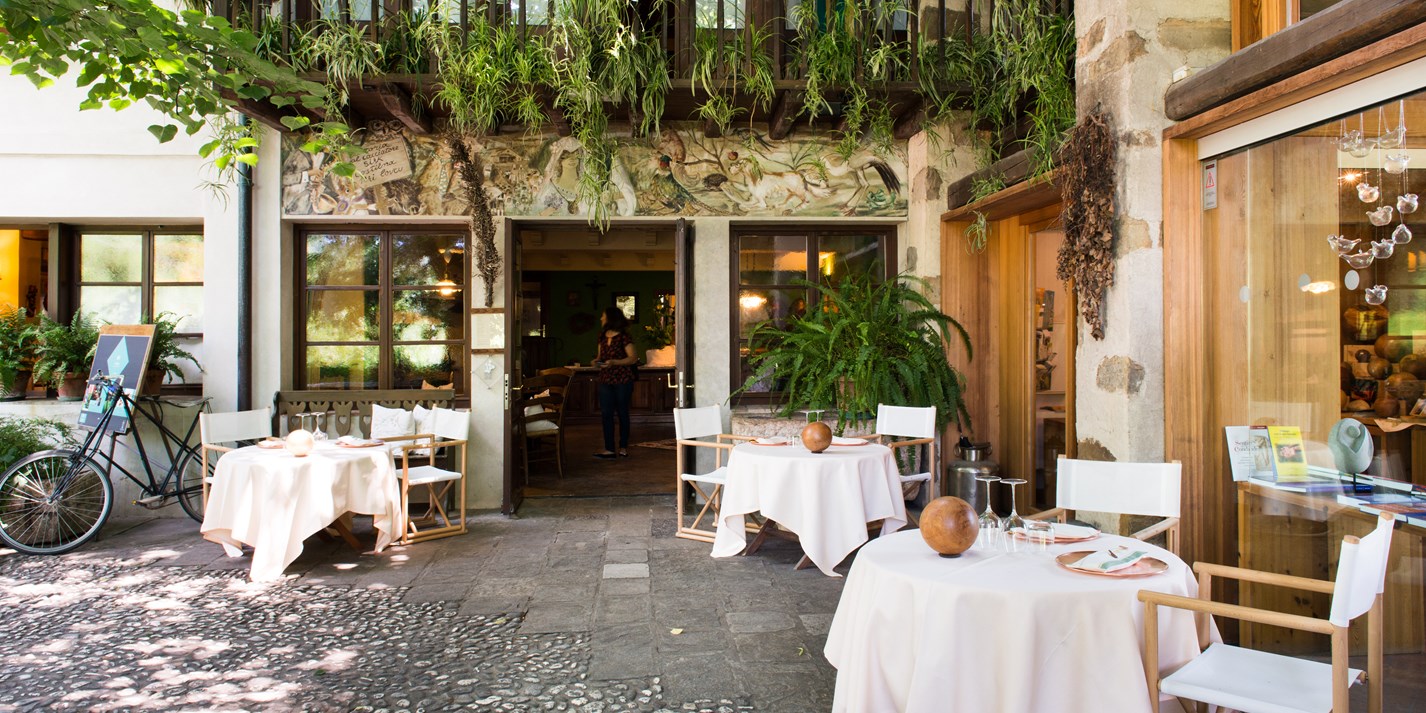 It's hard to analyze this because it all seems very natural and un-businesslike but at La Subida, every member of the Sirk family has a role and excels at what he/she does. It's very harmonic; everyone bought into the vision of Josko and added something special. The non-family staff is also the best I've found in my many years of staying in very nice hotels.
But I don't love this place because they are the best, but because they are unique. They strive to be not only original, but unique. The "not the best but unique" claim is written somewhere on the premises and it stuck in my head.
On the opposite side of the street a second restaurant has a more casual feel. It's l'Osteria della Subida. I love both of their restaurants from both a culinary point of view and from an architectural point of view. Something you don't see is a biomass power plant that supplies hot water to both restaurants and to the hotel.
The Hotel
You would expect the hotel to be next to the restaurant and reception. But that would not be unique. The property includes some vineyards and a dense forest. The 18 unique rooms are scattered throughout the forest. The layout resembles a typical farmer's hamlet. The project is bio-architectural, wooden-made and is 100% eco-friendly. Fireplaces heat up the cozy rooms while the all-natural insulation (untreated wool) blocks the cold winter. There's a great deal of privacy and the curtains are the trees outside. They are romantic, they are traditional and they are definitely magic. I hope you get to experience staying at La Subida.
The most unique room (it made the hospitality world scratch its head) is the barn room. There are no walls, just a roof and lots of hay. You might think it's too rustic when you find yourself filling up the tub with a hand-pump. If you don't like to dream and play, we will spare you this room.
You can stay with Tourissimo at La Subida when you book one of our Friuli and Slovenia bike tours (Magnifica, Plus) or if you contact us for a private tour.
Would you like to read more about this area? Go to Destination Highlight: Friuli, and Why It's Cycling Heaven.