Thanksgiving is - also - a food event. It's not celebrated in Italy, but I appreciate when food is central at family gatherings. With food you need…wine. That's when I step-in at my in-laws, credentials being my Italian pedigree and sommelier certification.
On the other hand, Heather – my wife – is in charge of the menu with her mom and two sisters. Part of the preparation for us is finding, sometimes months in advanced, the wine/s to go with Thanksgiving.
Italy produces so many food-friendly wines that our choices are nearly limitless.
While Italy learned fine winemaking from the French, I think that in Italy we have resisted the temptation of making the wine more important than the meal. Most times, it's considered part of the meal – think of it as liquid calories or food ingestion facilitator.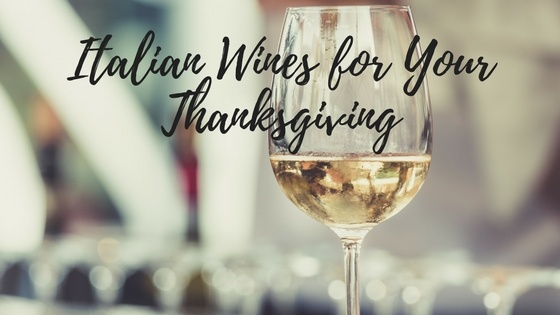 Here are my FIVE suggestions of Italian Wines for Your Thanksgiving.
Trento DOC
Pour a Trento DOC to get the holiday cheer off to a bubbly start. Its green apple and pear sensations combine with crisp acidity make it perfect as an aperitivo and pre-dinner with appetizers. It can be enjoyed throughout the whole Thanksgiving meal. It comes from the high peaks and steep valleys of the Trentino region in the Dolomites, part of the Italian Eastern Alps. "Trento" is the name of the region's capital. Trentino is more than just eye-catching scenery and its reputation for high-quality sparkling wines is well deserved. Trento DOC is a metodo classico sparkling wine. It's the same method used in Champagne, which requires a generous dose of craftsmanship and aging (up to 15 years for the Riserva). It is obtained from Chardonnay, Pinot Noir, Pinot Blanc or Pinot Meunier grapes.
Stay tuned for our soon to be released Dolomites Cycling program
Barbera d'Alba DOC
Barbera from Piedmont suggests black cherry and ground pepper flavors, pungent acidity and mild tannins, making it a classic companion to Thanksgiving fare. I chose it because it goes well with everything. You might call it the base red of my native region. It's versatile and you don't have to overthink the vintage because it's perfectly fine drunk young. Barbera is produced in many provinces and wine production corners of Piedmont. Therefore you will find Barbera d'Asti, Barbera d'Alba, and Barbera del Monferrato. On our Chef Bike Tour of Piedmont, we'll visit Pertinace winery that produces an impressive Barbera d'Alba. This is how Pertinace describes its Barbera (6 to 8 months in oak): "A generous, dry red wine that is fruity and sapid, made with the best grapes from some of our oldest vineyards. A very well-structured wine with a wealth of aromas and flavours that make it versatile enough to be drunk throughout the meal, it goes very well with cold cuts, first courses, white meats and cheeses."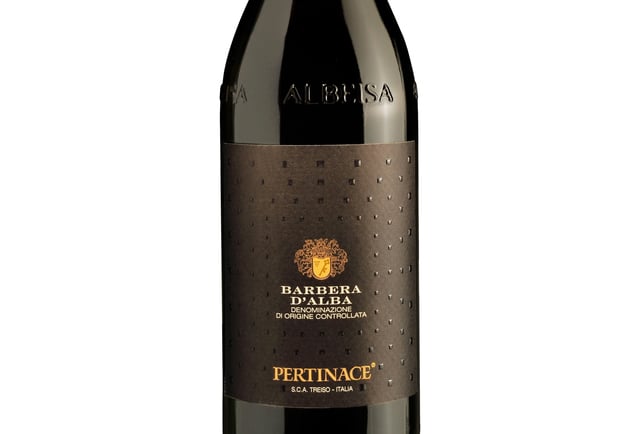 It goes with turkey. In fact, it goes with nearly everything. Which is why Barbera deserves an invitation to all your holiday parties. Bon Appétit
Rosazzo DOCG
Rosazzo Terre Alte is our choice for this year's Thanksgiving. Terre Alte is a special selection in the Livio Felluga production in the region of Friuli Venezia Giulia, which boasts a great tradition in white wines. Here's how the folks at the winery described it: "Created in 1981, Terre Alte is considered one of Italy's most prestigious white wines. The balanced blend of Friulano, Pinot Bianco and Sauvignon grapes, estate-grown at Rosazzo in the historic Terre Alte vineyards, yelds a superbly elegant wine with a profusion of intense fruit and flower aromas. A wine of outstanding structure, Terre Alte acquires a wonderfully complex bouquet of tertiary aromas with bottle aging". Livio Felluga is an iconic Italian winemaker. Mr. Felluga reinvented the wine production scene in Friuli, bettering the quality and reputation. He created the distinctive label 61 years ago to portray his hills, and to explain that his wine "is" the territory. The label became their trademark.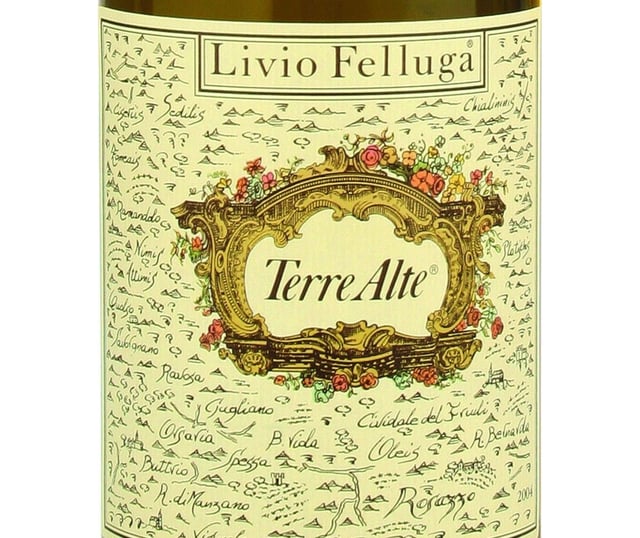 Cir
ò

DOC Rosato

Ridiculous value even in the States and Canada, if you can find it. Don't brush the rosés from Southern Italy off too soon. From Aglianico, to Negramaro, to Primitivo, many Thanksgiving-worthy rosés are produced south of Rome. Cirò is produced with 100% Gaglioppo grapes and it's from Calabria. It's bright pink-red (I like the intensity of its rose color). Herbs and flowers complement delicate red plum and mineral aromas given by the proximity to the Ionian sea. Dense and mouth-filling will good acidity and a long finish (for a rosé that only touches stainless steel) with a surprising tannic bite. By the way, do you know Calabria? We are working with the first private group there for next May.

Inspired by Italian rosés? Find out more on this article on Peloton Magazine by Culture Editor Clive Pursehouse.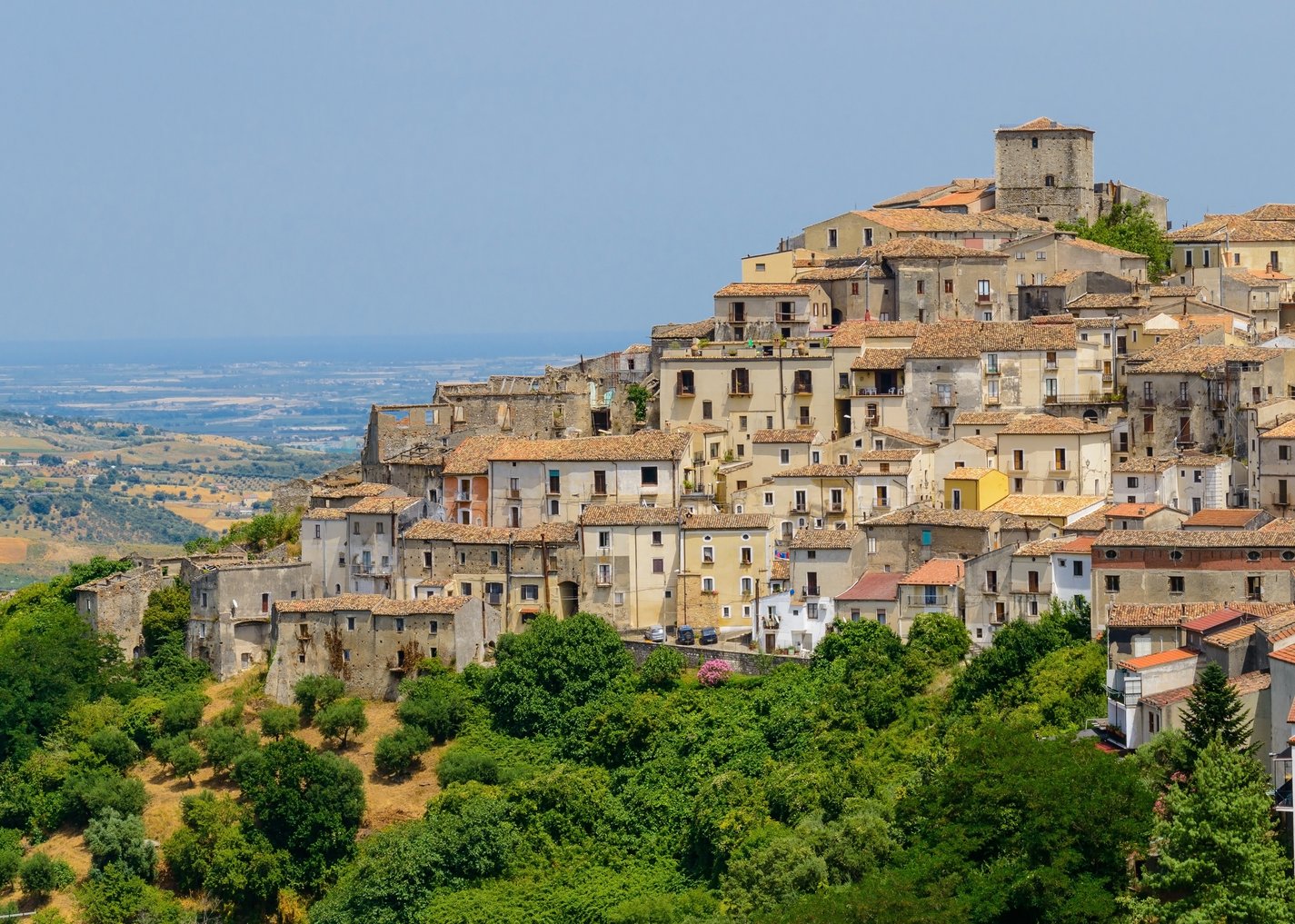 The village of Altomonte in Calabria
Colli Romagna DOC
My favorite is il Bosco (with its big brother Pertinello) produced in Emilia Romagna (on the Romagna hills) by Tenuta Pertinello. It's Sangiovese, but it's not Tuscan. However, Tuscany it's so close that one can see it from the winery. To me, it's more authentic and rustic than a Chianti, yet complex. Only 10,000 bottles of il Bosco are produced and it does time in stainless steel only. Hard to impossible to find in North America, but look for other Colli Romagna Sangiovese DOC, too. Romagna Sangiovese is considered the finest of Romagna's wines. This has much to do with the qualities of Sangiovese itself, not to mention the various legends associated with the variety. Romagna figures prominently in one of these legends. It tells of an esteemed guest visiting a Capuchin monastery on Mount Jove, a sacred hill near the town of Santarcangelo di Romagna. Impressed by the local wine, the guest demanded to know what it was called. The wine had no particular name at the time, but a quick-thinking friar came up with a new one: Sanguis Jovis, meaning "blood of Jove". This evolved over the years into the name Sangiovese that we know today. A memorial stone to Sangiovese stands on Mount Jove to this day. Visit Tenuta Pertinello with Tourissimo on the Chef Bike Tour of Emilia Romagna.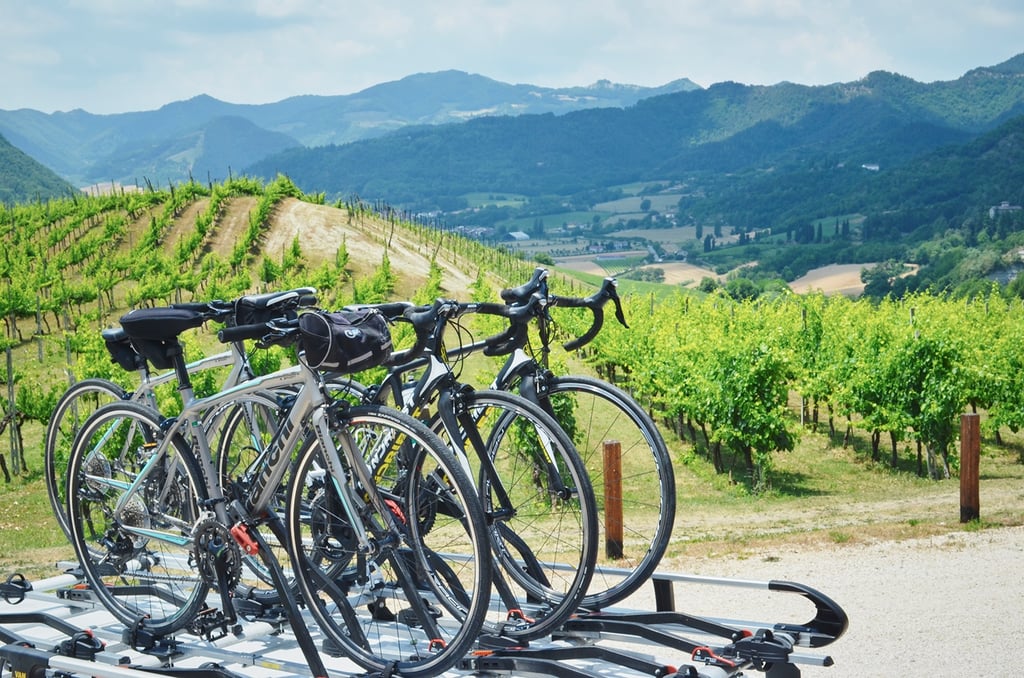 The vineyards of Tenuta Pertinello with the Appennines in the background (Tuscan border)
One more thing. Serving temperature matters. But it's no longer a sin to serve a white with some structure at room temperature, or a red lightly chilled. Just mind that the amazing taste buds in our tongues are complex, but predictable. If you serve a wine too cool, the flavors will all be hidden. If you serve a wine too hot, the alcohol overpowers everything else. Without the proper serving temperature it becomes hard to enjoy the four aspects of taste: sweet, sour, salty, acid.
The best temperature for red wine is F 59-65 degrees (C 15 – 18).
The best temperature for white wine is F 49-55 degrees (C 9 – 13)
If you're interested in riding, wine, and Italy, get in touch! We can design and operate your dream vacation.