This time of the year we get many bike tour questions. Therefore, we decided to re-post this blog article for those of you who've decided to take the plunge and book your first group cycling trip. After the initial excitement, a ton of questions start popping up in your mind. Luckily, we have answered them many times before.
We are passionate and knowledgeable about cycling and we have answers to the most commonly asked questions you might have as your prepare for you first organized bike tour.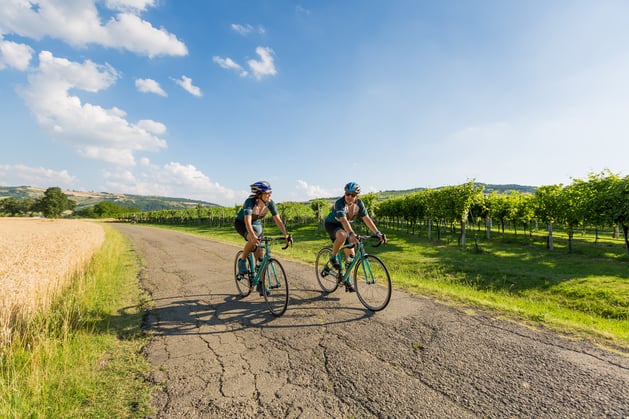 About Packing and Traveling
How do I pack for a weeklong bike trip?
Other than your civilian clothes, you will need riding gear. As a rule of thumb, your riding gear should amount to 50% of your total luggage. If not, you are probably not going to have enough riding-specific clothing that can also withstand swings in the weather. You won't need spare parts for your rental bike, but a multitool can come handy. Bring it only if you are familiar with its functions, otherwise rely on your guides and travel mates.
How do I arrange my flight?
While most active travel companies don't provide flights, they have a good idea of the flights operating that reach the destinations in their itineraries. Not including flights in our tour packages allows you to choose the best options for you with regard to price and convenience. Your itinerary info will state the airport (ask for the airport's full name or code if it is not indicated). Sometimes, you might have two different airports inbound and outbound. In that case, a travel agent can propose schedules and book tickets on your behalf. Their experience in arranging the best options amply justifies their fee. Don't forget to relay your flight info and other travel arrangements back to the tour operator.
Will someone pick me up at the airport?
It depends. Some travel companies provide one or two group transfers from the airport to the first hotel, while others will provide information and options on how to reach the first hotel where you will meet the guides and the group. Read your travel info under "What's Included" to find out how that is handled. Based on our experience and feedback, we prefer to have a guide pick you up at the airport. Finding your way jet-lagged, and perhaps not speaking the language, is not the best way to start a vacation.
About the Bicycle
Do I need to bring my bike or can I rent one?
That is your call. There are pros and cons to hauling your bike over to Europe for a bike trip. Bringing your own ensures that you will be comfortable without any adaptation time. Guides will help you to assemble it at the start of the trip and box it up to go back at the end of the trip. Consider the cost of the extra piece of luggage (charged as sports equipment) applied by the airline. Consider also the investment of a safe bike case (you can also borrow one from a friend or use a cardboard box that you can pick up at your local bike shop).
Then, find out how much the bike touring company charges for a bike rental, and the model and year of the bikes they rent. In some cases the bike might be included in the cost of the bike tour. Still, find out what bikes they are offering. The lowest gear on the rental bike should be comparable to what you use on your bike at home. By lowest gear, I mean the gear you engage on the toughest climbs, which is indicated by number of teeth on the smallest chainring x number of teeth on the largest cog on the cassette on the rear hub. The Basics of Bike Shifting by Bicycling magazine.
Tourissimo's bikes can be found on our Equipment Page In rare cases when our bicycles are not available, comparable quality bikes will be offered.
Will I need my helmet/pedals?
Consider bringing your own helmet, bike saddle, and pedals if you use clip in shoes.
Loaner helmets are also available, and you can always ride in tennis shoes and standard pedals that come with your rental bike.
Do I need to fix my own bike? I am not a bike mechanic.
Having some bike mechanical skills does not hurt, and someday those skills could come handy. But one of the nice things about going on a group bike tour is that the guides have the knowledge to tune up and fix your bike. They will keep bikes running smoothly throughout the week and if something needs a major repair they can rely on their network of local bike shops. The support vehicle (aka van) carries spare parts and tools.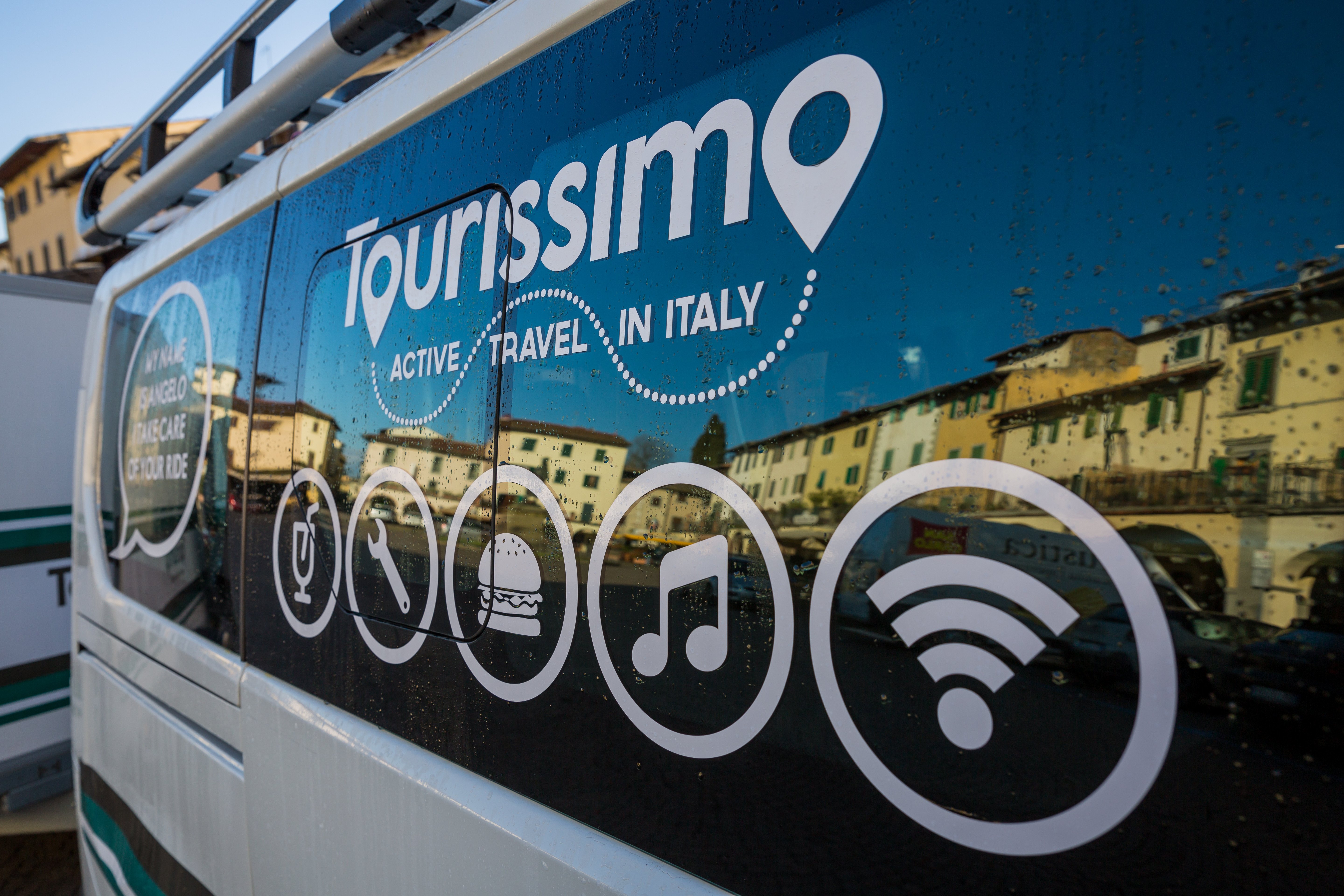 About the Rides
Am I going to be able to accomplish the rides?
That's a very fair question. Until we see you riding over a couple of days, we have no way of knowing what you are capable of on a bike. In fact, you are in the best position to answer that initial question. But remember:
You should ride at your own pace and not anyone else's.
If you start the week conservatively, you'll find yourself improving and getting stronger.
The van is your "buoy" on the road.
Break down long climbs into manageable portions (hydrate and take pictures at each stop!)
On the travel company's part, they will:

Ask you about how much you ride and on which terrain (mileage, flat or mountains?)
Try to match you to the right program (bike tours are rated based on the fitness level required)
Encourage you to push the boundaries of your comfort zone. If one of your goals is to improve as a cyclist, that is the only way.
Speak to you about the rides and terrain. Now you can picture what to expect.
It is important and fair to you and to the rest of the group participants that you are realistic about your ability and the fitness level of the tour you are booking.
Do we ride in bad weather?
You do need some rain gear. You will ride even under some rain. If the guides judge that it is unsafe to ride, they will plan or adjust accordingly and substitute the ride with an alternative activity such as a visit to a museum or a wine tasting. Good guides always have a plan B up their sleeves.
Here's an article on what to wear on an active travel tour.
More questions for your upcoming bike tour?
Give us a call right now or send a message.