There is a hotel on the Italian Adriatic Riviera that is much, much bigger than the function its building serves. It's the five-star Grand Hotel Rimini in the seaside resort town of Rimini.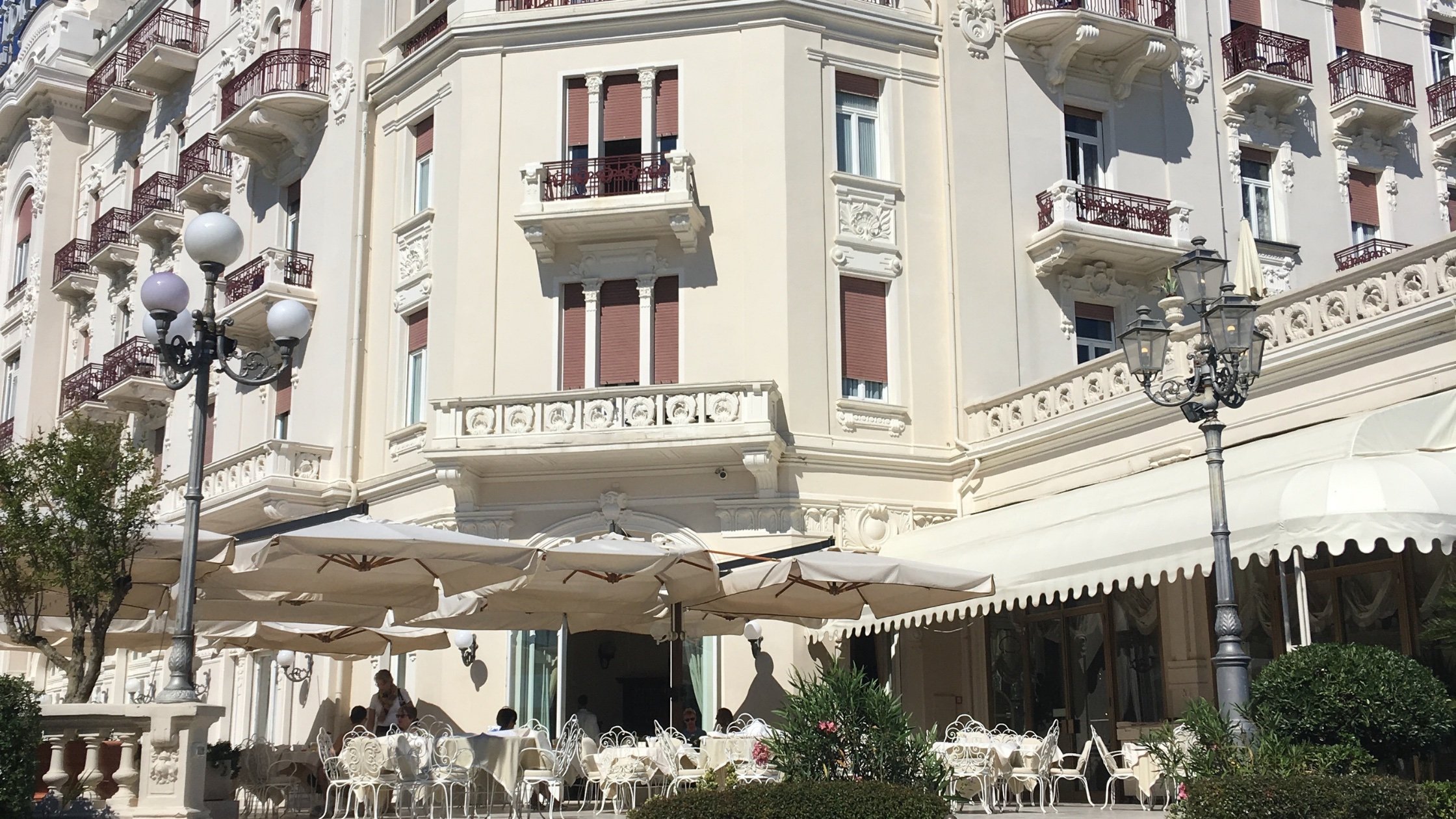 Rimini
Rimini (population 150,000), in Emilia Romagna, is of Roman origin (as its still-standing Tiberius bridge shows) but in modern time it's always been a place of tourism: elite tourism at the beginning of the XX century, and mass summer tourism as well as convention tourism now. It even has its own airport. Rimini, as well as many other towns along the Adriatic coast, has also become a great destination for cycle tourism. Read about Emilia Romagna in my blog Why Emilia Romagna is Italy's Top Cycling Destination.
In addition, Rimini is the hometown of the famous film director, Federico Fellini.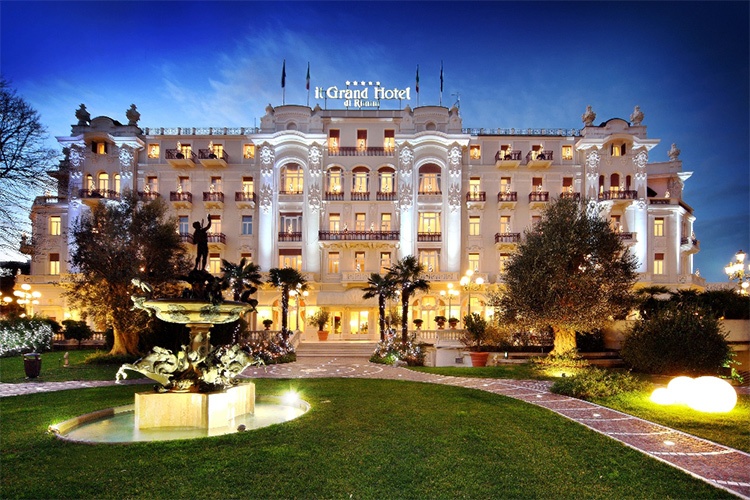 The elegant facade of Grand Hotel Rimini
The Hotel
Grand Hotel Rimini opened its doors in July 1908. It immediately became a landmark hotel thanks to its grand architecture and location.
A tourism attraction itself since opening, it has been the protagonist of Rimini's history and in many ways a witness to a certain way of vacationing for those who could afford it. It started off as a privileged destination for the elite who inflamed the Belle Époque all over Europe. Among its visitors were many American presidents and world leaders, Princess Diana and the Dalai Lama, Madonna (the singer), the royals of UK and Monaco, and the list could go on and on.
The main building boasts over 100 rooms without seeming cumbersome and many call it a "peaceful oasis" in a city otherwise known for a bursting beach life and nightlife.
Chandeliers hang from the ceilings, furniture is covered in velvet and leather. It's a truly beautiful site. Interestingly, we never feel out of place when we step into the lobby in bright cycling kits because they really know hospitality. At Grand Hotel Rimini they make you feel at ease; you are just in a stunning place. Breakfast, of course, is five star level.
The Architecture
The building was designed by South American architect Paolito Somazzi, who had prior experience with hotels in Europe. His style was extremely personal and characterized by the incorporation of modern motifs, inspired by the Vienna Secession and Italian Liberty, both styles that evolved from the broad French-born movement known as Art Nouveau. Sinuous, continuous lines harmoniously blend structure and decoration, resulting in a vigorous sense of movement that is full of energy. Somazzi's quest for expressiveness in his architecture led him to abandon classical canons and use both natural and artificial elements which draw the viewer's eye almost playfully.
The original project had two domes that eventually deteriorated and were taken down. The building was neglected and had some dark times, too. Today, the Grand Hotel is a national monument.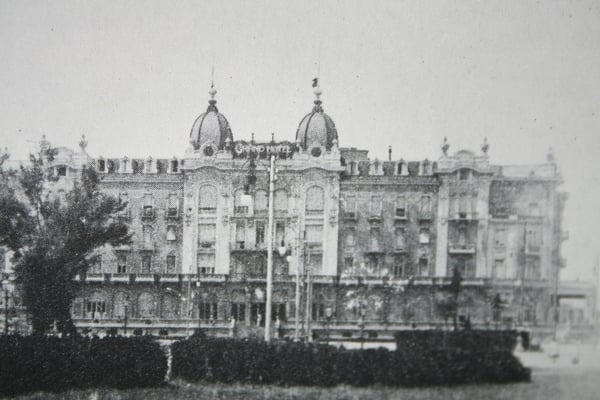 The Grand Hotel with the two domes. Circa 1910
Federico Fellini
Federico Fellini – the most famous Italian director of all time – was first a witness (an outsider) of the life going on inside the Grand Hotel and then a protagonist that made the hotel world-renowned. He himself remembered that the Grand Hotel was a "fairytale of wealth, luxury and oriental splendour," a place of adventure which, in the magical summer nights, could become Istanbul, Baghdad or Hollywood.
Born on June 20, 1920, the future film director was still a child when he became captivated by the magic that occurred in the dreamlike world of the Grand Hotel. Everything that happened there fascinated him, to the extent that all his childhood games were set in this unattainable place. And this was the start of Federico Fellini's imaginary world, in which dream and reality mix, as his film Amarcord encapsulates with such power and elegance. Before arriving at Cinecittà, Fellini had moved from Rimini to Rome. The maestro would return to Rimini and his favorite retreat - the Grand Hotel - as a famous man many years later. He had his private room (you can book it, of course) and there is now part of the hotel dedicated to him, the Sala Fellini. My favorite Fellini movie is 8 ½, with the superb Marcello Mastroianni. Do you have a favorite Fellini movie? Write it in the comments.
Read also: Hotels We Love: La Subida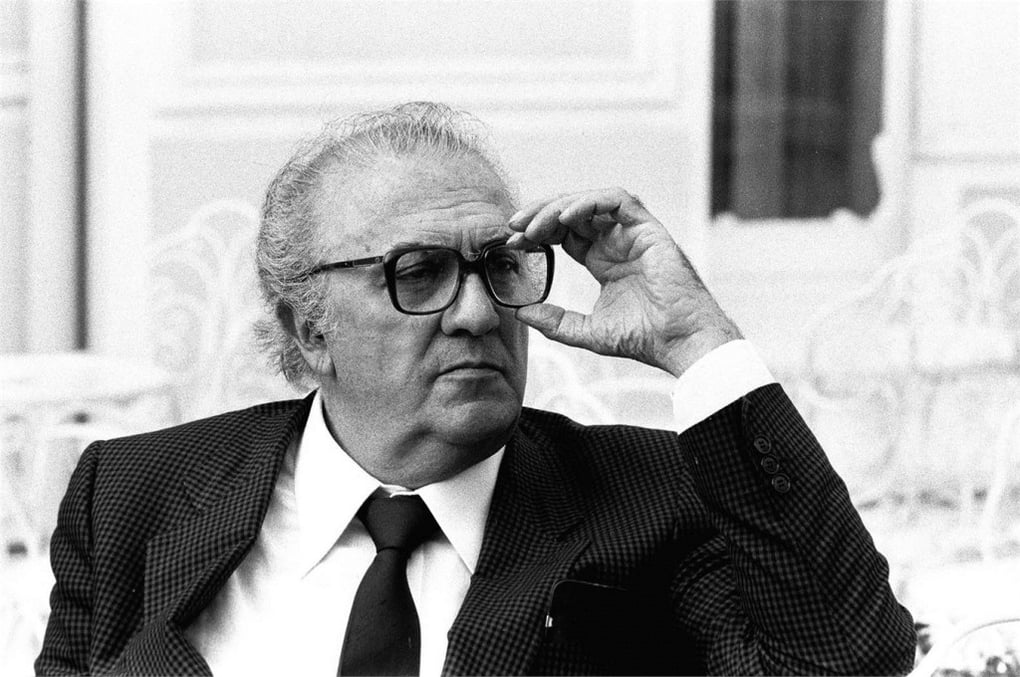 Film Director Federico Fellini in the patio of the hotel
In 2008 the Batani Hotel group bought the property. Antonio Batani, a self-made hotelier, realized his dream to own and run the "Lord of the hotels."
In this new chapter Batani applied his three golden rules of hospitality: welcome guests with sincere pleasure; offer a genuine, high-quality experience that accentuates the uniqueness of the place; make guests feel pampered beyond their expectations. Batani considered the hotel as his own family, for which he always sought to do his best. Today the baton has passed to his wife and three children, who continue in his footsteps with passion, professionalism and authenticity. It's a magic circle that closes on a stage filled with episodes and characters, unaware that they're continuing a long story in a timeless place where travelers' tales have been told for 110 years.
Pro-tip: To enjoy all of the splendor of the Grand Hotel Rimini at a more affordable price, you can book the Residenza Fellini, which is right next to the main building and allows access to all services on the grounds of the main hotel.
We end our Emilia Romagna Chef Bike tour in Romagna and Rimini at the Grand Hotel Rimini with rooms booked in the main building, and if you join us we recommend extending your stay to soak in the history and grandeur, as well as the laid-back lifestyle of the Adriatic.